CEOs of Tomorrow - Teen Pitch & Launch Event - TICKET AVAILABLE AT THE DOOR
Description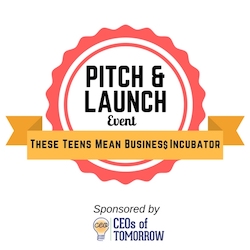 - TICKET AVAILABLE AT THE DOOR -
Come One, Come All! -
Join us for the exciting Teen Pitch & Launch Event featuring the talented teens in CEOs of Tomorrow's These Teens Mean Busines$ Incubator Program. During the event,
our aspiring teen entrepreneurs will pitch, launch and test their business ideas created to earn revenue AND create social good.
Event highlights:
Business Pitches! Hear teens creative business ideas aimed at generating revenue AND addressing social issues of importance to them including colorism, immigration, homelessness, over masculinity of males, access to clean water, literacy, stress, gun violence and domestic abuse. - 11:20 am-12pm
Open for Business! Following the pitch presentations, see each business in action. Explore and/or shop at each business. (Lunch available too) - 12pm - 1:15 pm

Top CEO! Witness the $500 awarding of the Top CEO Prize to the best business determined by our esteemed judges! - 1:15 pm - 1:45pm

Mark your calendars - this is an event that you don't want to miss!
A Little About the These Teens Mean Busines$ Incubator Program
This social entrepreneurship training lab, offered in the fall and spring, provides teens with hands-on opportunities to transform new ideas or existing business activities into revenue-generating social enterprises designed to promote positive change in their communities. They gain trainging and support in introductory graphic design, video production and editing, and photography and directly apply the skills to enhancing their business brand. The program concludes with teens pitching and lauching their innovative ideas to a supportive panel of experts and guests to gain input, win business-related prizes, and qualify for a chance to win $500 as the Top CEO business!