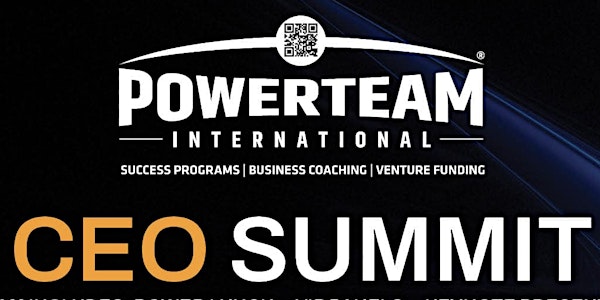 CEO Success Summit/Power Lunch at the LAX Airport Marriott Hotel
The CEO Success Summit conference is a must attend event for all entrepreneurs & small business owners.
By Powerteam International
Date and time
Sunday, August 27 · 12 - 5pm PDT
Location
Los Angeles Airport Marriott 5855 West Century Boulevard Los Angeles, CA 90045
About this event
Whether you are running a small business or you are a CEO of a Fortune 500 company you will love this 1/2 Day CEO Summit!
Come & Experience a full day of useful and tactical content from experts in multiple industries. The session is a very hands-on workshop with leaders that live what they teach everyday and what you hear at the CEO Success Summit are proven concepts to increase your leads, sales and overall business success.
COME & LEARN FROM SOME INDUSTRY EXPERTS
Networking & Connections with some amazing attendees, you'll meet local business leaders, national experts, city leaders & global change makers all in attendance that are committed to playing full out. You'll be able to connect with all the speakers and major sponsors at the event. It will be up to you to make the connections you will need to elevate your personal success story as well as your business!
Discover the latest, cutting-edge methods tactics to make you BIG money in today's new economy - whether you're in business, online marketing or as an independent agent. You cannot expect to become financially free if you continue to use outdated methods to generate income which no longer work. Those methods no longer work because the economy isn't the same as it used to be.
Inspiration & Motivation: It's one thing to have some ideas about creating more success and its 100% something else to have the confidence & competence to create massive success in your prospective field. That's why we put people on stage who have done it.
In challenging economic conditions you need to learn and apply proven methods if you want to create enormous wealth. You also need a clear focus and a step-by-step system to help you create financial independence within 12 months or less. That is the reason we have hand picked these experts who are quietly making more money in one month than most people make in one entire year.
EVENT TOPICS INCLUDE:
BUSINESS GROWTH-SOCIAL MEDIA-LEADERSHIP-PUBLIC SPEAKING-MOBILE MARKETING-PERSONAL DEVELOPMENT-GRANTS & SO MUCH MORE!
The Powerteam CEO Success Summit event is for you IF you want...
No-fluff intensive training to accelerate your business knowledge
Practical lessons & wisdom from successful entrepreneurs
Hands-on training to ensure that you avoid the most common mistakes in business
Opportunities to network & make deals with other business owners, online marketing experts and real estate investors
What Will You Discover?
Learn specific strategies to build successful businesses
Meet amazing contacts from across the country who can propel your business forward
Learn exciting new ways to generate income
Learn how to dramatically increase your productivity & effectiveness
SPECIAL GUEST MEGA SUCCESSFUL ENTREPRENEUR:
Ramy El-Batrawi
Ramy El-Batrawi (born May 23, 1961) is an American businessman, entrepreneur, and philanthropist. A dealmaker, Ramy El-Batrawi is the Owner and Managing Member of X,LLC , and an effective negotiator, known for his expertise in structuring winning transactions. He is noted for his adherence to the principles of protecting his investors to the best of his abilities, and for being an entrepreneur, investor, and humanitarian.
In 2016 El-Batrawi formed YayYo, Inc. a holding company which lists amongst its assets Rideshare Rentals, a leading provider of rental cars for Uber/Lyft drivers. YayYo, Inc. went public on Nasdaq on 11/15/2019 trading under the symbol (YAYO). El-Batrawi also launched PDQ Pickup, an on-demand pickup and delivery service, on 9/2019.
Between the 2019-2021 pandemic years, El-Batrawi sold his stake in YayYo, Inc. and launched EV Mobility a platform dedicated to providing electric vehicles as amenities in upscale hotels, luxury apartments and commercial buildings. Through his production company Extraordinary Life Entertainment, he produced "The 27 Show", a musical review in residence at the Virgin Hotel in Las Vegas. And through his publishing company Extraordinary Life Publications, he wrote and published "Can You Really Think and Grow Rich? Keys to Unlock an Extraordinary Life" where he answers the question with a resounding Yes!
Philanthropy
In 2000 Ramy El-Batrawi was honored through his selection to participate on the entrepreneurial panel in GB2000, The Graduate Business Conference hosted by UCLA's Anderson School of Management. The Graduate Business Conference was conceived in the fall of 1982 at Columbia Business School, and has been an annual event for MBA students since the spring of 1983. The Conference has been hosted at Columbia University, Duke University, the Wharton School and UC-Berkeley, among others.
Entrepreneur & Investor
At the age of 17 Ramy El-Batrawi started one of his first successful business ventures, a Key Center in Zaire's Department store and expanded throughout the chain. Ramy El-Batrawi made his first million before he turned 18. Within the next year Ramy El-Batrawi lost it all based on his lack of experience in understanding some basic fundamentals. By 1984, at age of 23 El-Batrawi made it back and more and built a net worth of more than $50 million. Ramy El-Batrawi owned many companies including Custom Van Centers, a Captive Insurance Company, and Real Estate Investments.
About the organizer
Powerteam International is one of the leading Success Education Companies in the world! Powerteam provides Corporate & Entrepreneurial training programs, Venture Funding and Business Coaching in cities around the world. Powerteam International has the resources necessary to help your company become even more successful! For all major industries, from start-up companies to billion-dollar firms, the professionals at PTI have insight and solutions to create new market opportunities and increased optimization! This includes having a personal success coach or professional coaching team that will offer priceless insight and advice.
Topics include: Advertising, Leadership Training, Website Development, Website Traffic Generation, Business Financing, International Expansion, and Personal Development. We offer some of the best high-level consulting and training for business leaders and their organizations. Our clients range from start-ups to mega-successful corporations.