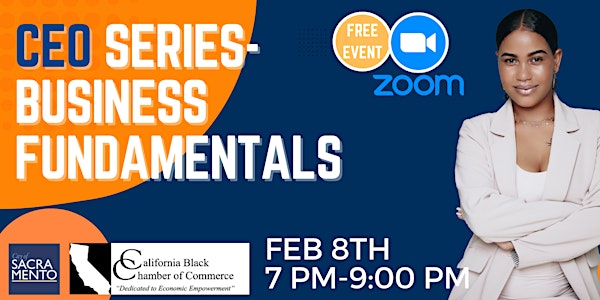 CEO Series - Business Fundamentals Part 2 (Marginalized Coalition)
This series is for the modern CEO. Prepare to have direct access to experts and resources on ZOOM
By California Black Chamber of Commerce
Date and time
Wednesday, February 8 · 7 - 9pm PST
About this event
Your admission ticket and handout assignment will be in your email when you register for class. Check your email.
The Marginalized Communities & Small Business Coalition is Sponsored in part by the City of Sacramento and the California Black Chamber of Commerce.
We will review relevant licenses, permits, corporate structure, and filings that make your business credible.
You will have direct access to next step resources for tax prep, and other corporate filings with the State of CA.
This event will personally introduce CEO's to experts and potential funding sources.
We will review the obstacles CEO's face vs. what they think.
https://www.calbcc.org/marginalized-communities-mcsbc/
https://taylormadetaxservice.com/
About the organizer
Marginalize Communities & Small Business Coalition program will provide essential services critical to meeting eligibility requirements, fundamental business training, marketing strategies, business startup assistance and providing both business and personal financial literacy training. We will also work with youth to provide a solid foundation for the next generation of entrepreneurs by providing education and resources that targets green and STEM based businesses.