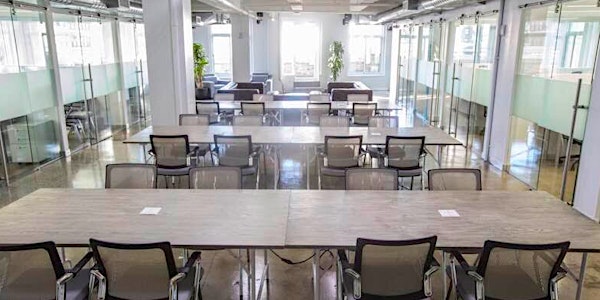 CEO Panel: Data Privacy & Cyber Security (IWNY Event)
When and where
Location
Workville 1412 Broadway 21st floor New York, New York 10018
Description
Data Privacy & Cyber Security: Are You Sitting on a Landmine of Data?
Everyday there is a new headline about the latest security threat, a company being hacked, data breaches and cyber terrorists holding us all hostage. These new criminals may not even be after a financial payout - at least not on the surface. In today's environment, the most valuable asset that most companies have is in their data. Data has become power, and consumers and enterprises need to understand how to protect this valuable asset.
This timely, interactive panel and discussion is brought to you during Internet Week 2016 by Affect, a public relations firm specializing in security technology and LIFARS, a leading digital forensics and cybersecurity intelligence firm. It will feature a panel of experts from the front lines of the war on cybercrime to share their insights and advice on:
Gambling with Customer and Company Data: A look at the upfront cost of security measures against the backlash of a breach
The Hacktivist Game Change: How hacktivists, ransomware, DDoS and consumer tastes have created a new level of privacy concerns
Regulation and Compliance: What companies must be doing, regardless of legal requirements, to mitigate cyber threats
The Next Wave: Preparing for the onslaught of security vulnerabilities with the proliferation of Internet of Things, Virtual Reality, Biometrics and more
Corporate Fail: How companies must communicate in the wake of a data breach to preserve organizational health, reputation and survival
Moderator:
Panelists include:
Robert Walsh, Special Agent, Electronic Crimes Task Force,

United States Secret Service



Jeremy Tillman, Director of Product Management,

Ghostery

Ondrej Krehel, CEO,

LIFARS

Katie Creaser, VP,

Affect

John P. Scordo, Partner,

K&LGates
Schedule:
6:00pm-6:30pm: Attendee Networking and Cocktails




6:30pm-7:30pm: Cybersecurity CEO Panel & Discussion

7:30pm-8:00pm: Corporate Reputation Workshop in the Wake of a Breach and Case Studies, led by Affect
About WorkVille: Workville is a unique co-working space that is designed with the feel of a 5-star hotel, featuring light and airy spaces plus unparalleled terrace access. The space is centrally located in midtown Manhattan - just steps away from Times Square, Bryant Park and major transportation hubs.
All event attendees will receive a free half day pass or $20 full day pass to take advantage of Workville's co-working space.