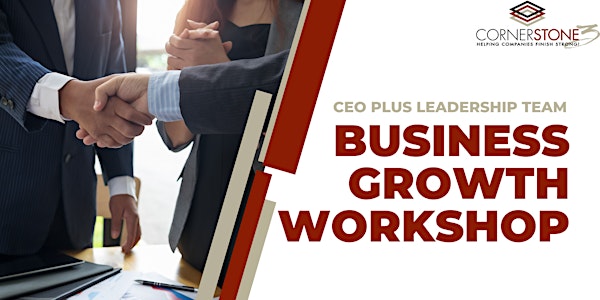 CEO + Leadership Team Business Growth Workshop
There's so much for you to achieve when you work with the leadership coaching provided by the CEO+LEADERSHIP workshop
By Paul Cronin Managing Partner Cornerstone3
Date and time
Wednesday, March 22 · 7:30am - 4:30pm CDT
Location
Mytech Partners, Inc. 300 2nd Street Northwest New Brighton, MN 55112
Refund Policy
Contact the organizer to request a refund.
Eventbrite's fee is nonrefundable.
About this event
As CEO, you are saddled with all the responsibilities of your company, focusing on minutiae that can be soul-crushing. Join the only coaching program that brings CEOs and leadership teams together to grow businesses. By turning leaders into accountable, disciplined coaches who are united in purpose, you will be freed from the day-to-day and transform into the team-driven growth company you deserve.
Growing a business can be challenging on the best of days. Missed targets, new world economic challenges, and uncertainty surrounding the changes you need to make to get the outcomes you want.
CEO+ Leadership Team workshop Powered by Metronomics & Scaling Up is for CEOs with their Leadership teams who want take action together to make lasting changes in how they map their cash, execution, people, and strategy in order to achieve their business goals and weather ANY market.
Are You Ready for a Quantum Leap in Your Business Results?
Come and learn about the framework, discipline and tools historically proven to take good companies to great companies. Join the other leaders in the Mid-Market who have chosen to use the Scaling Up growth system... BECAUSE IT WORKS!
WHO SHOULD ATTEND?
Any business leaders who wants to aggressively grow their business. We welcome leaders who are coachable, lifelong learners
hungry for best practices and cutting-edge thought leadership,
intent on developing amazing teams—knowing they can't do it alone; and,
who understand the value of investing in a coach for help.
To maximize effectiveness and results, we require
Leaders and senior team members attend together. (No less than 2; as many as possible)
WHY YOU SHOULD ATTEND:
Increase the quality of decision making of your executive team by no less than 55% as proven by Gartner Group Research.
Good CEOs learn with Peers, Great CEOs learn with their Leadership Teams and Peers
This program is designed for company leaders who want to learn with their teams and are not afraid to be challenged and encouraged by their colleagues. Leadership is changing. It is about empowering others to lead. In a functional leadership model, success doesn't rest on one person but rather on the functional behaviors of the group. You need to learn how to generate peak performance in and inspire it in others.
CEOs have found the secret in scaling their leadership team and how to generate better results faster and with less effort.
We now know that team learning is essential. Other than conferences or summits, how do we encourage and practice it consistently?
SCHEDULE
• Registration and Networking: 7:30 AM – 8:00 AM
• Workshop hours: 8:00 AM to 4:30 PM
• Breakfast and Lunch included
EVENT DETAILS
Cancellation Policy: Cancellations between 8 and 30 days of the event will receive a refund; but will be charged a $100 cancellation fee. If your cancellation is made with less than 8 days before the event, we are happy to transfer your registration to another team member in your company. There will be no refund for cancellations less than 8 days before the event.
Hear what clients of Workshop Host Paul Cronin are saying…
"When we met Paul, we were at $140M in revenue and 96% of our business was with one client. 4 years later, were at $240M in revenue and down to 84% of our business with that same client. We have also improved our return on assets by 3% . Paul continually helps us see things differently to move our business towards our vision. The value we have received is a multiple of our investment with him."
-Brett Cobb, CEO | World Class Industries
"I love Paul's style! He was well prepared, and provided our team with open and honest feedback. Even though he is an expert at guiding leadership teams, he was considerate of circumstances. His unique approach draws upon many top minds in the field, delivering robust and profound insights. Through his facilitation, he helped our team overcome roadblocks and make decisions that we had been stuck on for years!"
-Nate Evans, VP Business Development & Sales | MAPerformance
"I have worked closely with Paul for 20 years. In that time, I've met no businessman as positive, driven, strategic, humble, hard-working, and genuinely thoughtful of the success of his clients and making them better. Paul is a special man. He thrives to get better each and every day. He wants the same for us."
-Bobby Crumpton, Founder & Commercialization Expert
Meet your Workshop Host, Scaling Up Certified Coach: Paul Cronin
Paul Cronin is a turnaround expert spending 6-years as a partner with Platinum Group where he successfully led the transition and succession of 4 organizations. He has been CEO or president of 5 closely-held companies in the past 30-years.
Paul has a passion for helping business owners get what they want from their business. Paul believes that breakthrough growth, maximum value and freedom comes by thinking differently, challenging the status quo and knowing how to execute consistently.
Owners, CEO's and their leadership teams should attend this meeting and learn how to turn vision into executable strategy and complex problems into simple solutions by learning how to implement the framework, disciplines and tools proven to accelerate growth and drive business value.
Come and interact with Paul as he opens his tool box and shares the tools and methodologies that are proven to help CEOs and their Leadership Teams:
To the degree that these tools are put to work by you and your leadership teams you will consistently make strategically smart decisions and everyone in the organization will be aligned and accountable to those decisions.
This is strategic execution.
The result: Everything becomes more controlled, cash flow dramatically improves, issues get resolved and the organization advances as a cohesive, healthy team, accountable to each other. Your Company's growth curve will accelerate, shifting quickly and dramatically, resulting in ongoing velocity and value creation.
Meet your Workshop Host, Scaling Up Certified Coach: Don Haché
Don has years of professional experience managing startups and established companies. He has held various senior management, engineering, technical and sales positions in Canada, the USA, and abroad.
As a serial entrepreneur and award-winning coach, Don brings focus to companies in all business development stages – start-up, scale up, fast-growth challenges, steady state business, relocation, downsizing/scaling down and growth to exit strategies. He has extensive experience in needs assessment, organizational design, strategic thinking, and execution planning (there is a difference), leadership development, CEO plus team coaching (this is where exponential growth happens), performance assessments, mergers, and acquisitions (USA/CND) and succession planning.
Having started several small and mid-market companies, he understands the challenges entrepreneurs are faced with and has a track record of building these companies and turning them into successful operations by aligning execution to strategy. Business professionals frequently comment that Mr. Haché's initials "DH" stand for "Designated Hitter.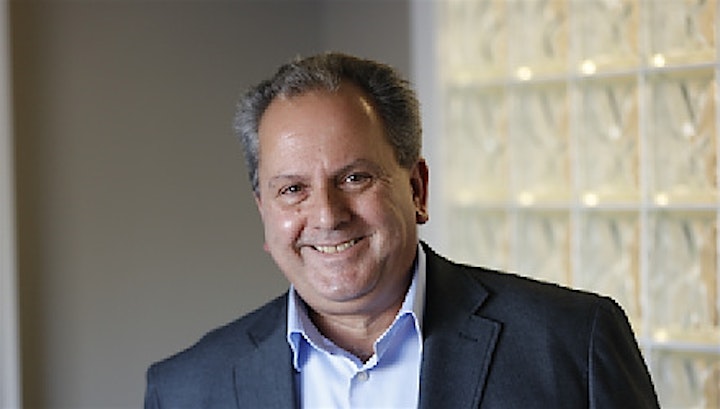 About the organizer
Cornerstone3 Inc., exist to help Entrepreneurs build great and valuable businesses, peace of mind and personal freedom. We do this by building unique, loyalty driven cultures and brands by facilitating the implementation of time-tested, easy-to-use 'Philosophies' and 'Tools' proven to take good companies to great companies. Talent is Top-graded. Elite teams are developed and make timely strategically smart decisions. Everyone is happy, aligned and accountable, executing quickly and at their highest levels.
In short, we are a partner who helps people, teams and companies grow to their fullest human potential.
For owners wishing to transition from their business:
Cornerstone 3 Inc. helps owners, who are seeking a successful business transition, design and implement a dynamic, flexible business transition plan. Our work includes addressing sensitive issues with partners and family members. Ensuring maximum values are achieved and parties are happy with the experience and satisfied with the outcome.
Paul Cronin is a leader in strategy, strategic execution, business transition, and succession planning. He specializes in working with owners and their leadership teams to create, grow and preserve wealth. Cronin is a turnaround expert spending 6-years as a partner with Platinum Group where he successfully led the transition and succession of 4 organizations. He has been CEO or president of 5 closely-held companies in the past 26-years. He started his career with Coopers & Lybrand, Sheraton Hotels and Merrill Lynch Pierce, Fenner & Smith. He went on to become EVP and Regional Manager for Earth Technology. He started Cornerstone, 12-years ago to help entrepreneurs convert strategy into results, and exiting owners to prepare their succession and protect their wealth. Paul graduated from Boston College with a B.S. in accounting. He is a certified executive coach with Scaling Up / 3HAG WAY / and Gravitas Impact coaching organizations. And, an accredited exit strategy planner through Pinnacle Equity Solutions.
StrengthsFinder: Belief | Self-Assurance | Responsibility | Individualization | Learner
Interests: Business, Leadership, Church, Fitness, Hockey, Tae Kwon Do, SUBA diving