EVERY FRIDAY DINING EXPERIENCE @ A SECRET LOCATION IN NYC...DINING RESERVATIONS, BOTTLE SERVICE, BDAY'S INFO 646.522.5400
About this Event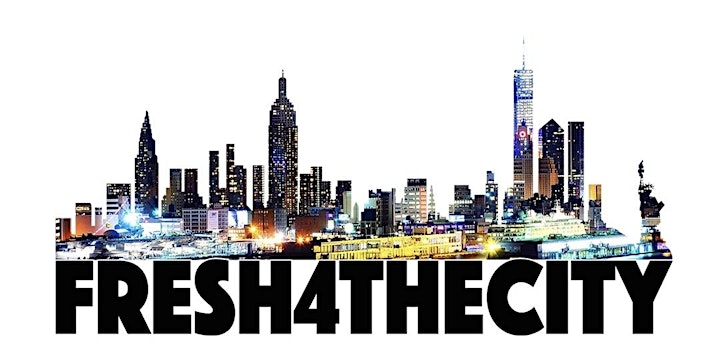 PRESENT
"FRIDAY NIGHT LIGHTS"
@ A SECRET LOCATION IN NYC
DOORS OPEN 5pm - 10pm
DINING EXPERIENCE: $50 per person comes with Caesar Salad (with Chicken optional), 1 Entrée & 2 Premium Drinks
(Casamigos, D'usse, Henny, Titos, Patron Etc.)
Appetizer
Caesar Salad With Chicken
Entree Options:
1)Lamb Chops With Mango Salsa Served With Rice (White Or Yellow) & Asparagus
2)Fried lobster Tail With Lemon Aioli Served With White Truffle Scalloped Potatoes & Asparagus
3)Steak Served With Rice (White or Yellow) & Broccoli
4)Chicken & Broccoli With Rice (White or Yellow)
ALL TABLES HAVE A 2 HOUR SEATING LIMIT UNLESS DOING BOTTLE SERVICE!!!
Confirm your reservation TODAY!!!
Text: 646.522.5400
Email: CEOFRESH@GMAIL.COM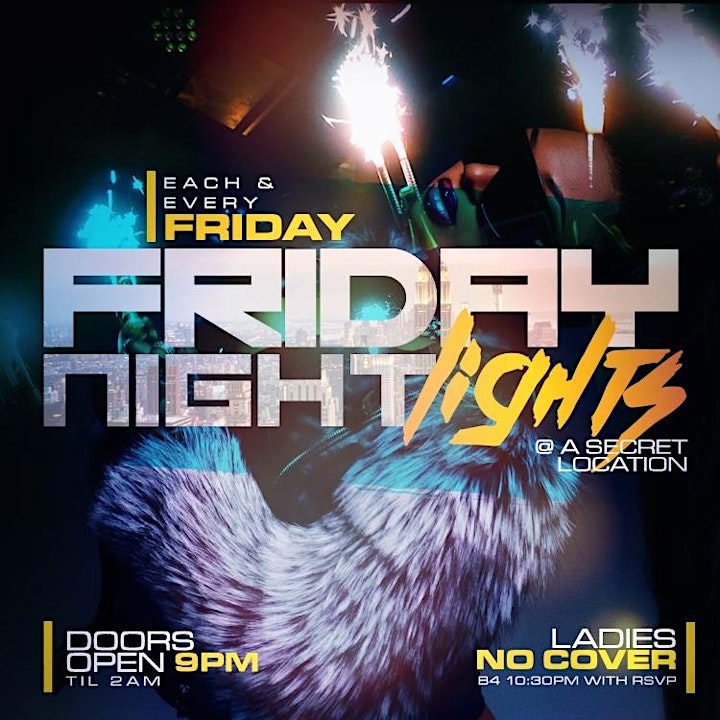 $45 SANGRIA, MARGARITA & RUM PUNCH PITCHERS
$55 LONG ISLAND ICED TEA & PATRON MARGARITA PITCHER
LADIES IN GROUPS OF 6 OR MORE WITH A DINNER RESERVATION RECEIVE FREE CHAMPANGE BOTTLE (ALL 6 GUEST EAT, RESERVATION MUST BE BEFORE 10PM)
ALL BIRTHDAYS RECEIVE FREE CUPCAKES
 BIRTHDAY PACKAGE
$200 (ALL IN)
1 PITCHER (SANGRIA, MARGARITA OR RUM PUNCH)
1 FLAVORED HOOKAH WITH UNLIMITED REFILLS &
1 BOTTLE OF WINE OR CHAMPAGNE
LADIES PACKAGE
$200 (ALL IN)
2 BOTTLES WITH A FREE HOOKAH OPTIONS ARE
BARTENURA PRESECCO, BARTENURA MOSCATO, BARTENURA ROSE
(CHOICES CAN BE MIXED)
All Premium Bottles
1 Bottle $300
2 For $500
4 For $950
6 For $1400
8 For $1850
10 For $2200
Ace Of Spade
1 For $550, 2 For $1,000
1942, Clase Azul Or Dom Perignon
1 For $500, 2 For $950
Don't Wait Book Your Special Occasion TODAY !!!
Celebrate Your Birthday And Receive: A Personalized Birthday Flyer, DJ Shout Outs
Planning On Bringing Cupcakes Or A Cake Let Me Know Before The Event
Inquire About Our VIP Bday Packages Text/Call: 646.522.5400
FOR BRUNCH RESERVATIONS, BOTTLE SERVICE, BDAYS, RSVP OR INFO 646.522.5400 OR CEOFRESH@GMAIL.COM
SNAPCHAT: FRESH4THECITY
LOG ON TO FRESH4THECITY.COM FOR ALL THE LATEST PICTURES AND UPCOMING EVENTS !!!