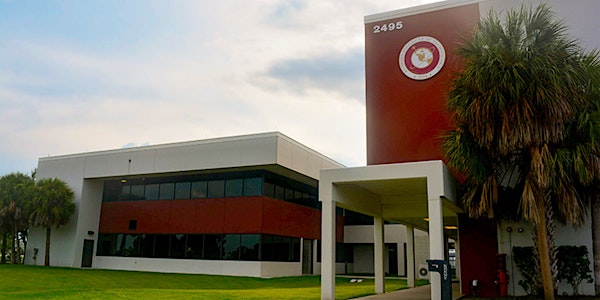 CEO Forum at Florida Tech CAMID Facility
Join us March 1 for this networking event featuring Richard Sweat as our guest speaker.
Date and time
Wednesday, March 1 · 5:30 - 8pm EST
Location
Florida Tech Center for Advanced Manufacturing and Innovative Design (CAMID) 2495 Palm Bay Road Northeast Palm Bay, FL 32905
About this event
The Challenge of Balancing Innovation and Execution
weVENTURE is hosting a CEO Forum event at the Florida Tech CAMID Facility on Wednesday, March 1st from 5:30 p.m. to 8:00 p.m. This CEO social and networking event will feature Richard Sweat as our guest speaker. Richard will share a brief history of .decimal, the backstory of ProKnow, and an introduction of Career Passport's mobile technology for introducing jobseekers to regional, exciting careers in manufacturing and beyond. Food and beverages will be made available at the event.
Richard Sweat
Richard is currently Founder/Owner/CEO of .decimal, LLC., an internet-based manufacturer of custom, patient-specific medical devices and treatment planning software used in radiation oncology. .decimal was founded in 1986 and holds 5 patents on both the automated, internet-based manufacturing process, as well as unique medical devices used in electron and proton therapy. To date, .decimal has manufactured nearly 450,000 devices for ~90,000 cancer patients. Richard was also the sole investor and a Co-Founder of ProKnow, LLC, a cloud-based, big data analytics software platform used in radiation oncology. ProKnow was sold in August, 2019, to Elekta, the second largest radiation oncology company in the world. After the sale of ProKnow and while maintaining his original company, .decimal, Richard founded a new company, Career Passport, LLC, which is building a map-based app for connecting jobseekers to local training providers and employers.
~ ~ ~ ~ ~ ~ ~ ~ ~ ~ ~ ~ ~ ~ ~ ~ ~ ~ ~ ~ ~ ~ ~ ~
About CEO Nexus
CEO Nexus is committed to serving business owners and executive teams leading growth-oriented, second-stage businesses. Our facilitated peer roundtable program utilizes the CEO Nexus Content Model, which focuses on leadership, sales, operations, and finance. The program is structured to enhance Your Ownership Journey™.