Description
Ticket: $10 - Charged at the door

Free: For SII & TBTI Comapnies
Get to know and learn from the success story of an entreprenuer who struggled and faced a number of failures until he found a venture that changed the lives of 17 million people.
At the conclusion of this session you will learn;
-Which factors should be considered at the early stage of your business?
-How to learn from the mistakes?
-How to keep yourself focused and think positively to make your business a success?

About the Speaker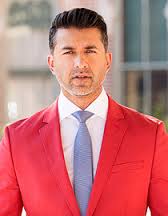 Vick Tipnes, CEO of Blackstone Medical Services
Vick Tipnes was born in London and immigrated to Florida as a young boy. He wanted to be an entrepreneur since a very young age. Tipnes dropped out of college after six months to pursue his goals. He started various businesses and sold them until he was 35 years old. Thats when he took a massive decision to educate himself. After extensive learning and continous education he founded Blackstones Medical Services in 2012 that is serving 17 million people across 38 states.
---
Cost: $10 paid at the door (lunch included)
Free for TBTI & Student Innovation Incubator Companies
---
USF is an Equal Opportunity/ Equal Access/ Affirmative Action Institution. Please notify USF CONNECT,

3802 Spectrum Blvd., Suite 100, Tampa, FL, 33612

, call 813-974-1082, or email Laurie Sullivan at laura75@usf.edu, a minimum of five (5) working days in advance, if an accommodation for a disability is required.
Disclaimer: The University of South Florida and USF Research Foundation, Inc. are committed to the free exchange of ideas, reasoned debate and intellectual dialogue. Speakers and scholars with a diversity of opinions, perspectives and professional experiences are invited to the campus to provide the community with important or differing points of view, some of which may be deemed controversial. The views, opinions and conclusions of those invited to speak on the campus do not necessarily reflect the views of the university administration or any other segment of the university community. Nor are those invited to speak on campus necessarily authorized agents or representatives of the University or Research Foundation. The use of University or Research Foundation facilities for an event or presentation does not constitute an endorsement by the University or Research Foundation of the views, opinions and conclusions of those invited to speak.