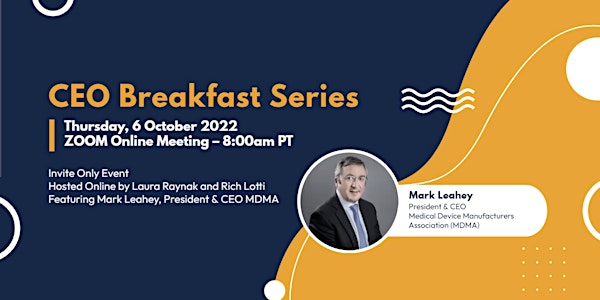 CEO Breakfast Series
CEO Breakfast Series
About this event
Mark Leahey is the President & CEO for the Medical Device Manufacturers Association (MDMA), the leading national trade association representing hundreds of innovative and entrepreneurial medical technology companies in Washington, DC. His responsibilities include advocating on behalf of the medical device industry to Congress, the Food and Drug Administration (FDA), the Centers for Medicare and Medicaid Services (CMS), and other federal and state agencies. He has led efforts for more reasonable and predictable regulatory pathways for innovators, a more timely and fair reimbursement process, and worked to open access in the hospital marketplace for all medical devices. Mr. Leahey led efforts against the medical device tax when it was first proposed in 2009, and successfully advocated for multiple suspensions of the tax before securing a full repeal in 2019. He has been named one of the medical device industry's top lobbyists and has served as one of the lead negotiators for the medical technology industry during every user fee agreement.  Leahey currently serves on the Board of Directors for the Fogarty Institute, a leading medical technology incubator, and the Executive Board of EXCITE International, a global collaborative seeking to accelerate access to health technologies and the Editorial Advisory Board of Medical Product
Please send any questions ahead of time so Mark can tailor his discussion to address your most pressing issues 
This new "breakfast" series is a group that meets via Zoom every other month for CEO's to discuss the softer skills of leadership that are not taught in business school.  We will also be building fellowship with colleagues who are CEO's in the Life Sciences. We will have a new guest speaker each session
We are looking forward to seeing you at the breakfast. Please register with the link to Eventbrite below. After registration, you will receive the Zoom meeting link. The password to access the event is CEO
Password: CEO
Please respond to Laura Raynak with any further questions about the dinner or about registering.
laura@raynaksearch.com 
Laura and her team specialize in working a very well-defined process to ultimately find you the very best executive talent available in life sciences. We have over 20 years of building companies and relationships with the very best in the business.