Multiple Dates
CEO 2.0 Innovative Leadership Workshop with Tatiana Indina
Description


About This Course:
In an era of constant changes, leaders are required to create new ideas, processes, or products that can lead to effective transformational changes in their organizations.
Innovative leaders must embrace a creative mindset and be able to champion and cultivate continuous innovation.
What you will learn?
Create your personal innovation leadership style

Develop ability to analyze, formulate, and implement innovative strategy

Manage and lead innovation within your organization

Create and foster innovative culture and empower employees to sustain it

Acquire tools and techniques for effectively leading and inspiring innovators
Who Should Attend?
CEOs, C-level executives, VPs, Innovation strategists, HR executives
Course Structure
Start innovative transformation to your upgraded version CEO 2.0
Module 1: Discovering Innovative Leader Within

Defining your core values

Assessing key skills

Entrepreneurial mindset

Designing your Innovative vision

Decision making and problem-solving

Overcoming failure and crisis

Module 2: Innovative Leader as a Team Player

Innovative leader as a team player

Developing a people-oriented culture

Interpersonal communication skills for leaders

Storytelling and assertive presentation

Communicating your vision

Teams and relationship management

Inspiring and motivating your team

Module 3: E-Leadership: Enabling Technology

Defining Technology Leadership

Making smart investments in new technology innovation

Develop innovation leadership strategy for high-tech and R&D

Organizational Culture and Change

Building Stakeholder Relationships

Module 4: Leading Innovation & Innovation Management

Create a high-impact culture that will accelerate growth

Leader online reputation in digital age

Creating and leading a culture of innovation

Leadership styles that foster innovation

Module 5: Innovative Leadership on a Global Scale

Global leadership style for multicultural teams

Ethical leadership and corporate responsibility

Create your personal leadership development plan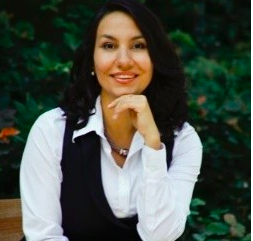 Tatiana A. Indina
CEO, Founder - Mission 2 Mars Academy
Innovation & Technology Consultant,
Team and Leadership Coach,
Scholar, Author, Mentor
Tatiana A. Indina (Ph.D.) is an international Innovation & Leadership consultant, Executive & Team Coach, Mentor & Author.
She is a CEO of Indina-Consulting International Agency; CEO & a Founder of Silicon Valley Mentors online mentorship service.
Dr. Indina expertise includes Corporate Innovation Strategy and Innovation Management, Innovation Ecosystem Roadmapping, Organizational Change, Innovative Leadership and Innovative Culture development.
She has over 12 years of training & consulting experience assisting her clients (global corporations, government organizations, start-ups, universities and research centers) with actualizing their Innovative potential.
Her agency Indina-Consulting (international training & consulting company, based in San Francisco) provides strategic leadership and corporate innovation advisory services to organizations sized from early-stage startups to multinational corporations - to help accelerate the ways they discover and pilot innovation, design innovative strategies, develop innovative cultures, build teams and foster the new generation of innovative leaders.
Tatiana has a successful track record working with C-level executives of Fortune 500 companies across different industries - in Silicon Valley and globally. She also advises to a number Silicon Valley startups.
In 2018 Tatiana started working on Silicon Valley Mentors - an online platform that allows innovative startups and companies from all over the world to find a mentor in Silicon Valley, to help their business.
As a mentor herself, she has worked with startups and innovative companies in Eastern and Western Europe, Asia and North America. Through her project Silicon Valley Mentors she aims to empower global entrepreneurs and corporate innovators with the expertise and best practices of technology innovation from Silicon Valley.
Tatiana frequently speaks at International events and conferences & has published extensively on the topics of Startups & Innovation, Internet, and Technology, Innovative Leadership and Entrepreneurship, Organizational Change and Development. As a trainer and speaker, she is known for engaging and inspiring her audiences.
Tatiana has written 5 books and over 50 research papers. Her latest book, "CEO 2.0", addresses the problem of developing key competencies for the next generation of leaders, that will determine their success in digital age.
An out-of-the-box thinker and an entrepreneur at heart, Tatiana says: "I am driven by the mission of helping scale innovation around the world and build new innovative eco-systems outside of Silicon Valley in which entrepreneurs and businesses can grow, succeed and make the world a better place".
Tatiana's LinkedIn: https://www.linkedin.com/in/tatiana-indina-92787a3/
Tatiana's Twitter: https://twitter.com/TatiIndina
What you will get:
Spend one day to reinvent yourself to claim your leadership in new digital era
Insider Knowledge

Learn the secrets of innovative leadership from world top innovators and trendsetters.
Practical Takeaways

Explore the prospects of exponential growth with your new leadership model and create a new vision for your business.
Inspirational Insights

Hear the insights from world leaders that will change your mindset. Discover your potential as a transformational leader.
Hands on Experience

Get equipped with best practices, strategies, and tools to create, maintain and foster your innovative leadership
Turn-Key Solutions

Acquire new skills and techniques to inspire your team, mentor your followers, and lead with confidence and grace.