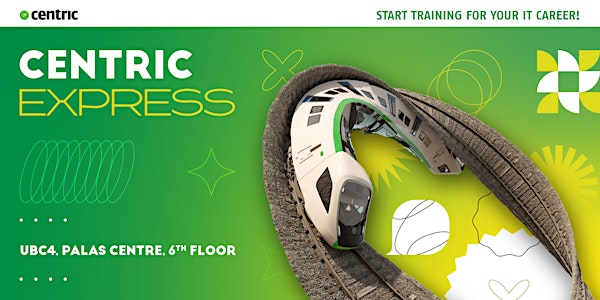 Centric Express 2023
CENTRIC EXPRESS is a program intended especially for students interested in improving their technical and soft skills.
By Centric IT Solutions Romania
Date and time
Saturday, March 25 · 9am - 5pm EET
Location
Centric IT Solutions Romania 3C Strada Palat 700032 Iași Romania
About this event
Starting with the 4th of March, the Centric Express will be ready for the road !
About the event
Centric Express is a program intended especially for university students from computer science faculties, interested in improving their technical and soft skills.
It is focused on raising awareness of IT in general, as well as the specific disciplines, technologies, and development methodologies used at Centric.
The program runs for six weekends and includes presentations and workshops about the areas of expertise in Centric: Software Development, Software Testing, and UI/UX Design. Every Saturday, participants stop at a competence "train station" where they learn things like OOP, .NET, UI/UX, Front end, Quality Assurance, XR, Cybersecurity, DevOps.
Registration
You are eligible to enroll for Centric Express if you are a BA or MA student of the Faculty of Computer Science/ Faculty of Mathematics/ Faculty of Automatic Control and Computer Engineering/ Faculty of Electronics, Telecommunications & Information Technology/ FEAA – InfoEc/ University of Arts.
The tickets for each session become available only on the week prior to the event in question, starting Friday at 12 PM. (For example, the tickets for the first session become available on the 24th of February, for the 2nd session on the 3rd of March, and so on. )
Sessions Schedule
4 Mar 2022
Communication & Teamwork | AR/VR |BI
11Mar 2022
18 Mar 2022
25 Mar 2022
01 Apr 2022
08 Apr 2022
Agenda
Communication & TeamWork
---
Take a step forward in knowing yourself and how your brain is structured. Learn about personality types and improve your communication skills.
AR/VR
---
Learn the basics of augmented and virtual reality and discover the process of building an XR application.
BI
---
Find out about data analysis, data visualization, reporting, different types of BI software, and how to use them to extract insights from data.
.NET | OOP | Web APIs
---
Walk through the steps of building a .NET web app and learn about how to make your code solid as a rock.
UI/ UX Design
---
Find out some basic UI/UX principles and practices and learn how to apply them to solve real-life challenges.
Front End
---
Learn the steps of creating an Angular application: components, directives, and how to add routing to a basic project.
Quality Assurance
---
Get a sneak peek into the Centric way of software testing and learn about the skills required in the day-to-day life of an Agile team member.
CyberSecurity
---
Enter the world of ethical hackers and learn about the importance of cybersecurity in our IT world, cybersecurity basics, risks, and threats.
DevOps
---
Get a solid understanding of the principles, practices, and tools used in the field of DevOps: agile software development methodologies, continuous integration and delivery, infrastructure as code, a...