Event Information
Location
St. Joseph's Medical Center
1800 North California Street
Basement Conf Rooms-See CV-RAPS Signs
Stockton, CA 95204
Description
CV-RAPS spotlights the BRAIN when it is attacked by a bleed or a blockage!
Mark your 2018 calendar to join us for lunch and to learn to navigate beyond stroke, Traumatic Brain Injury and associated neurological impairments. Being educated about pre and post stroke care has improved patient care and stroke outcomes. Patient advocacy is empowered with resources and information. Get the updates on resources and the progress being made in stroke care in your county and nearby.
You are not alone in your fight against stroke.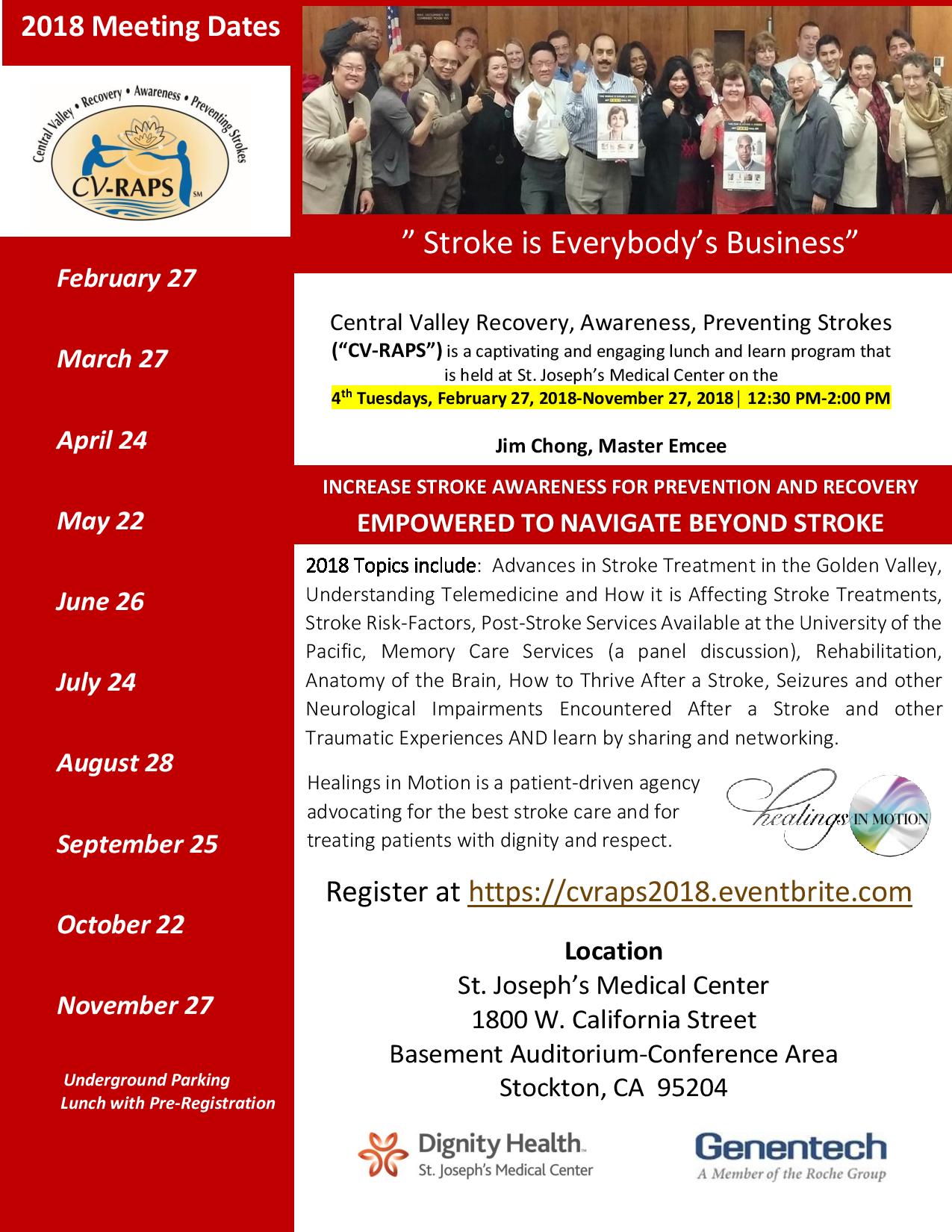 The Joint Commission sets quality standards for hospitals in the United States and serves as a certifying body for hospitals and for certain hospital-based programs such as in stroke. Comprehensive stroke centers provide a structure to take stroke care to a new level of excellence, the potential for handling more complicated stroke cases and a venue to provide better outcomes. The 2018 CV-RAPS Program will kick-off February 27, 2018 and will focus on the three levels of stroke care.
Meet representatives of hospital acute stroke teams, learn about stroke care protocols, emergency medical services integrated with the stroke center, rapid testing procedures, and continuous improvement processes. The more often you attend, the more familiar you will get with others in attendance. That's why it is important to make this a standard monthly lunch date!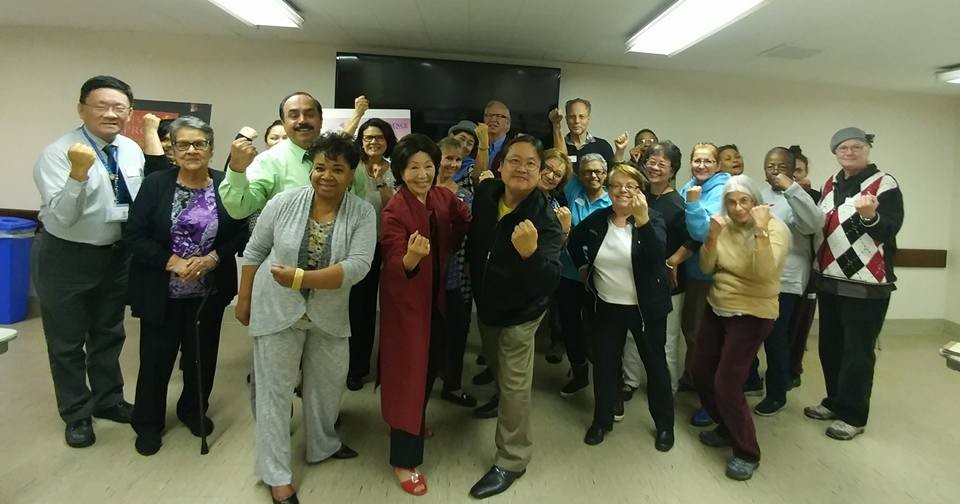 The CV-RAPS program places a local emphasis on stroke prevention, acute treatment and quality improvement. Armed with resources provided by Genentech, the makers of the blood clot busting agent, tPA, US Centers for Disease Control and Prevention and legislative initiatives like the California Stroke Registry, the World Stroke Organization and Young Stroke, Inc., Healings in Motion works to present the most current available information to survivors, Caregivers, Social workers, Clinicians and others within the communities it serves. Many of the speakers provide information gathered from the American Stroke Association and/or the National Stroke Association, who also sends uscopies of the FREE magazines, Stroke smart, for distribution at our programs.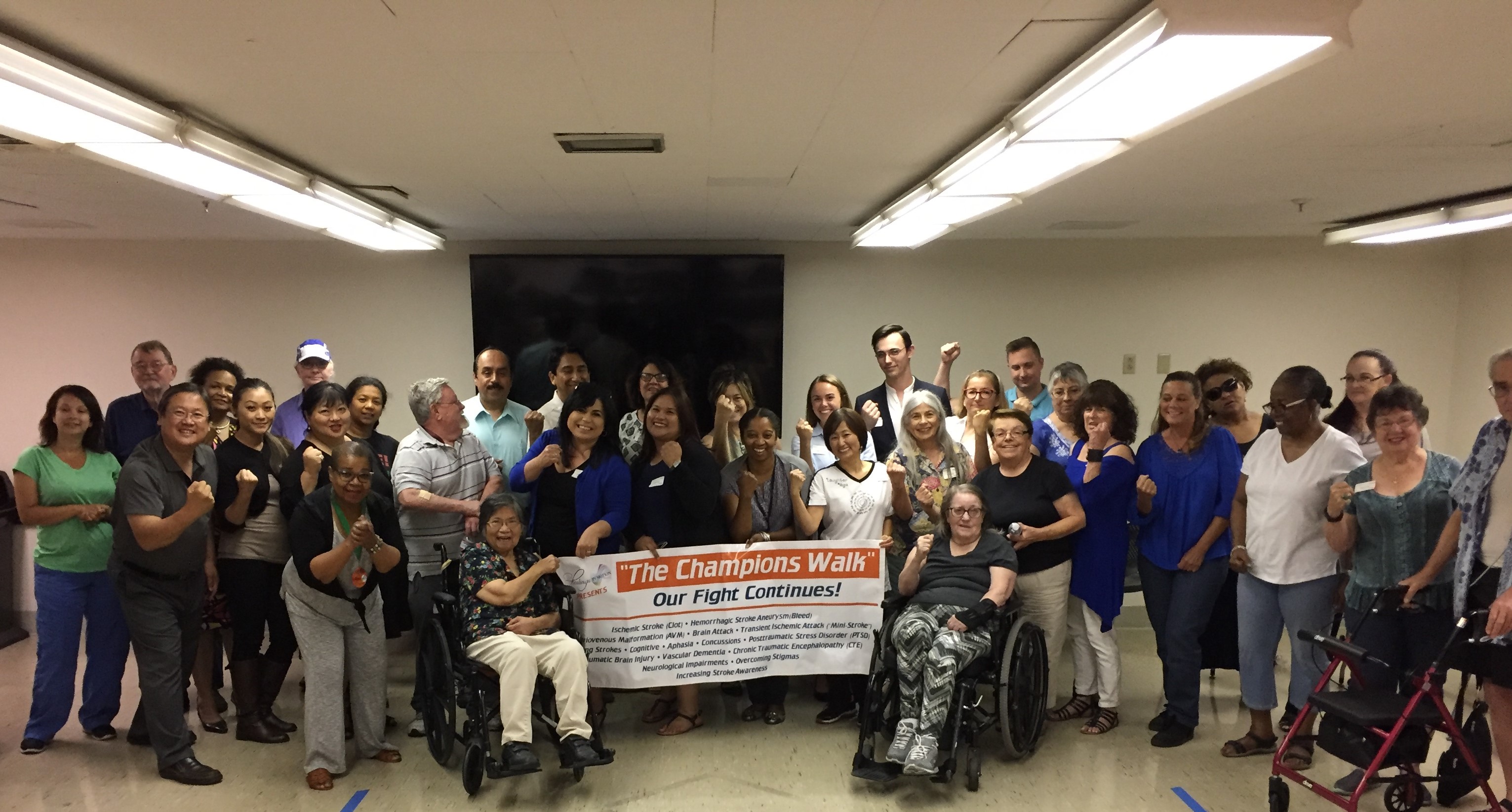 Look for the monthly flyers posted here or at our website www.healingsinmotion.org. BE A PARTNER for STROKE AWARENESS. Share this information with others.
FAQs
Parking
Underground Parking is FREE if there is an available parking space. Come early and give yourself adequate time to secure a space. If there are no more spaces you may have to find spaces outside the parking lot that may include a cost. The benefit outweighs the cost. Healings in Motion and its sponsors or affiliates are not responsible for any parking cost.
Date and Time
Location
St. Joseph's Medical Center
1800 North California Street
Basement Conf Rooms-See CV-RAPS Signs
Stockton, CA 95204
Refund Policy