Central Texas ACHE Chapter & South Texas HFMA Chapter Summer Institute 2018
Description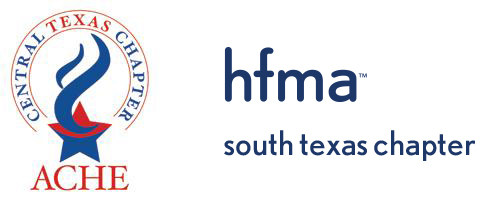 This program has been approved for 3.0 Face-to-Face ACHE hours.
7:30am – 8:30am Breakfast & Registration
8:30am – 9:00am Welcome & Introductory Remarks
Michael Nowicki, EdD, FACHE, FHFMA, ACHE Regent for Central and South Texas
9:00am – 10:00am Leadership Skills & Motivation
Joshua Cone, Doctoral Student in Health Behavior and Health Education, The University of Texas at Austin
10:00am – 11:30am Panel Discussion: The Value of Developing and Implementing Alternative Care Models

(ACHE 1.5 hours Qualified Education Credits)
Moderator: Daniel Marino, Managing Partner, Lumina Health Partners
Craig Cordola, President and Chief Executive Officer, Ministry Market Executive, Ascension Texas; Senior Vice President, Ascension Health
Elizabeth Teisberg, Ph.D., Executive Director of Dell Medical School's Value Institute for Health Care
Developing new delivery models that embrace alternative payment models goes beyond simply supplying patients with information at time of checkout or discharge. It includes a commitment to patient-centered care, providing clear and useful information to patients, helping patients establish goals and plans to live a healthier life, creating a team of clinicians and administrative staff with clearly understood roles and responsibilities, and using office systems to support followup and tracking of patients. Managing programs aimed at chronic illness and changing behavior are challenging and take time for everyone involved— providers, patients, and caregivers. Yet, it is often patients themselves who are called on to manage the broad range of factors that contribute to their health. Common sense suggests—and health care experts agree—that people with chronic care needs should receive support to help them manage their health as effectively as possible. Helping patients to make good choices and maintain healthy behaviors requires a collaborative relationship between health system leaders, community-based programs, clinical teams and patients. Learning how to incorporate these new models into a health system or practice can support patients in building the skills and confidence they need to lead healthier lives.
12:00pm – 1:15pm Lunch and ACHE/HFMA Update: What's NEW!
1:30pm – 2:20pm Leadership Communication Strategies
Dave Jackson, Senior Admissions Officer, University of Texas McCombs School of Business
2:30pm – 4:00pm Panel Discussion: Disruptive Innovation in Healthcare (ACHE 1.5 hours Qualified Education Credits)
Moderator: Mini Kahlon, Ph.D., Vice Dean, Health Ecosystem, The University of Texas at Austin Dell Medical School
Roy Smythe, M.D., Global Chief Medical Officer, Strategy and Partnerships, Philips
Lucy Savitz, Ph.D., M.B.A., Director for Health Research, Northwest & Hawaii, Kaiser Permanente
Disruptive innovation, a term coined by Harvard professor Clayton M. Christensen, is a transformative business model that leverages technology to help focus on making products and services more accessible and affordable. In healthcare delivery, disruptive innovations have the potential to decrease costs while improving both the quality and accessibility of care. Disruptive innovations enable new applications and changes in behaviors. The current thinking with many innovators is a belief that a host of disruptive innovations would have wide implications for payers by shifting payment models to reward precision diagnostic tests and abilities of providers. Several current disruptive innovations like retail clinics, telemedicine, medical tourism, and point-of-care medical payments could make a major difference in how health care is reshaped in the near future. This panel will focus on the role of innovation in the medical marketplace and examples of disruptive innovations that will change lives in health care.
4:00pm – 4:15pm Final Comments