Central Texas ACHE Chapter & South Texas HFMA Chapter Summer Institute 2017
Description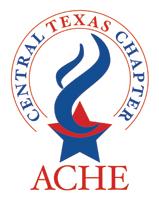 This program has been approved for 1.5 Face-to-Face and 1.5

Qualified

Education hours.
---
7:30am – 8:30am Breakfast & Registration
8:30am – 9:00am Welcome & Introductory Remarks
9:00am – 10:00am Where Heart Programs are Leaving Millions of Dollars on the Table and How to Get it
Larry Sobal, MBA MHA CMPE, Executive Vice President, Business Development, MedAxiom Ventures
10:00am – 11:30am Panel Discussion: Achieving the Triple Aim in Healthcare (ACHE 1.5 hours Face-to-Face Education Credits)
The cost of healthcare has been escalating over the past several years. Trying to contain and reduce this growth has become a major policy focus not only at the federal and state levels, but among employers and consumers too as they struggle to keep up with the ever increasing cost of health insurance. Regardless of federal health reform, rising healthcare costs is something that must be discussed and controlled for the vitality and sustainability of employers and nationwide economic growth and stability. The truth is that rising costs are placing an unsustainable strain on state and federal healthcare programs and individual and employer sponsored health plans. But where does all this cost come from? According to Centers for Medicare and Medicaid Services, hospital and physician services account for over 51% of the cost. So what are the drivers of cost in these areas? Some of the most significant drivers include: lack of coordination of services among health providers, resulting in inefficiencies and duplication; unnecessary medical treatment, clinical variation, and costly medical errors; and a sky rocketing population of people with one or more chronic diseases. What can be done to address these cost drivers? In 2007 the Institute for Healthcare Improvement (IHI) began the Triple Aim initiative, which seeks to accomplish three objectives: improve population health, improve patient experience, and reduce the cost of care. What we have learned is that any future efforts that fail to balance each of these three objectives will have little to no success at controlling those cost drivers or improving healthcare delivery. Addressing cost alone is not enough. Looking at quality in a vacuum is not effective.
Moderator: Michelle "Missy" Apodaca, Attorney, Haynes and Boone LLP
Blake Allison, FACHE, Chief Operating Officer, Baylor Scott & White Quality Alliance
Meghana Gadgil, MD, Academic Program Officer, Value Institute for Health and Care, The University of Texas at Austin Dell Medical School
Jaeson T. Fournier, DC MPH, Chief Executive Officer, CommUnityCare Health Centers
12:00pm – 1:15pm Lunch and ACHE/HFMA Update: What's NEW!
1:30pm – 2:20pm Advocacy and Legislative Update
Geronimo Rodriguez, Chief Advocacy Officer, Seton Healthcare Family
2:30pm – 4:00pm Panel Discussion: Revenue Cycle Management Best Practices for Navigating the Challenging Reimbursement Landscape (ACHE 1.5 hours Qualified Education Credits)
Moderator: John Montaine, MBA FHFMA HRM, CEO, Creative Managed Care Services, LLC
Amanda Beita, MHA FACHE, Senior Manager Performance Improvement- Surgical Services, St. Davids Healthcare
Claudia Falcon, Controller, Uvalde Memorial Hospital
Chris Joiner, Principal, Accordias Healthcare LLC
Samuel Boleman, Director Revenue Cycle Strategy, AMCOL Systems
4:00pm – 4:15pm Final Comments