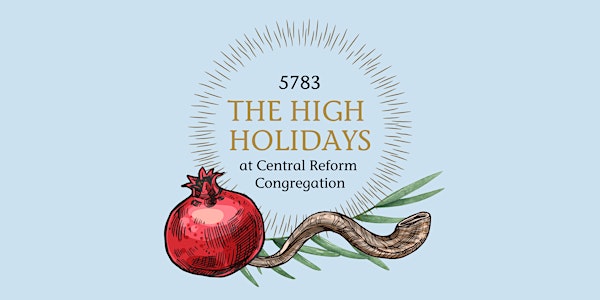 Central Reform Rosh Hashanah Day Two Service
Rabbis Karen and Daniel with Leslie and Andrew will lead an informal and soulful Second Day Rosh Hashanah Service to welcome 5783.
When and where
Location
Central Reform Congregation 5020 Waterman Boulevard St. Louis, MO 63108
About this event
A Change in plans for the Second Day Rosh Hashanah Service 5783:
For many years CRC has offered a second day service for Rosh Hashanah even though most reform congregations only observe one day. Our second day service provided a more intimate experience and for the past few years, the collaboration of Rabbi Jim Goodman with Brothers Lazaroff. These holy days always find ways to remind us that we are part of something greater than ourselves and that sometimes all we can do is respond in the holiest way possible to the challenges before us. Rabbis Susan and Jim are in quarantine with COVID and will not be able to participate this year. They are recovering and well cared for but are committed to being cautious and not spreading the virus.
Rabbis Karen and Daniel along with Leslie and Andrew will lead an informal and soulful Second Day Rosh Hashanah Service to continue the celebration of the New Year of 5783. May it be a good year, a healthy year and a year of peace!
The previously scheduled oneg hosted by the Ashrei Foundation will be rescheduled for another date.
Vaccination and Masking Requirements
Vaccination is requested for attendance at all events.
We will not check vaccination status upon entry to the building.
Well fitting masks worn over the nose and mouth are required for all individuals in attendance for the duration of the service, including children over two years of age.
Masks will be optional for those participating in pre- and post- service receptions where food and beverage are provided.
Parking
Parking will be available in CRC's lot, in the First Unitarian Church Lot across the street, and along Waterman.
Additional Notes:
These live services will be streamed at www.centralreform.org/#livestream in addition to the in person experience.
Registration is NOT necessary if you plan to stream this service from home.
Please see our Website at www.centralreform.org/holidays for a full calendar of our high holiday offerings.
Registration will not act as a reservation or guarantee a seat in CRC's sanctuary but will be extremely helpful to us in anticipating the number of people who plan to attend in person, allow us to make plans, and take security measures to safely accommodate all who want to join.
If you need assistance in registering for a service, please contact the front desk at 314-361-3919.