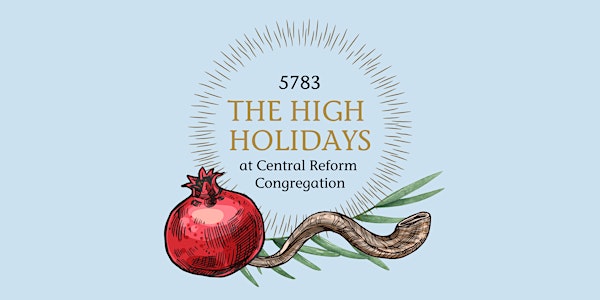 Central Reform Kol Nidre Service
Central Reform Kol Nidre Service
When and where
Location
Central Reform Congregation 5020 Waterman Boulevard St. Louis, MO 63108
About this event
Schedule:
8:00 pm Kol Nidre Service
Special performance by violinist Hava Polinsky
In -Person Services
Kol Nidre services will take place in-person inside CRC's Building.
With the retractable wall open and seats in the multi-purpose room, CRC has a capacity for 500 people.
We will also have a large screen in the Oneg room for people to watch the live service with others.
All of our our High Holiday services and most additional offerings are available to watch from the comfort and safety of your home at www.centralreform.org/#livestream.
Registration is not necessary if you plan to stream from home.
For a full schedule of High Holiday events, please visit www.centralreform.org/holidays/
Registration
We will remain true to our CRC value to be open to the whole community without "tickets," including to people who are unaffiliated with a congregation.
Registration will not act as a reservation or guarantee a seat in CRC's sanctuary but will be extremely helpful to us in anticipating the number of people who plan to attend in person, allow us to make plans, and take security measures to safely accommodate all who want to join.
If you need assistance in registering for a service, please contact the front desk at 314-361-3919.
Vaccination and Masking Requirements
Vaccination is requested for attendance at all events.
We will not check vaccination status upon entry to the building.
Well fitting masks worn over the nose and mouth are required for all individuals in attendance for the duration of the service, including children over two years of age.
Parking
Parking will be off-site in nearby lots with shuttle service to and from CRC. Valet parking will also be available for those with mobility challenges.
Please see all parking details here: https://www.centralreform.org/hhd-5783/#parking
Seating Policy
We urge members to arrive early to assure satisfactory seating. Although the saving of seats is discouraged, members may save up to four seats until 15 minutes before the scheduled start of services.