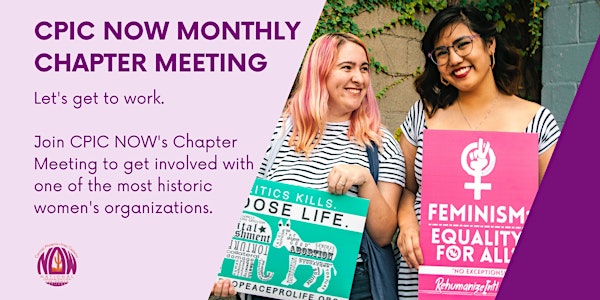 Central Phoenix NOW Chapter Meeting
CPIC NOW is the Central Phoenix Chapter of the National Organization for Women.
About this event
NOW is the largest organization of feminist activists in the United States. Since its founding in 1966, NOW's goal has been "to take action" to bring about equality for all women.
Central Phoenix Inez Casiano NOW focuses on the follwoing six core issues:
Reproductive Rights and Justice
Economic Justice
Ending Violence Against Women
Racial Justice
LGBTQ Right
Constitutional Equality
We meet on the fourth Monday of every week from 6:00 - 8:00 pm.
We discuss the events and actions that the organization has done over the past month, including legislative, events, membership and partnership updates. All board members and committees report on their activities and plans for actions now and in the future.
This is a great opportunity to become more familiar and involved with CPIC NOW, where everyone participates.
We'd love to see you there!