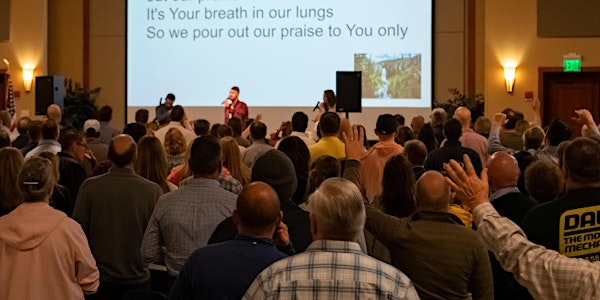 Central Oregon Community Leader's Prayer Breakfast
8th Annual Central Oregon Community Leader's Prayer Breakfast!
By A Coalition of Community Leaders
Date and time
Friday, May 12 · 6:30 - 9:30am PDT
Location
Riverhouse Convention Center U.S. 97 Business Bend, OR 97701
About this event
Your Invitation to Our Once-A-Year Time of Regional Worship and Prayer as One Church.
Join hundreds of men and women of faith from across our region for an inspiring 90 Minutes of Fellowship, Hope, Confidence and Encouragement.
What It Is:
A non-denominational, cross-community, volunteer-led, non-profit morning of worship and prayer. Our nation and region are in a season of great disruption and challenge. This creates the ideal window of opportunity for leaders of faith to move confidently and boldly into the gap, to propose and to model God's way. It's the perfect time for focused, strategic prayer, followed by positive action as God leads. It's a perfect time for Community.
Program:
Inspirational Time of Worship Music: Jackson Michelson, Nashville recording artist and worship leader at Church of the Cascades in Bend, Oregon.
Special Announcement: Evangelist Mike Silva - Celebrate Central Oregon Bi-Lingual Festival on July 15, 2023
Keynote Speaker: Soorin Backer - "Heaven's Ambassadors."
Soorin (pictured below) is an electrifying speaker with a major stage presence. Her message about our individual and collective opportunities to pursue the Great Commandment and the Great Commission to produce changes of eternal consequence will inspire and encourage us all. Soorin is highly educated and continues to pursue formal education to rightly understand the holy scriptures. She studied at Fuller Theological Seminary for a Ph.D. in Clinical Psychology and a Masters in Biblical Studies. Currently, she's enrolled at Global Awakening Theological Seminary for a Doctorate of Theology degree.
Individual and Small Group Prayer: Enjoy The Power of a Whole Region Joined in Prayer
Location:
The Riverhouse Convention Center
Date: Friday, May 12, 2023
Gather: 6:30 am (Come on time and enjoy the fellowship).
Breakfast catered by The Riverhouse: 6:30 - 7:25
Fellowship: 6:30 - 7:25
Opening Worship: 7:25-7:30 (As always, we will start right on time).
Program and Prayer: 7:30 - 9:00 am (As always, we will end on time).
Individual Prayer, Communion and Fellowship: 9:00 - 9:30
Inspiring Vision. Community Time of Prayer. Our Once a Year Connection as The Church of Central Oregon.
As We Experienced the Past Seven Years, It Will Be a Truly Memorable Morning!
Space is limited to 800 people. Get your tickets now and tell your friends!
Gather a Table. Worship and Pray Together in Small Groups!
Questions?
Email MichaelSipe@10xGroups.com
P.S. Our space is limited, therefore there are NO REFUNDS. However, you may transfer your ticket to another person who will attend. Just email with the change.
About the organizer
Producer of Regional Events.