Actions and Detail Panel
Central London Property Network
Wed, October 26, 2016, 6:30 PM – 9:30 PM BST
Description
Are you ready for Government Regulation?


NOTE: EVENTBRITE TICKET OPTIONS CLOSES AT 5.30PM WEDNESDAY EVENING- A LIMITED NUMBER OF TICKETS WILL BE AVAILABLE ON THE DOOR- CASH ONLY AFTERWARDS

Property Panel chaired by Luke Hamill
Property is changing fast- make sure you know what you need to know. This is the purpose of the panel led event chaired by Luke Hamill- investor for the last 15 years mostly in multi lets.
The panel will cover subjects including:

Strategies in the current market?
What is happening in the current market?
What works well?
Plus:
Property Finance Update
Past Speakers/Panellists in attendance
20 second shout out
Plus Legal Surgery with Ricardo Mapp dos Anjos, Partner at Fisher Meredith Solicitors
Whose coming along?
40+ Registered
Some register via meetup. Others register direct through eventbrite. Check out some of those coming along via:
https://www.meetup.com/CentralLondonPropertyNetwork/events/234546610/
Note many of my Past Speakers/Panellists/Podcast Interviewers will be coming along.
Who are some of my VIP's tomorrow evening?

About the Panel?
Anil Mohanlal- Founder of Kumar Strategic Consultants
Accountant and Investor- investor in both residential and commercial property and has been an investor for the best part of 30 years.
Anil is the founding director of Kumar Strategic Consultants Ltd Ltd having originally set it up as a sole practice in 1985. He therefore has substantial experience (almost 30 years) in working closely with small and medium sized enterprises and is normally the first point of contact for new clients. He has worked with business owners ranging from one man start ups (and helped to grow their business to generate annual turnover of multi million pounds) to much larger companies requiring a multitude of different services. He specialises in working closely with owners of small and medium sized enterprises in various industries helping them to develop strategic plans and improve their growth and profits. He is therefore particularly aware of problems faced by growing businesses in difficult economic environments.
He acts as a non executive director for many businesses helping them to make every day business decisions and reach their goals.
Prior to setting up Kumar Strategic Consultants Ltd (with one client) in 1985, Anil trained with a eleven partner west end firm and qualified as a chartered accountant in 1983.
Richard Bowser- Editor of Property Investor News Magazine

Richard Bowser One of the very few independent market commentators who, from 2002 onwards, regularly warned private investors as to the very clear risk factors relating to the purchase of new-build apartments for investment. In early 2007 Richard emphatically predicted that mortgage lending would quickly become more difficult and expensive and that investors should avoid carrying excessive debt levels on low yielding property.

Roll forward just a few years and the impact of the banks' increased risk aversion to property lending was plain to see, but back in 2007 the boom was still in progress and Richard's oft issued words of caution were foolishly ignored by many investors who remain in negative equity or faced repossession.
​
Over the last decade Richard has regularly spelt out to investors the inherent risk of speculative investment strategies based on low yields and excessively high loan to value borrowing. A sought after speaker at many national property investor and regional landlord events for over 15 years, Richard's views are widely recognised and valued - most importantly of course by the thousands of regular subscribers to 'Property Investor News'.
Gavin Barry:

Gavin Barry is an experienced property investor & developer who has been investing in property since 2001. He is currently Managing Partner at Prosperity Capital Partners, a private equity real estate firm based in London.
Prior to founding Prosperity Capital Partners he ran a property investment, development and management company sourcing and developing high yielding investment property in the North West. In addition the business sourced prime investment opportunities throughout the UK for investors
Nicole Bremner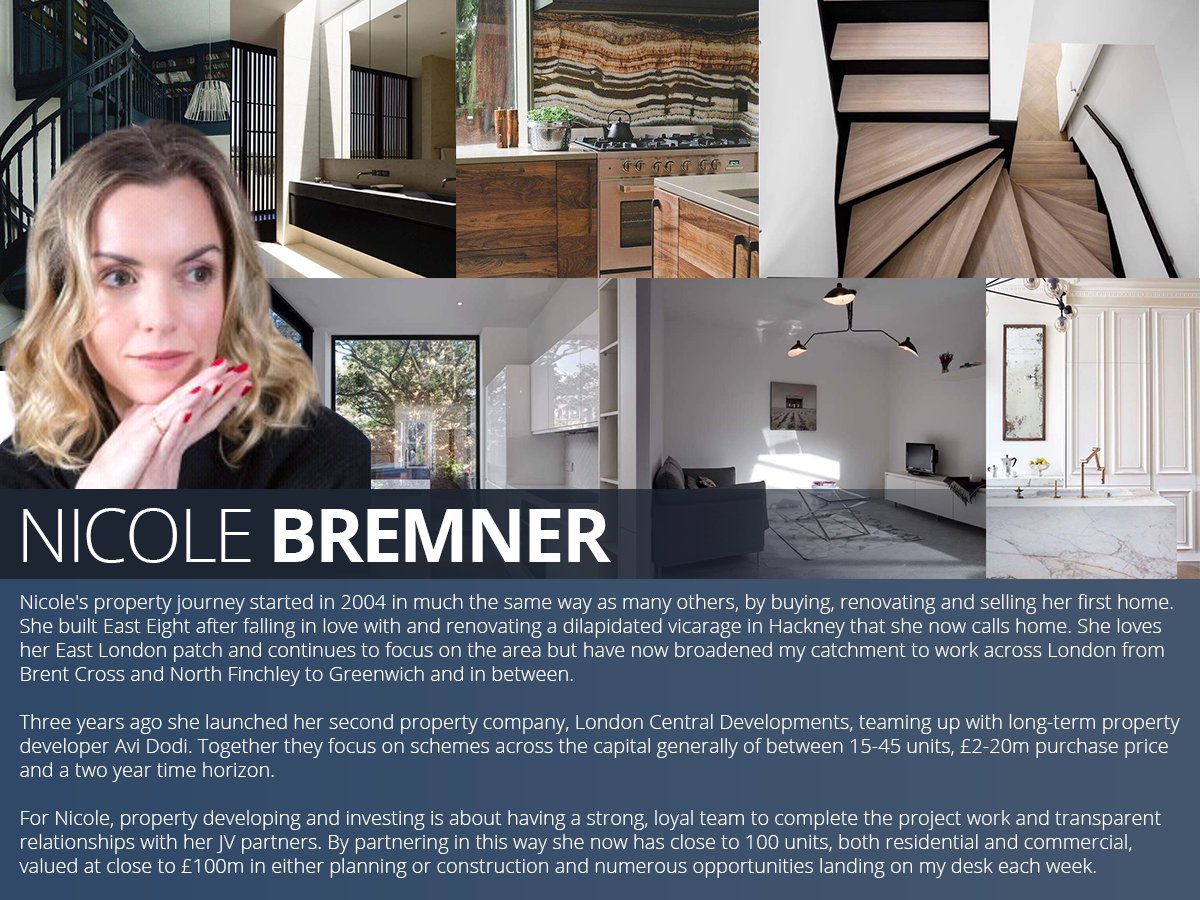 Nicholas Marshall
Investor for the last twenty plus years, recently completed a 17 unit mixed development in Surrey.
Sachin Vekaria, Acquistions and Development with Develop with Us
Sachin has over 15 years' experience in investment banking, principally in finance, valuations and project management.

Who are some of the VIP Guests coming along?
Some of my VIP's tomorrow evening include:
Elliot Hughes

Elliot Hughes is an entrepreneur, property developer and business owner. Having struggled in school with dyslexia and feeling university would be a losing battle he chanced a career in the Royal Navy as an aircrew officer but once the fun was over he soon realised a career in the military was a battle against his values.
Feeling that property investment would be the easier, 'get rich quick career', he entered the arena! He discovered property had its own battlefield...with little cash but lots of time and determination to succeed he became financially free, starting with short to mid-term accommodation for professionals working away from home and the student market.
From there he progressed into the development sector. Elliot feels each development is about mixing strategies to generate maximum efficiency and profit. With his partners, this has resulted in developing over 40 lettable units in the serviced accommodation arena either operating currently and in the building pipeline, together with, the purchase of a hotel, gym and restaurant complex.
Thor Portess

Thor has been investing in property for 17 years, having bought his first property at age 19 in Australia. He worked in the UK construction industry for 5 years up to 2010, working as a foreman building shops and apartments around Ireland and the UK. Thor started investing in London in 2009 and to date has bought and/or sold 36 UK properties predominantly in London totaling over £10 million in value. His key skill sets are finding and structuring deals that are profitable and win/win for all involved.
Ivo and Miro Gospadinov
They started their company over a year ago and have acquired 30 properties (10 long term lets) and 20 short lets. They are focusing heavily on systems, processes and procedures in order to scale the business with ease. They have recently presented twice at John Corey's London Property Meet.
Schedule:
6.30-7- Welcome
7-7.10- Property Finance Update
7.10-7.40- Panel

7.40-8.15 20 second shout out followed by Networking Break
8.15- Panel

8.50-9.30- Informal Networking
Reviews:
" Fantastic. I always walk away with renewed vigour and solutions to property problems that I had not considered myself. What the regular attendees don't know about property at this event probably ain't worth knowing! "
— James Gallagher
" 5 Star! Anyone interested in property investing especially in the residential market - this must be the best Network Event they could possibly attend. The quality and expertise remains exceptionally high, Brendan runs a small but perfectly formed event. If you're interested in property - DON'T MISS IT!!!!! "
-- Alex McKellar

" This is where the experts meet the experts! Anybody who is looking for a wealth of information will be surrounded by a wealth of knowledgeable and very helpful people. Everybody likes to be in a position to do business. However this is one of the least "pitchy" groups. More help less people trying to flog you snake oil. I like it! "
Barry Danser