Description
We are excited to announce the 2019 Central Indiana ISSA Holiday Party!
Come to meet our sponsors, network with other security professionals, and win some raffle prizes! This year's Holiday Party will be located at Union 525 in downtown Indianapolis (located south of South Street next to the Rolls Royce building near Lucas Oil) (https://union525.com/) and will include food, drink tickets/cash bar, and some awesome prize giveaways.
Want to get more involved with the Central Indiana Chapter of ISSA?
Why don't you help increase membership in the Central Indiana Chapter of ISSA by inviting security industry friends, co-workers, or significant others?
We are currently looking for 2020 Corporate Sponsors and 2019 Holiday Party Sponsors. Please contact officers [AT] ci-issa [dot] org for more information.


Parking And Navigation
Around the building, there are some streets that are partially closed, which might make it difficult to properly navigate to the Union 525 address. There is free parking on the southside of the building. limited free street, and metered parking around the building. The image below displays road closure, and the free parking entrances.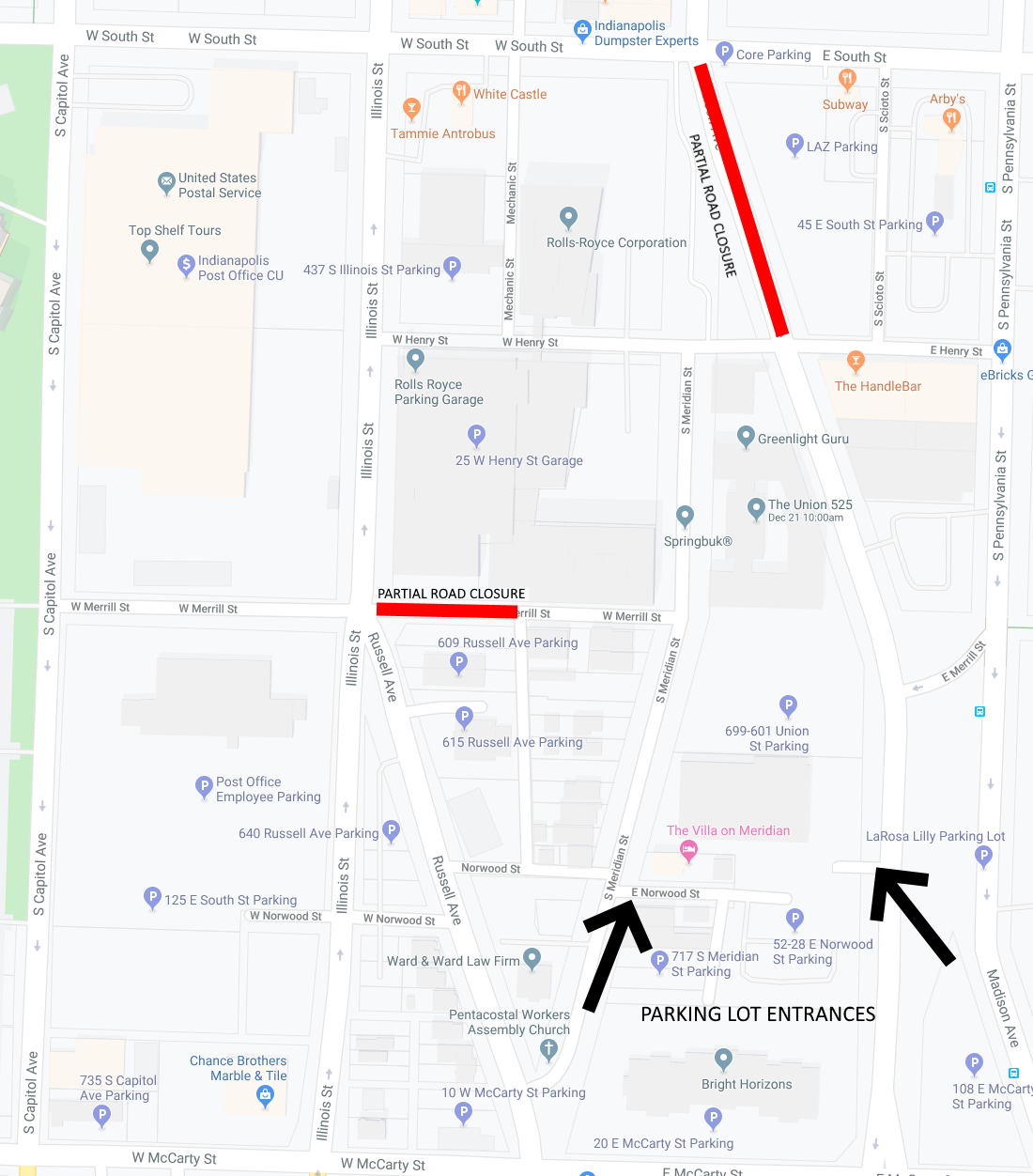 Tickets
There are 3 ticket options: non-member $25, member $0, and sponsor (with promotial code) $0.

If you are currently not an ISSA member or do not wish to have a membership then a non-member ticket is what should be selected. Sponsors can enter their promotional code for the discounted price.

All current ISSA members that have designated their chapter as Central Indiana can use their ISSA membership # as a promotional code to discount the ISSA Member ticket to 100%. If you do not know your ISSA membership # it can be retrieved by logging into the ISSA website under your main profile page (https://www.members.issa.org/members/).
If your membership has lapsed, first renew it on the ISSA website at https://issa.org, then email officers [AT] ci-issa [dot] org to have your updated ISSA membership # added to the discount list.


Holiday Party Sponsors
Pondurance

Ice Miller LLP

Cadre

Trustwave

Sailpoint