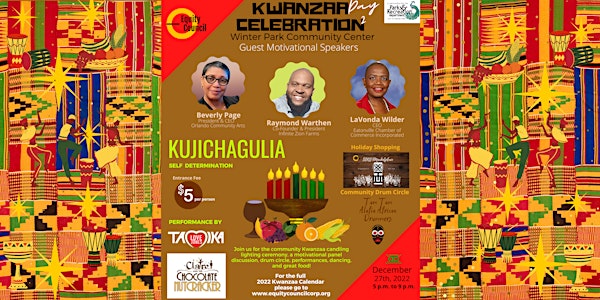 Central Florida's Kwanzaa Celebration Day 2 Kujichagulia Self-Determination
Day- 2 Kwanzaa Celebration at the Winter Park Community Center
When and where
Location
Winter Park Community Center 721 West New England Avenue Winter Park, FL 32789
Refund Policy
Contact the organizer to request a refund.
Eventbrite's fee is nonrefundable.
About this event
Habari Gani! All are invited to our day - 2 Central Florida Kwanzaa Celebration of Kujichagulia at the Winter Park Community Center, sponsored by The Equity Council Corp., The Pankwasum Kwanzaa Collective, and in partnership with the Hannibal Square Heritage Center and the Winter Park Community Center.
Kwanzaa is a cultural holiday created in 1966 and is a seven-day-long community celebration of African culture and an acknowledgment of seven moral principles referred to as Nguzo Saba (En-goo-zoh-Sah-Bah). On the second day of Kwanzaa, Tuesday, December 27th, 2020, from 5 p.m. to 9 p.m., celebrate the principle of self-determination, Kujichagulia, with the lighting of Kinara and the second candle of Kwanzaa, the Red Candle-acknowledging the Pan-African movement and red, black and green Pan-African flag colors given to us by our ancestor the honorable Marcus Garvey.
Join us at the Winter Park Community Center for the day-long celebration of Kujichagulia and the principle of self-determination! Our celebration will include good food, drumming, dancing, and musical performances, plus a motivational panel discussion with special guest Beverly Page (President & CEO of Orlando Community Arts), Raymond Warthen (Co-Founder & President of Infinite Zion Farms), and LaVonda Wilder ( CEO Eatonville Chamber of Commerce Incorporated). Also, Winter Park's very own SOKO Marketplace, operating weekly in the historic African-American community of Hannibal Square, will be in full effect with great food and Black Businesses selling handmade gifts and much, much more this joyous Kwanzaa season.
Please use this Eventbrite link to purchase your event ticket and receive a raffle ticket for a chance to win one of three $50.00 gift cards. (Please note: one raffle ticket per ticket holder will be honored for advance purchases only). Also, if you are a vendor interested in vending at our Kwanzaa Celebration, please, use this link to purchase your vending space. Finally, are you looking for additional vending opportunities this holiday season? Join us for our Holiday SOKO Market in celebration of Black Business from November 4th through December 17th, 2022. with other holiday event opportunities happening all December long. Remember, all vendors are subject to approval. Just click on the ticket button to purchase your vendor space and go to our website at https://www.equitycouncilcorp.org/ for more holiday event info.
Also, Follow all our social media @equitycouncilcorp and @thesokomarketplace to stay updated on all our cultural events and festivals.
Thank you for supporting the Central Florida Kwanzaa Celebration and The Equity Council Corp.!
Habari Gani!
Kujichagulia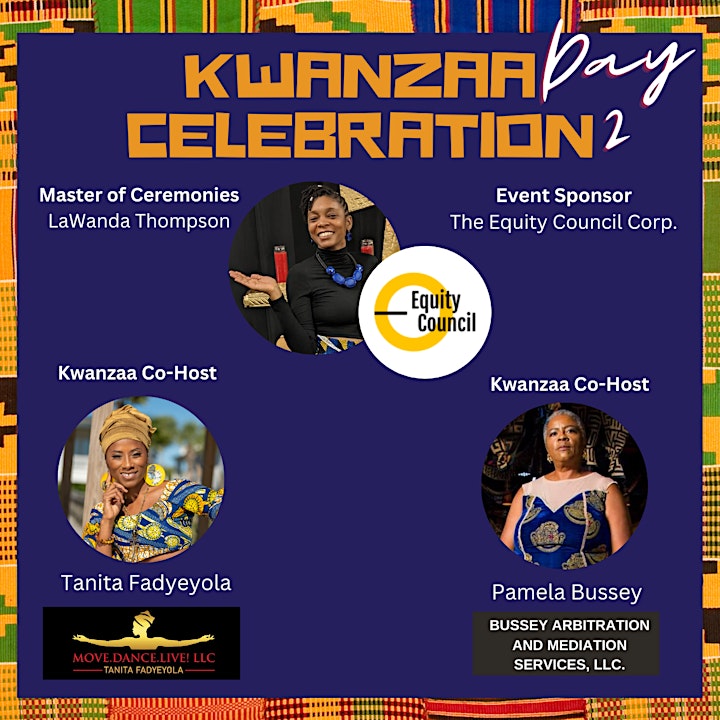 The Equity Council Corp. is proud to host Kwanzaa Day 2 Kujichagulia Celebration as a member of the Pankwasum Kwanzaa Council for the 3rd year in a row. Mrs. LaWanda Thompson, President of the Equity Council Corp., will be our MC for our distinguished evening. Sister LaWanda Thompson is an educational activist, community organizer, public speaker, and advocate for the Historic African- American Community of Hannibal Square. In addition to her activism, she owns and operates The Equity Council Corp., an educational advocacy firm. For more information, visit www.equitycouncilcorp.org.
Co-hosting our illustrious Kwanzaa celebration is community leader and activist Mrs. Tanita Fadyeyola, owner and operator of Move. Dance. Live!, LLC.; creates positive SHIFTS in people's lives through movement affirmations, dance fitness, and self-love-focused workshops and retreats. Sister Tanita Fadyeyola is a Living Treasure and Knowledge Keeper who will lead this year's Libations, Nguzo Saba Teaching, and Kwanzaa Candle lighting. Joining Tanita is Ms. Pamela Bussey, CEO of Bussey Arbitration and Mediation Services, LLC. In addition to being a resolution expert, journalist, and world traveler, Sister Pamela Bussey is an Arbitration Attorney, Professional Podcaster, and Activist who will moderate our Kwanzaa Panel discussion on the principle of Kujichagulia and what inspired self-determination in our panelists. For more information about our fabulous co-host, please visit Sister Tanita Fadyeyola at www.movedancelive.com and Sister Pamela Bussey at www.busseyarbitrationandmediationservicesllc.com.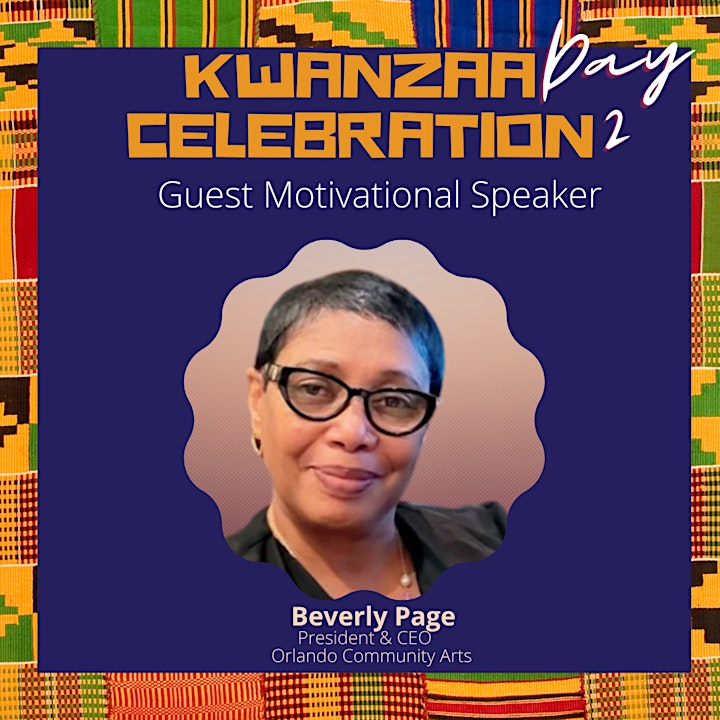 Beverly Page is the President & CEO of Orlando Community Arts, Inc. She is a 1978 graduate of South Carolina State University. She earned a Bachelor Degree (B.A.) in Drama/minor in Speech Communication. She has a Master's Degree (M.A.) in Education and post-graduate credentials in Educational Leadership/Supervision from Winthrop University. Beverly has post graduate credentials from Furman University in Theater Directing. Her professional credits are in Production Management, Stage Management, Playwriting, Costume Management, and Fundraising. Recognizing the need for diversity and inclusion in the Nutcracker, she wrote the book, Clare and the Chocolate Nutcracker.
In 2013 Clare and the Chocolate Nutcracker, received a United States Patent and Trademark. She has further extended her artistic talents in designing the Clare and the Chocolate Nutcracker doll and wooden Chocolate Nutcrackers which are now available on Walmart.com and Etsy.com. Beverly is described by her peers as an Outstanding leader, entrepreneur, innovative, very professional, committed with a profound sense of purpose. She is listed as an Outstanding Woman of America and has received numerous community recognition for her commitment to the Arts.
To learn more about Ms. Beverly Page's work with Orlando Community Arts go to https://www.clareandthechocolatenutcracker.com/.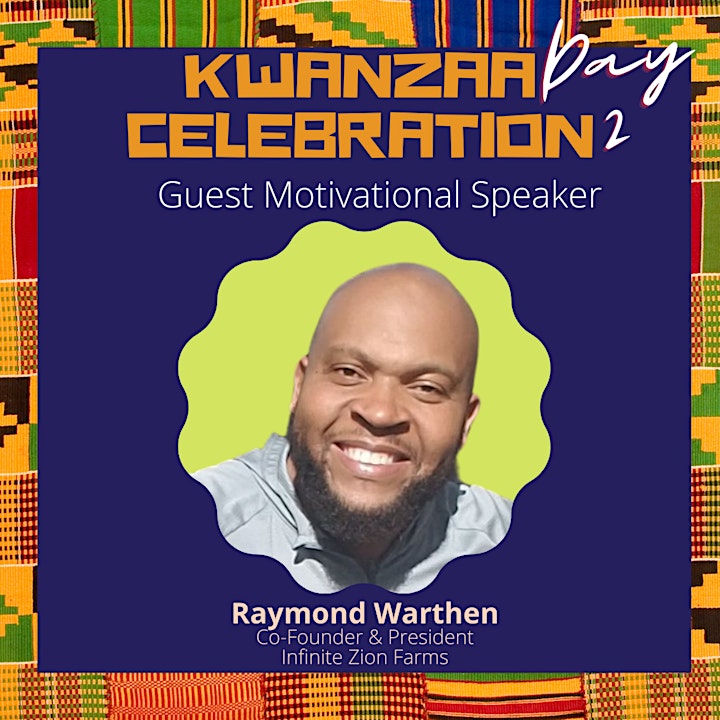 Mr. Raymond's passion for farming and gardening reaches back to my childhood in South Florida. His father, Joel Lee Warthen, was raised on a farm. After moving to the city as an adult, he transformed our back and front yards into a haven for growing fruits and vegetables. They grew a lot of tropical trees in particular, like Ayti Mango, Papaya, Watermelon, Cantaloupe, Orange, Lemon, and Banana trees among other produce. On January 4th, 2010 Raymond lost his Father to prostate cancer. He was only 59 years old. During his cancer battle, they learned about acidic vs. alkaline-based eating. This life experience fueled Raymond's desire to create an environment to teach Urban Communities about nutrition and how what we eat affects our bodies. Unfortunately, there are no produce or grocery stores in the Parramore Community -- only corner stores that sell foods filled with preservatives and artificial ingredients to the community.
It is their goal to forever change the landscape of the Historic Parramore Community and surrounding food desserts into food Amazons, creating a sustainable environment and jobs for the community. They are determined to make growing food a communal experience that fosters much needed conversations about nutrition and wellness, as well as be a source of fresh organic affordable produce locally. Food brings all cultures and races together. Food brings people together. Today, they invite people from all walks of life to come together to where it all begins -- with seed and soil.
To learn more about Mr. Raymond's work with Infinite Zion Farms go to https://www.infinitezionfarms.org/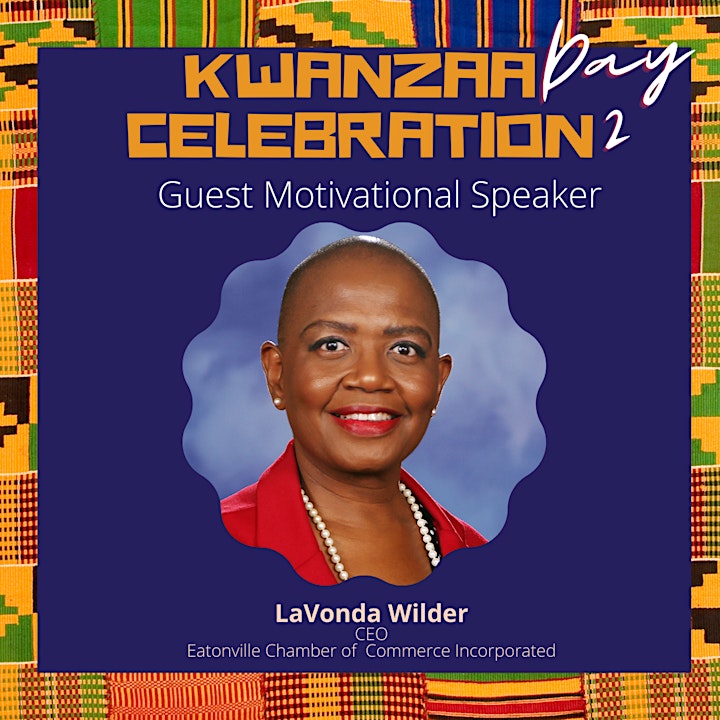 LaVonda S. Wilder is the Founder and CEO of Eatonville Chamber of Commerce Incorporated, The Community Nook Inc. and recently formed the Official Welcome Center of Eatonville.
LaVonda's passion for relationship building, providing training opportunities, and community engagement in the Historic Town of Eatonville is the driving force behind the Eatonville Chamber of Commerce, The Community Nook Inc. and Welcome Center.
LaVonda holds multiple certifications and degrees with the highest being her Master of Science in Counseling/Psychology.
LaVonda currently sits on various community Boards and Committees. She is very passionate about serving her community. She volunteers wherever she feels she can make the most impact.
Additionally, LaVonda is a proud Toastmaster and enjoys public speaking. To learn more about LaVonda Wilder and her work with Eatonville Chamber of Commerce Incorporated go to https://eatonvillechamberofcommerce.com/.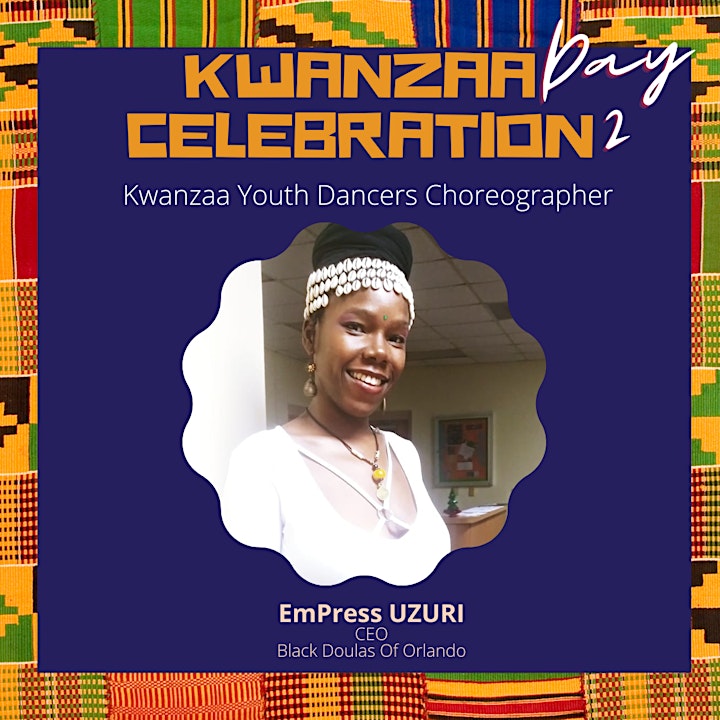 Since her early childhood years, Christina Hardemon / EmPress Uzuri loved to dance. Her first passion was clogging. The sound of tap shoes against the wood floors was an intriguing sound. At the age of 12, she began to learn different styles of dance from the African Culture School in Miami. Ballet was always a form of dance that she admired. At 21, she was reintroduced to African Dance. The beat of the drum woke up her Spirit, which led her to learn many different dance styles. Inspired by dances from Ghana to Tanzania, she developed a rhythmic dance style that helped developed her into the woman and dancer she is today. African Dance has led EmPress Uzuri to fulfill her passion as a mother of 4 and a Doula in her community. Through dance, she learned that women are capable of birthing children naturally; receiving support from the women in their community. Her work as a Doula has helped her become a better dancer; able to help mothers using different forms of dance to help them through pregnancy and birth.
For more information on EmPress Uzuri services, contact her via Facebook @blackdoulasoforlando.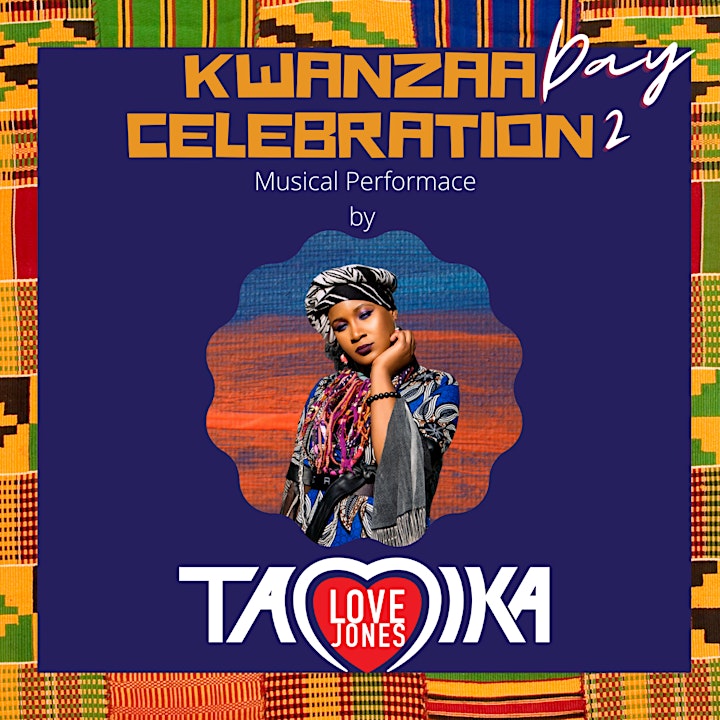 It is impossible to discuss the DC music scene without acknowledging the stellar work of native artist Tamika Love Jones. From the moment she stepped on the scene in 2009, she has captivated audiences in the most legendary venues, such as: Bohemian Caverns, Carter Barron, The Kennedy Center and Constitution Hall. From School Without Walls High School (SWWHS), where Tamika began to showcase the breadth and depth of her musical talents, to being hand-picked by DC's beloved Bad Boy Hitman, Grammy-winning music producer, the late Chucky Thompson, to be an artist for his label Chucklife Productions. Tamika has worked alongside artists such as Faith Evans, Nick Cannon, Mya, and Lil' Kim, honing her songwriting skills.
Tamika Love Jones, creates her own aesthetic as a performing artist and gives her attention to social justice issues, and fearlessly discusses them. By gaining inspiration from other artists/activists such as Nina Simone, Lauryn Hill, and Common and studying literary works such as Carter G. Woodson, Anthony Browder, and Cheikh Anta Diop. Tamika Love Jones deeply understands her lineage, artistic purpose, and belief in community empowerment and collaborations with organizations like the SIbley Hospital Ward Infinity Project, Bloombars, Global Kids, F.R.E.S.H.H. Inc., Guerilla Arts. & The Equity Council Corp has amplified her love of community and activism.
After taking a 5-year hiatus to focus on her family, Tamika returns to the world stage introducing her new full-length album, Love & Light, a 3 EP release incorporating Soul, Hip Hop, Jazz, Funk, Blues, and Classical influences. No stranger to the stage, Tamika has toured with international artists such as Zap Mama, Gordon Chambers, and Maimouna Youssef. To learn more about Tamika Love Jones, purchase her album, check concert dates or booking details, go to https://tamikalovejonesdc.com/ or @TamikaLoveJone on all social media or music streaming platforms.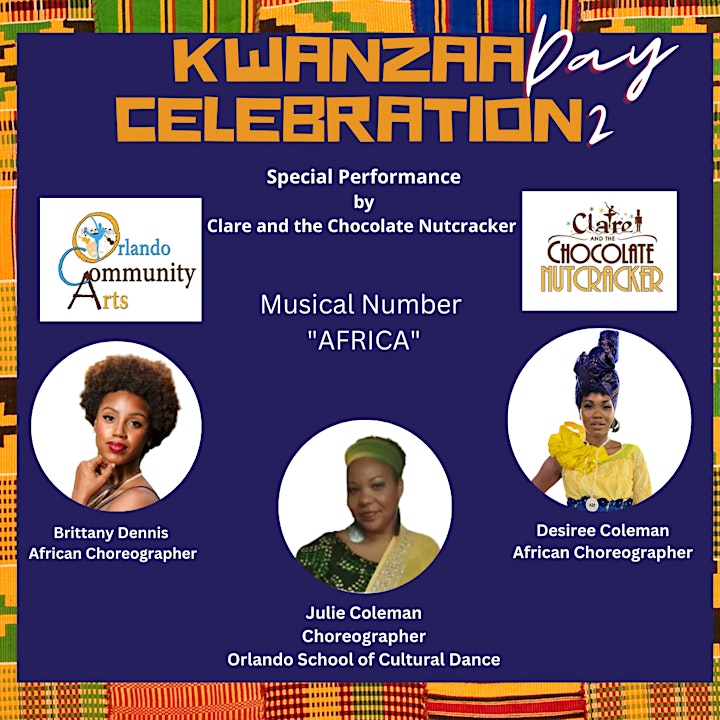 Julie Coleman is a lead choreographer with Clare and the Chocolate Nutcracker and the founder and president of the Orlando School of Cultural Dance for 28 years. In addition to running the school, Ms. Coleman taught African dance and African history as an adjunct professor at the University of Central Florida. In addition, she provided lectures and demonstrations of dance for students of Orange County Public Schools and more. Currently, Julie Coleman is a Certified Elevation Life Coach of Life Begins Now, Inc and a Radio Show Host for Life Begins Now Talk Radio on Caribbean Rhythms Radio Network (CRRNETWORK.COM/CRRFM.COM)
Brittany Dennis, also known as Tejumade Temidayo, is a well-known dancer all over Orlando. She started dancing at the age of 8 at the Orlando School Of Cultural Dance, where she fell in love with the style African Dance. She's also trained at and performed with many other dance companies like Orlando school of cultural Dance, Orlando Ballet, now known as Southern Ballet, Ajose Afrikan, and Tam Tam Congo, to name a few. She was one of the principal dancers in Disney's Animal Kingdom street band known as Burudika from 2016-2019. She is now a performer with Sea World Orlando, still living out her dream as a character/dance performer, and she is a lead choreographer with Clare and the Chocolate Nutcracker.
Desiree Coleman, also known as Omilola, is a dancer, performer, teacher from Orlando, and lead choreographer with Clare and the Chocolate Nutcracker. She was born and raised in the African arts and culture and started dancing at the tender age of 3 at the Orlando School Of Cultural Dance, where she fell in love with dance and martial arts. She has trained and performed with the Orlando School of Cultural Dance, Ajose Afrikan, and Ogunlano Music, to name a few. In addition, Desiree has toured, danced, and taught all over the U.S and the Caribbean. Desiree is currently back in Orlando, where it all started, and looks forward to continuing teaching, performing, and choreographing.