Description
Central Florida Health Expo
Registration 2019-2020 Season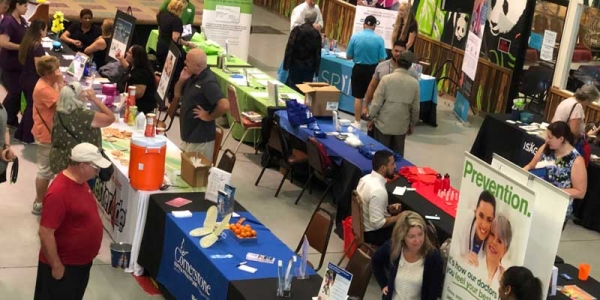 The Central Florida Health Expo is pleased to announce our fifth season. The event began in 2015 at the International Market World Flea and Farmers Market in Auburndale. This year we'll be hosting this event at the International Market World on 3rd Fridays from September 2019- March 2020. The Central Florida Health Expo is the area's premier event for health-conscious adults. The event is held in several locations throughout Central Florida's Polk County. This event is free to the public. Everyone is welcome!
Health Expo Exhibitor Registration
All levels include 8 ft table, two chairs, black tablecloth. The event promotion campaign includes the following:
Central Florida Health News (37,000 readers)
Central Florida Doctor (11,000 readers)
CentralFloirdaHealthNews.com,
Social media campaign
Roadside signage
Press releases to local media outlets (Tampa, Orlando, Lakeland)
Submission to over 250 Community Event Directories
e-Newsletter blasts to the Central Florida healthcare community
To learn more about upcoming events, click on the link below for more details and exhibitor booth rate packages.
Date: Friday, September 20th, 2019, 9 am to 2 pm

Location: International Market World Flea and Farmers Market, Auburndale

Date: Friday, October 18th, 2019, 9 am to 2 pm

Location: International Market World Flea and Farmers Market, Auburndale

Date: Friday, November 15th, 2019, 9 am to 2 pm

Location: International Market World Flea and Farmers Market, Auburndale

Date: Friday, December 20th, 2019, 9 am to 2 pm

Location: International Market World Flea and Farmers Market, Auburndale

Date: Friday, January 17th, 2020, 9 am to 2 pm

Location: International Market World Flea and Farmers Market, Auburndale

Date: Friday, February 21st, 2020, 9 am to 2 pm

Location: International Market World Flea and Farmers Market, Auburndale