Description
The first event of the new Central European Brewers Association (CEBA) – a community of support and promotion for Central European craft brewers.
The conference will be a trade only event open to any craft brewery in Central Europe. We will provide seminars on topics that are important to all of us.
This event will provide an opportunity to network in a community of great brewers from the region. To meet craft beer distributors, beer journalists, share ideas and have an informative and fun day away from the brewery.
Top reasons to attend:
Industry leading presenters from White Labs, Stone Brewing, New York times craft beer journalist and many others.
A tap takeover in one of the best craft bars in Budapest giving all participants a chance to showcase their beer.
Seminars designed with the brewer in mind that focus on relevant business information that can help you grow your business




Seating is limited so please book early and take advantage of the discount ticket prices.
Presenters:
Evan Rail: Beer judge and craft beer journalist for the NY times
Michael "Zippo" Parzick: International Sales Manager. Stone Brewing Berlin.

Troels Prahl: Managing Director and Head of Research & Development, White Labs, Copenhagen
Nemeth Antal: Head Brewer at Monyo Brewing Co, president of the Hungarian Kraft Beer Association and winner of multiple beer competition awards.
Istvan Vasarhelyi: Gastro and beer-blogger, Beer and Food pairing expert. Permanent gastronomic consultant of the Associaton of Hungarian Brewers.
Zoltan Sivo. YCH Hops Regional Sales Manager - UK-Ireland.

Rupert Ignac: Trust Hungary Corporation – one of the world leaders providing wooden barrels for wine and beer.
Spronsors: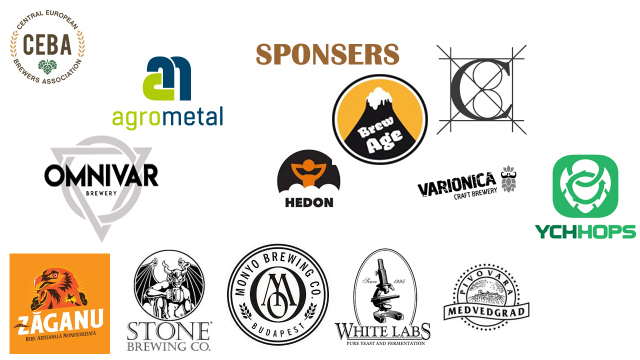 PROGRAM: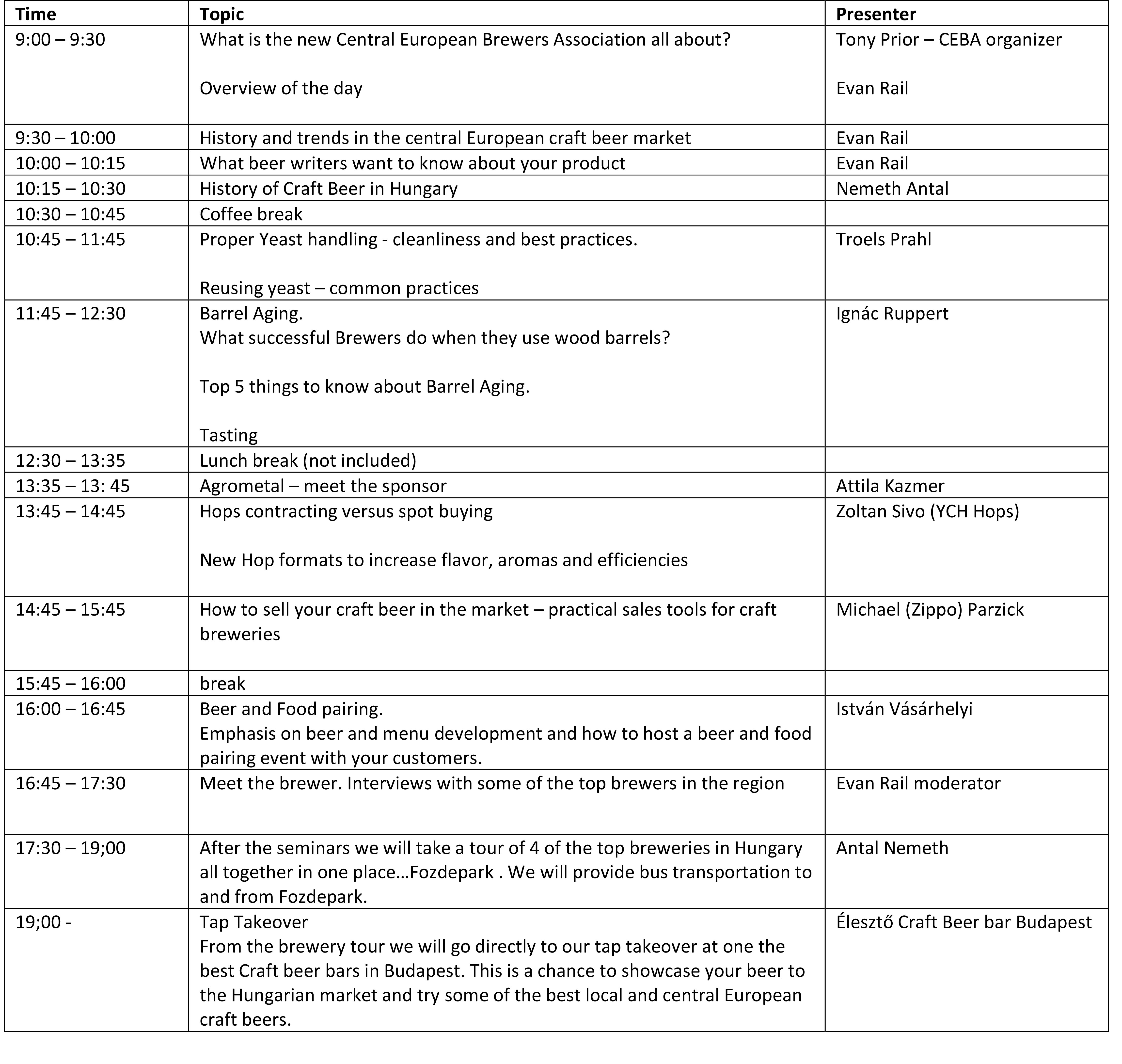 ---
MAGYAR LEÍRÁS
A Közép Európai Sörfőzők Szövetsége (Central European Brewers Association – CEBA) által szervezett első szakmai konferencia – egy közösség, amely közép-európai sörfőzőket támogatja és népszerűsíti.
Az alábbi konferencia kizárólag a szakmának szól, ahol minden közép-európai sörfőzdét szeretettel várunk. Olyan előadásokkal készülünk, amely mindenki számára fontos információval szolgál.

Ezen esemény lehetőséget ad kapcsolatba kerülni a régió kiváló sörfőzőknek egymással. Találkozó sör disztribútorokkal, újságírókkal, ötleteket cserélni, illetve részt venni egy információval teli jókedvű napon a főzde falain kívül.

Legfontosabb okok a részvételre:
Piacvezető előadók: White Labs, Stone Brewing, New York Times craft beer részleg újságírói és sokan mások

Budapest egyik legjobb kraft pubjában csapfoglalás, ahol a résztvevők lehetőséget kapnak bemutatni saját söreiket

Speciálisan összeállított szemináriumok, amelyek olyan információval látnak amelyek felhasználásával növelheted cégedet.
Előadók:
Evan Rail: Sörbíró és a NY Times kézműves sörújságírója
Michael "Zippo" Parzick: International Sales Manager. Stone Brewing Berlin.
Németh Antal: Németh Antal: a MONYO Brewing Co. sörfőző mestere, a kézműves sörfőzdék egyesületének elnöke, valamint számos sörverseny díjának nyertese.
Troles Prahl: ügyvezető igazgató valamint kutatási és fejlesztési igazgató, White Labs -Koppenhága
Sivo Zoltán, YCH Hops Régió Sales Manager – Egyesült Királyság és Írország.
Vásárhelyi István: gasztro- és sörblogger, sör és ételpárosítási szakértő. A Magyar Sörgyártók Szövetségének állandó gasztronómiai tanácsadója. Külön hangsúly a sör- és ételek párosításán és a menü-kidolgozáson
Rupert Ignác: Trust Hungary Corporation – a világon az egyik vezető hordógyártó cég vezetője.

PROGRAM: