Developing Climate Resilience - RSVP today for FREE!
About this event
Join Monterey Bay Economic Partnership, Greenpower, CSUMB, The Central Coast Climate Collaborative, and CA Green Business Network for this business session as part of their Climate Summit Series.
This business track will feature state and local policy leaders who will provide an update on climate-related legislation, its implications on businesses, and available programs and resources needed to cut costs, increase revenue and drive change.
Hear directly from business leaders on how they are adapting to current health, economic and environmental challenges, and meeting state, local and company climate goals. How are companies reshaping their systems, and operationalizing sustainability and social equity while meeting their bottom line? Participants are encouraged to share policy implementation concerns and questions as well as strategies and resources that may not have been presented.
Welcome, 9:30-9:40 am
Ashley Gauer, Special Projects Manager, MBEP
Lacey Raak, Sustainability Director, CSUMB
Leslie Austin, Organizer, Greenpower
Dr. Tiffany Wise-West, Sustainability + Climate Action Manager, Central Coast Climate Collaborative / City of Santa Cruz
Keynote & State Updates, 9:40-10:05 am
Assemblymember Robert Rivas, California's 30th Assembly District, Chair of the Assembly Agriculture Committee
Kate Gordon, Director of Governor's Office of Planning & Research; Senior Advisor to Governor on Climate; Chair of the California Strategic Growth Council
Panel Discussion, 10:05-10:50 am
Moderated by Kate Roberts, President & CEO, MBEP
Rosa Vivian Fernandez, President & CEO, San Benito Health Foundation
Jon Erskine, Director of Geological & Environmental Sciences, Graniterock
Alfred Diaz-Infante, President & CEO, CHISPA Housing
Ellen Vaughan, Water & Climate Action Manager, UC Santa Cruz
Gun Ruder, President & CEO, Martinelli's
Closing, 10:50-11:00am
Brooke Wright, Strategic Initiatives Manager, Environmental Innovations, Inc / CA Green Business Network
Leslie Austin, Organizer, Greenpower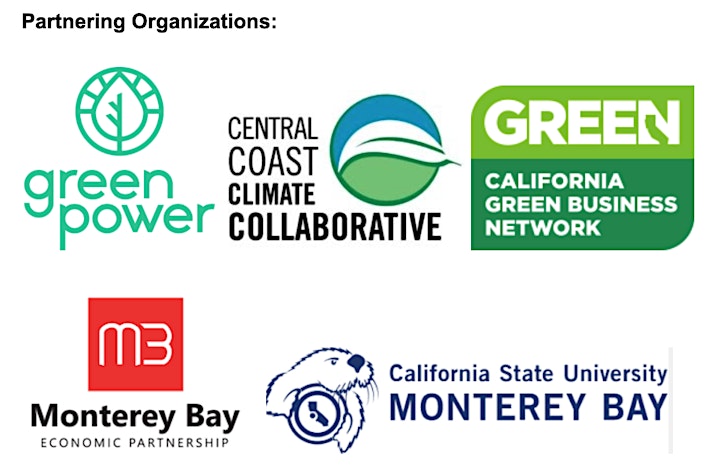 Organizer of Central Coast Climate Summit Series
The Monterey Bay Economic Partnership is a regional nonprofit, membership organization consisting of public, private and civic entities located throughout the counties of Monterey, San Benito and Santa Cruz. Our mission is to improve the economic health and quality of life in the region.