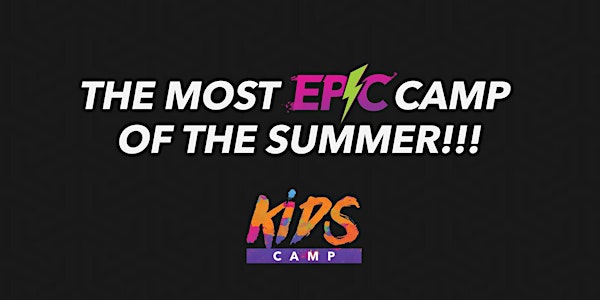 Central Baptist Church Kids Camp
When and where
Location
Central Baptist Church 3101 Florida 46 Sanford, FL 32771
Refund Policy
Refunds up to 7 days before event
Description
Kids Camp is a week-long high-energy event for kids. Kids will make friends, have fun, and develop their faith as they participate in games, worship, and tracks each day.
Monday, July 23 - Friday, July 27 from 8:30am - 12:00pm
Each day of Kids Camp, kids have the opportunity to participate in two tracks. Tracks are 60 minute classes where children learn a specific skill from an experienced adult. When your child registers for Kids Camp, he or she will select their top two track preferences. We will assign children to tracks based on the amount of openings available.
Tracks to choose from:
DIY YouTube Creations (3rd - 5th grade) -

Who doesn't love YouTube and a good DIY project? Try your hand at some of the trending crafts like SLIME, tie dye and more!

Art World (1st - 2nd grade) -

Learn some of the secrets to making incredible art pieces through different mediums such as painting, sketching, shading, etc...

Dance Around the World (All Grades) -

Every culture and country has its own unique dance style. Learn specific dances like Hula, Irish clogging, Japanese Fan Dance and more....

Lego Masters (All Grades) -

You've seen the Lego Movie, now are you ready to become a Master Builder? Take your imagination to the next level as you harness your engineering skills and creativity.

Confectioner's Corner (All Grades) -

Making sweets and treats is not only a helpful skill to have but also super fun! Bring out the cookbook, don the apron, and savor many scrumptious flavors.

Sew with Love (3rd - 5th grade) -

Learn sewing skills while making something special for children in need. Share the love and joy of sewing in a tangible way!

Indoor Extravaganza (1st - 2nd grade) -

Combine a huge room, neon glow sticks, "lasers", and a bunch of kids and you get a recipe for an out-of-this-world game time!

Superheroes Unite (All Grades)-

If you had a superpower, what would it be? Now you can learn the skills necessary to be a hero and design your own superhero persona.

Survivor (All Grades) -

It takes a lot of ingenuity to survive some of the toughest places on earth. Your resilience will be put to the test as you learn some of the basic skills of survival.

Messy Games (1st - 2nd grade) - The name says it all! You will get wet, sticky, muddy, gooey, slimy, and dirty but you will have the time of your life!!!

(Make sure to bring a complete set of clean clothes/shoes each day.)

Medieval Times (3rd - 5th grade) -

Learn the art of weaponry like archery, sword play, and defense using a shield. Knights and Ladies alike are welcome!

Wide World of Sports (All Grades) - You will have the chance to play multiple sports. Which team will win the coveted Kid's Camp Cup?!

(Wear comfortable clothes and close-toed shoes.)
Waitlist: Because of the popularity of Kids Camp, space is limited in each track option. If Kids Camp track options are full, we will place you on our track waitlist. We will contact you after the first day of Kids Camp if space in tracks becomes available.