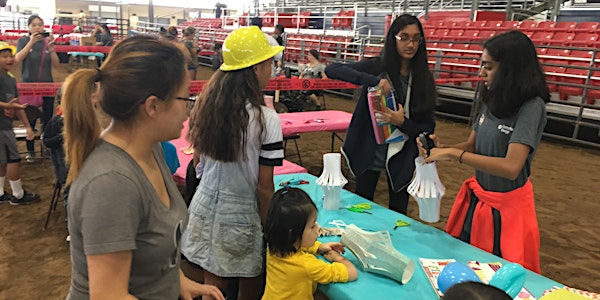 CenterPoint BBQ Cookoff Fun & Games - Volunteers Needed!
Let's have fun running carnival games & bingo at the BBQ cookoff! Volunteers will be provided with a ticket to the fair and lunch.
By Houston International Jaycees
Date and time
Saturday, October 19, 2019 · 9:30am - 3pm CDT
Location
Fort Bend County Fairgrounds 4310 Texas 36 Rosenberg, TX 77471
About this event
Come help set up games and run carnival booths such as bingo, serving ice cream, arts & crafts, ring toss, inflatable boucey houses, soccer darts, etc. Fun prizes have been provided by Centerpoint Energy.
Centerpoint will be providing us with tickets and T-shirts, so please RSVP by Oct. 1st so that we can obtain your ticket in advance. This ticket will provide you with entrance to the fair and a free lunch.
We hope to see you at the cook off!
About the organizer
The Houston International Jaycees (https://jcihoustonintl.org/) aspire to develop individual members and prepare them to undertake social responsibility by offering an array of dynamic programs. HIJ's philosophy is not only about gathering knowledge and acquiring skills, but also about using learned knowledge and skills to enhance the human character and to make for a more dynamic environment. HIJ has consisted of young professionals from various professions such as banking, engineering, attorneys, investment specialists, education, information technology, health care, and many more. HIJ is a well-recognized organization within the Houston Community delivering year round programs and services that benefit Houston communities.

We are young active citizens all over the world, aged 18-40. Living, communicating, taking action and creating impact in our communities. We develop leadership skills through service to humanity. We provide our members with training opportunities and leadership opportunities so that they can create positive change. Our members learn how to run projects, create & manage budgets, network, work with diverse groups of people and many more skills!

Are you a young active citizen in your 20's and 30's? Do you want to make a difference in your community? Join us on this journey of local action for global impact. Here are the many ways we make an impact:

Community Improvement
Individual Growth
Group Involvement
International Connections

Join our Facebook group (https://www.facebook.com/groups/HoustonIntlJaycees/) and follow us on Instagram (https://www.instagram.com/JCIHoustonIntl/) and Twitter (https://twitter.com/JCIHoustonIntl)!
Apply to be a member - https://tinyurl.com/ApplyHIJC