Sales Have Ended
Registrations are closed
Registrations are closed. Please contact newengland@uua.org, (617) 948-6415 for further information.
Sales Have Ended
Registrations are closed
Registrations are closed. Please contact newengland@uua.org, (617) 948-6415 for further information.
Description
A webinar for people interested in bringing an inclusive lens to their work related to outreach, membership, or communications within Unitarian Universalism.
PRESENTERS: Marchaé Grair & Anna Bethea, UUA

When people talk about vital congregations, membership numbers usually dominate the conversation. Many believe congregations should focus their outreach goals on increasing members.
What happens when we start to rethink this idea? How is an outreach lens focused on church growth related to white supremacist ideas about scarcity?
What happens when we start to think of healthy, accountable relationships with our surrounding communities as the primary indicator of successful outreach? What would happen if UU congregations evaluated relationships with the most marginalized in our communities as directly tied to a congregation's vitality?
In Centering the Margins in Outreach, we'll discuss how to develop relationships, content, and skills that intentionally center the voices and experiences of marginalized communities in Outreach work.
After this webinar, participants will be able to:
Explain why centering numerical growth in Outreach work is a function of white supremacy.
Define what it means to "center the margins" in Outreach work.
Identify how doing Outreach work as an ally differs from doing Outreach work as an impacted person.
Name Outreach goals for your congregation that center the margins.
Pre-Workshop reading:
Read "Worship of Numbers" by Halcyon Westall. Journal/reflect for 15 minutes about how membership growth has impacted your approach to your work. What would you do differently if you never had to consider membership numbers? What would stay the same?
ABOUT THE PRESENTERS: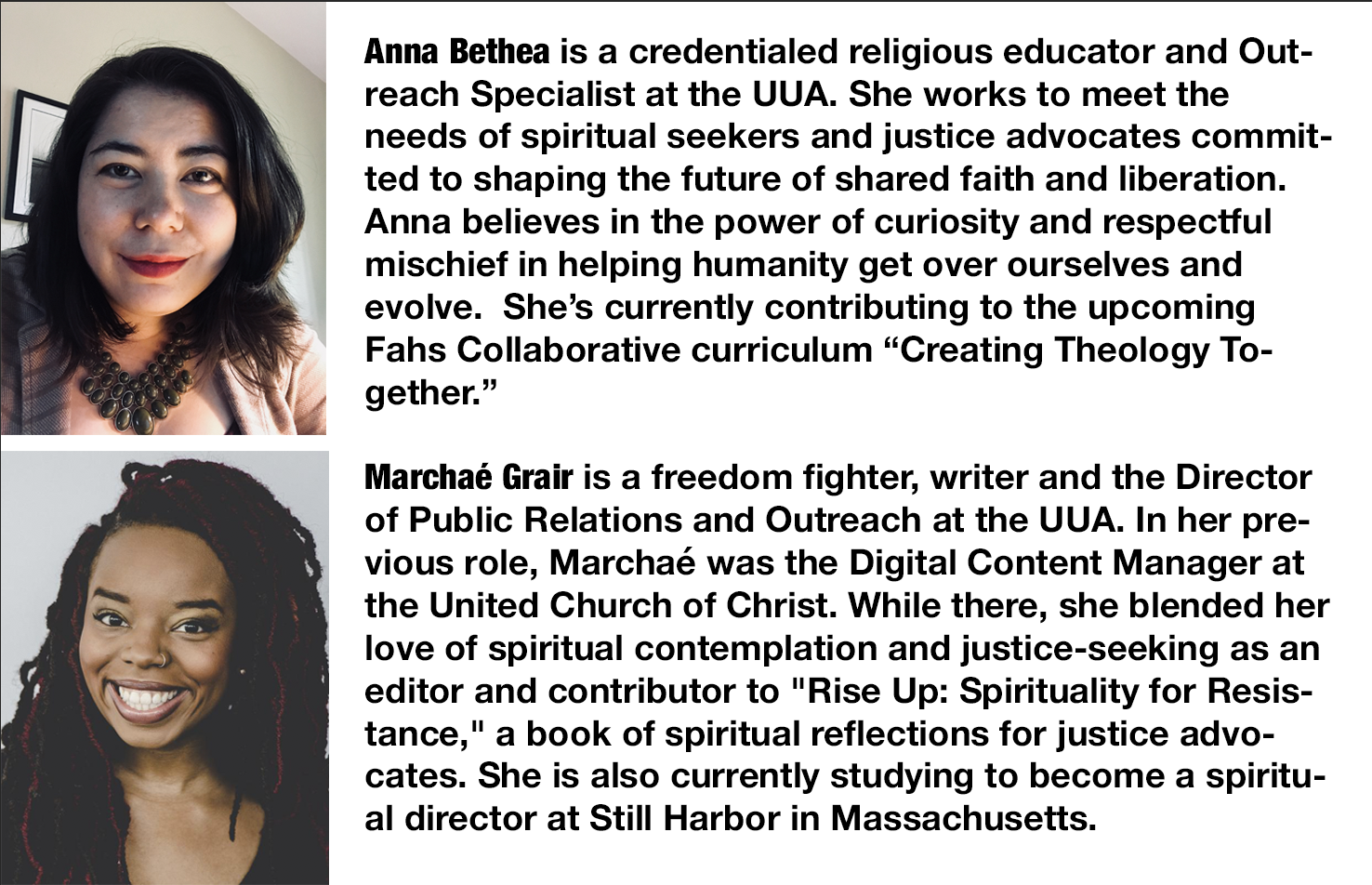 LOCATION: ONLINE! You are encouraged to participate in this webinar with a team from your church. Gather in your church building or in a member's home. Your team will need a computer with a camera and dependable internet access. For best hearing and viewing, connect your computer to speakers and large monitor or projector. Online meeting information will be sent to you during the week before the event.
REGISTRATION FEE:

$15 per individual or,
$30 per team attending together
While we know that not all individuals are in a position to pay these fees, since the learning is on behalf of the congregation, we assume that congregations will select and financially support participants who come. However, if these fees are prohibitive even to the congregation, please contact us at newengland@uua.org. We do not want cost to keep anyone away.
WEBINAR INFORMATION WILL BE EMAILED TO ALL PARTICIPANTS IN ADVANCE
REGISTRATION CLOSES: Monday, February 11, or maximum capacity.
CANCELLATIONS & REFUNDS:
If you or a teammate needs to cancel a registration before the event, please contact us as early as possible, by one week before the event at the latest, and a refund will be provided less a $5.00 administrative fee. Within one week of the event refunds less a $5.00 administrative fee will only be given in the case of illness or emergency. Refunds will not be available after the event for non attendance. We ask for your understanding in respecting this policy, which supports our organizational efforts and expenses.
The New England Region UUA may need to cancel an event in the case of low enrollment. We will contact you well in advance of the event and provide prompt, full refund of registration fees.