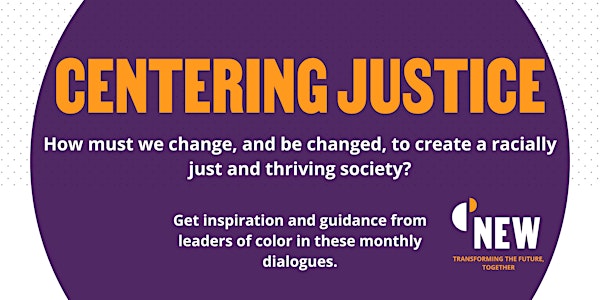 Centering Justice
Monthly conversations featuring local leaders of color, as we move toward a vision of radical transformation.
Refund Policy
Contact the organizer to request a refund.
Eventbrite's fee is nonrefundable.
About this event
Register for our next episode on February 15th from 12-1:30PM!
In Centering Justice from December to March, we'll explore how we exit old oppressive systems, and build new ways of being and working together through Just Transition. What is Just Transition? It's how communities build thriving economies that provide dignified, productive and ecologically sustainable livelihoods; democratic governance and ecological resilience. Together we'll connect with folks who are building power with, uplifting the voices of those most impacted by unjust systems and creating effective shared community leadership and governance models and practices.
What is Centering Justice?
Centering Justice (CJ) is a virtual space to find and share inspiration for racial justice and liberation. Here, we celebrate people, stories, and ideas to spur community-centered action. We uplift BIPOC leaders who are already dreaming, healing, reflecting, and moving us forward. We address the entangled social justice issues of race, gender, and class. And we offer calls to action that turn us towards systemic change, together.
CJ has a roundtable feel, to honor the cultural traditions of storytelling and listening. As a speaker-collaborator, you'll share your approaches to liberation. We invite you to uplift your values, lived-experiences, and ways of justice-centered change-making. As a participant, you'll witness approaches, experiences, and behaviors that push the status quo. We invite you to stretch and explore new ideas for co-creating a more just society.
CJ is a space to hear, learn, practice, play. It's a space to explore ourselves, our work in nonprofits and social change. And a place to rediscover the skills and wisdom we need to transform into the future we want, together.
Learn more about Centering Justice and catch up on previous episodes on our website: https://www.new.org/centering-justice/
In Centering Justice:
We move with possibility and potential - we know what is, but what could be? We hold faith and the belief that the future will be different. What will we do to get us there?
We believe in community-centered leadership - "Nothing about us without us." We are all leaders among us–how can we identify and uplift the ways we can move differently and together to bring about the change we imagine?
We are both dismantlers and builders - turning away from the "status quo" means actively choosing differently to both break down unjust systems AND turning towards different attitudes, perspectives, and behaviors to create a more just and liberated future.
Would you like to donate to support this effort? Click here.
Register for future episodes of Centering Justice!
Episodes are scheduled for Wednesdays from 12:00 - 1:30pm on the following days:
February 15th, 2023
March 15th, 2023
April 19th, 2023
May 24th, 2023
June 21st, 2023