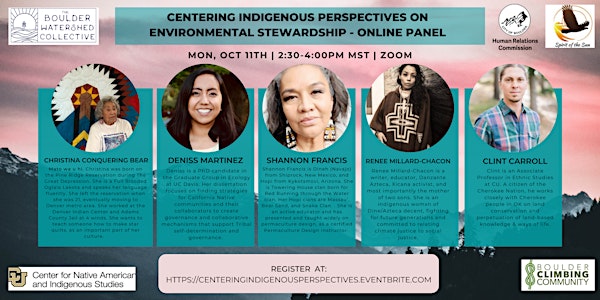 Centering Indigenous Perspectives on Environmental Stewardship Panel
Join the Boulder Watershed Collective & our partners for an online panel discussion on Indigenous perspectives on environmental stewardship.
About this event
This panel will present local and regional views on climate change, environmental and social justice, Traditional Ecological Knowledge and cultural fire, tribal governance and material, spiritual, and political ties with the lands. Panelists include Christina Conquering Bear, Clint Carroll, Deniss Martinez, Shannon Francis, Renee Millard-Chacon, and other guests. The panel is hosted in partnership with the University of Colorado Center for Native American and Indigenous Studies, Boulder Climbing Community, Spirit of the Sun, and The City of Boulder's Human Relations Commission.
About the Speakers
Christina Conquering Bear - I was born on the Pine Ridge Reservation during The Great Depression. I am a Full Blooded Oglala Lakota and I speaks my language fluently. I am proud of who I am. Life was and is very hard on the Rez. My mother had a small team of mules and a big John Deere Wagon had Horse and Cattle, goats, pigs, chickens and turkeys, and milk cows. They were my responsibilities. Milking her twice a day and taking care of the chickens too. My mother and aunts and grandmother taught me how to skin and butcher a cow, a lot of sewing and beading and cooking, and working in the garden (5 acres.) I would sell the vegetable and eggs were my jobs. My brothers had the easy job of hauling wood, taking care of the horses and cows. My mom had an iron fist. What we had to do we did every day. In the summer, we would have picked, buffalo berries, chokecherry, Juneberries and dug up wild turnips, I would can, dry meat, dry squash, dry chokecherries and make Wojapi. I still pick these today. I am asked to make Was-na. I left the reservation when I was 21. I told my mother I wanted a better life for my kids. There were no jobs on the reservation. I went to Wyoming to work construction on Hwy 80 and then came to Colorado, I settled in the Denver metro area. I had children, I got a license as a cook, I would work everywhere, in between I sale star quilts. I worked at the Denver Indian Center and Adams County Jail at 4 winds. I retired at 69. I want to teach someone how to make star quilts, Shannon Francis is hired me to teach sewing. It is important to teach others how to make star quilts, this a dying part of my culture.
Clint Carroll - is an Associate Professor of Ethnic Studies at the University of Colorado Boulder. He received his doctorate from the University of California Berkeley in Environmental Science, Policy, and Management, and his bachelor's degree from the University of Arizona in Anthropology, with a minor in American Indian Studies. A citizen of the Cherokee Nation, he works closely with Cherokee people in Oklahoma on issues of land conservation and the perpetuation of land-based knowledge and ways of life. His book, Roots of Our Renewal: Ethnobotany and Cherokee Environmental Governance (2015, University of Minnesota Press), explores how tribal natural resource managers navigate the material and structural conditions of settler colonialism, as well as how recent efforts in cultural revitalization are informing such practices through traditional forms of decision-making and local environmental knowledge. Dr. Carroll has received fellowships from the Ford Foundation, the Udall Foundation, the U.S. Environmental Protection Agency, and the National Science Foundation. He was also a 2014-2016 Fellow of the Native Investigator Development Program, funded by the National Institutes of Health. His work has been published in Ethnohistory, Geoforum, Environmental Research, EcoHealth, and two edited collections. He is an active member of the Native American and Indigenous Studies Association and the Society for Applied Anthropology.
Deniss Martinez - is a PhD candidate in the Graduate Group in Ecology at UC Davis. The purpose of her dissertation is to find strategies for California Native communities and their collaborators to create governance and collaborative mechanisms that support Tribal self-determination and governance. Using qualitative methods and community-based research Deniss' work centers the stories and narratives of cultural fire practitioners in California. Her vision is to work on creating a future that centers the wisdom of Indigenous people, not just as marginally relevant but as central to environmental decision making. She believes that just as people are an essential part of the environment; decolonization, reparations, and justice are essential to a just climate future. She aims to continue work that informs both settler governments and tribal governments on best strategies towards solving the climate crisis in a way that uplifts Tribal sovereignty, ensures justice for communities of color, and builds governance, culture and decision-making based on values of reciprocity, responsibility, and seven generation thinking.
Shannon Francis - is Dineh (Navajo) from Shiprock, New Mexico, and Hopi from Kykotsmovi, Arizona. She is Towering House clan born for Red Running through the Water clan. Her Hopi clans are Massau', Bear Sand, and Snake Clan. Shannon comes from twelve generations of earth caretakers, ethnobotanists and seed keepers. Shannon is an active educator and has presented and taught widely on permaculture design. Her passion is instilling reciprocal relationships by connecting people to the natural world through seeds, soil and the elements. Shannon has been a member of the Denver Native community for thirty years and serves on the Winds American Indian Council as Chair and is the Director for the Indigenous Agricultural project at Four Winds. In 2014, Shannon received the Justin B. Willie humanitarian award on the Navajo Nation in Arizona. More recently, she received the 2015 Cesar E. Chavez female leadership award for her work with Indigenous gardening, food justice and community building projects. Shannon is a certified Permaculture Design Instructor, focusing more on Indigenous Permaculture, the weaving of Traditional Ecological Knowledge with innovative science, and she is one of the few female Indigenous Permaculturists in the Rocky Mountain and Southwestern regions.
Renee Millard-Chacon - is a writer, educator, Danzante Azteca, Xicana activist, and most importantly the mother of two sons. She is an indigenous womxn of Dine/Azteca decent, fighting for future generations and committed to relating climate justice to social justice. Her family is from the Denver community and she now works as a cultural educator and teacher. She has worked with the International Indigenous Youth Council, 350.org, Four Winds American Indian Council of Denver, Womxn From the Mountain, and Earth Day Live 2020, in hosting, organizing, and leading marches, workshops, and educational resources for social justice and environmental justice. She maintains her culture everyday as a Sahumadora/Malinzin in Azteca Danza for Grupo ColorAztlan in Denver and Tlahuitzcalli in Boulder. Her goal now, is to help in the circles she has the opportunity to engage in to move forward to heal through environmental awareness, transformative education, and support to diverse leaders ready to fight for future generations.