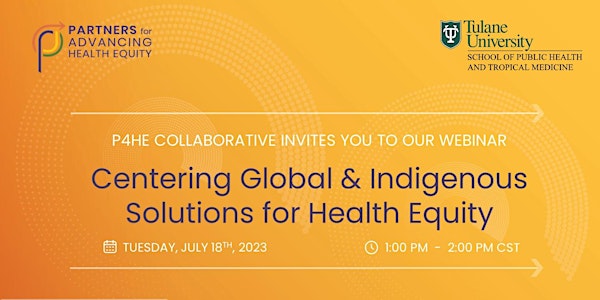 Centering Global and Indigenous Solutions for Health Equity
A spotlight discussion on Global and Indigenous health practices to learn from
By Partners for Advancing Health Equity
Date and time
Tuesday, July 18 · 11am - 12pm PDT
About this event
Indigenous communities' face disproportionate health disparities yet receive subtle spotlight in popular modern discourse. The historical and long-lasting impacts of European colonization and mass genocide continue to have implications to health inequalities faced by Native American communities across the United States.
This webinar will bring together voices with lived experience from global and indigenous communities to share the most pressing health inequalities and future implications for the communities they serve. Moving to action, speakers will discuss ways to center global and indigenous priorities in next steps in the pursuit of health equity for all.
Webinar Objectives
• Create a shared definitions for global and indigenous health equity that will frame the discussion.
• Learn about the most important issues surrounding global health as defined by the communities they impact.
• Explore the historically based root causes of indigenous health inequality.
• Discuss action steps based in global and indigenous solutions for Health Equity.
• Highlight key implementation strategies needed for a more just health future.
Speakers are to be announced soon.
Webinars are free and open to all people and organizations who share the common goal of a future where everyone has the ability to live the healthiest life possible.
Captions provided for all virtual activities.
About the organizer
Partners for Advancing Health Equity promotes innovation in health equity by facilitating active collaboration between people and organizations to inform and harmonize research to advance actionable and sustainable solutions.