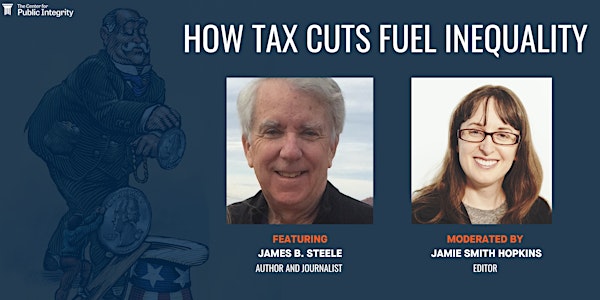 Center for Public Integrity: How four decades of tax cuts fueled inequality
Journalist James B. Steele on how the federal government has supercharged the country's worsening inequality.
About this event
Our nation's tax code is a living history still being written. Over the last 40 years, Congress has cut the income tax rate five times for the wealthiest people, with only modest moves the other way. Corporations got breaks, too.
How did this happen? What will the future bring?
Join us Tuesday, Dec. 13 at 7 p.m. EST for an intimate, virtual conversation between two-time Pulitzer Prize-winning journalist James B. Steele and Center for Public Integrity editor Jamie Smith Hopkins for a discussion on how decades of tax cuts for the rich fuel income and wealth inequality.
The event will be broadcast live from www.publicintegrity.org as well as on Public Integrity's Facebook page. Audience members are invited to share questions and comments in real time through Facebook comments. Questions can be also shared in advance by emailing lisa.litwiller@publicintegrity.org.
Steele and Hopkins will discuss our latest investigation, which digs into this often-forgotten piece of the rising inequality story– tax cuts for the rich.That's saved wealthy individuals and big businesses billions of dollars that would otherwise have gone to the federal till for spending that could help the rest of the public get ahead. Both income and wealth inequality spiked over the same period. Now the top 10% of Americans have three times the wealth of everyone else in the country combined.
The Center for Public Integrity seeks to counter the corrosive effects of inequality by holding powerful interests accountable and equipping the public with knowledge to drive change. We are an independent, nonpartisan and nonprofit news organization dedicated to investigating systems and circumstances that contribute to inequality in our country.