About this Event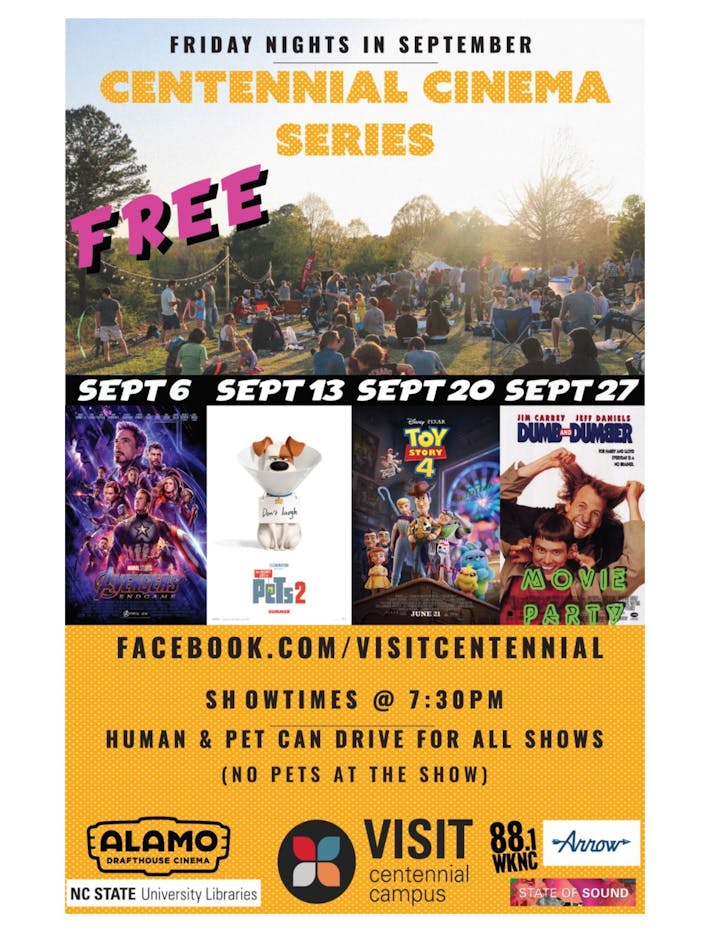 Visit Centennial, Alamo Drafthouse and NC State Libraries have teamed up to present a series of sunset movies by the picturesque Lake Raleigh. These FREE outdoor shows will feature a captivating lineup for all Raleigh residents. Bring your picnic blankets, lawn chairs and non-perishable food donations (human and pet) on Fridays in September to NC State's Centennial Campus. Gates and food trucks for all showings are at 6pm with movies starting at 7:30pm (depending on sunset). Free Parking.
FAQ's
Where is Lake Raleigh?
Lake Raleigh is located on Centennial Campus in Southwest Raleigh. There is no exact address, but it is on the corner of Main Campus Dr. & Campus Shores Dr. If you put "Lake Raleigh" into Google Maps, it will get you to the event grounds. SEE MAP HERE.
Do I need a ticket?
No. All movies are open to the public and free for everyone.
What time do the gates open?
Gates and food trucks open at 6pm. Movies will start around 7:30pm depending on sunset.
What is the weather policy?
If there is severe weather, the movie will be moved to the Hunt Library Auditorium. We will make an announcement before the show on our Facebook page.
Where can I park?
All of Centennial Campus is free parking after 5pm. There is plenty of street and deck parking throughout Centennial. Please look at THIS MAP for exact directions to parking garages. There is a place to drop off patrons near the front gate for those who require assistance.
Are the event grounds handicap accessible?
Our event site is an open field with a slight slope. There are no sidewalks on the event site. The grass is not thick and wheelchairs are able to roll through the grass with little resistance.
Am I allowed to bring a my own food?
YES! There will also be food trucks at the event which will start serving at 6pm. Please do not bring any grills or open flame cooking devices and remember to dispose of all trash.
What is the alcohol policy?
Local breweries will be selling beer at the event. In addition, patrons are allowed to bring their own beverages, but are reminded that this is a family friendly environment. Please be respectful of everyone during the movies. Glass containers are allowed. All coolers will be checked when entering the event grounds.
Allowed: Beer & Wine
Not Allowed: Liquor or Spirits
I would like to bring a canned donation. What should I bring?
We are accepting canned donations for local charities. Non-perishable canned goods can be for human AND pet consumption. The most-needed items are:
breakfast cereal/snacks (cereal, oatmeal, granola bars)
fruits (apple/fruit sauces, canned fruit, dried fruit)
grains (rice, pasta, instant mashed potatoes)
soup (ramen, canned soup)
Are pets allowed?
No. For the safety and comfort of others, pets are not permitted at the concerts. Only service animals are allowed.
What am I supposed to sit on?
Patrons are encouraged to bring low back chairs and blankets to sit on. If you are bringing a high back folding chair, please be considerate of others and select seating around the perimeter of the event. Please also be aware of the amount of space you take up during the show…we want to make sure we have room for everyone.
Are umbrellas allowed? Tents?
Umbrellas are allowed. However, once the program begins, all shade umbrellas will need to be taken down as not to obstruct the view of other patrons. No tents are allowed.
Are there public restrooms?
Portable restroom facilities will be available on the event grounds.
Is smoking permitted?
Smoking is not permitted on the concert grounds.