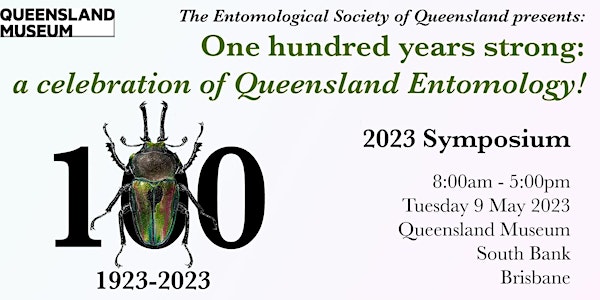 Centenary Symposium
The Entomological Society of Queensland is celebrating its Centenary with a symposium at the Queensland Museum in Brisbane.
When and where
Location
Queensland Museum Melbourne Street South Brisbane, QLD 4101 Australia
Refund Policy
Refunds up to 7 days before event
Eventbrite's fee is nonrefundable.
About this event
9 hours 30 minutes

Mobile eTicket
Join us for a full-day programme of entomology on Tuesday 9th May 2023 to celebrate the ESQ's Centennial Year!
The day is scheduled to include four invited Keynote presentations (see below), along with a suite of general and rapid-fire talks.
Early-bird registration is open until the 31st of March 2023, with a range of ticketing options available covering members/non-members and general/students alike. After this date standard registration fees will apply.
Registration at the event covers attendance, catering (welcome tea/coffee, morning and afternoon tea, and lunch), and a printed programme.
See the ESQ webpage (www.esq.org.au) for more information, including details on how to submit an abstract for consideration to present for either general or rapid-fire talks, noting all submitted abstracts will be evaluated by an abstract committee for acceptance, and that all accepted speakers are required to submit a paper to the Australian Entomologist for review and publication in a Special Issue for the Centenary.
KEYNOTE SPEAKERS
DAVID YEATES
Dr David Yeates is an Australian entomologist. He was Roosevelt Postdoctoral Fellow at the American Museum of Natural History in New York from 1989-1992, and conducted postdoctoral studies in CSIRO before taking up an academic appointment at the University of Queensland from 1994-2000. In 2001 he moved to Canberra as a Research Scientist at CSIRO's Australian National Insect Collection, and is now the Director. ANIC is the largest collection of Australian insects in the world, with an estimated 12 million specimens. He is an Adjunct Professor at the Australian National University and became Schlinger Fellow and Curator of Diptera in 2005. With staff, students and colleagues David studies Australian insects, with a particular focus on Australian flies. https://people.csiro.au/y/d/david-yeates.
TANYA LATTY
Assoc. Prof Tanya Latty is an insect ecologist with broad interests in insect behaviour and ecology. Her lab moto is 'Saving the world with insects (and other invertebrates)'. Her research focuses on a range of challenges including developing better pollination systems for farms, finding ways to create pollinator friendly cities, developing sustainable insect management strategies for agriculture, and using the amazing collective intelligence of ants, bees and slime moulds as inspiration for new technologies. She is passionate about invertebrate conservation and strongly believes that the two goals of protecting invertebrate biodiversity and improving human health and wellbeing can go hand in hand.
Tanya has won several prestigious grants and awards including an ARC fellowship, and a Branco Weiss society in science fellowship (awarded to only 10 people globally each year, in any field of science). She is an active science communicator and has worked in TV, radio and print media. She is president of the Australian Society for the Study of Animal Behaviour and sits on the education committee for the Australian Entomological Society.
SARAH CORCORAN
Appointed as the Chief Executive Officer of Plant Health Australia in July 2020, Sarah's experience as a biosecurity professional extends across the Australian Government, as well as the Queensland and Northern Territory state governments where she has gained a wealth of expertise in biosecurity, regulation, science and innovation. She has delivered a number of significant eradication programs for agricultural and environmental pests under deed-like arrangements as well as the Emergency Plant Pest Response Deed and the National Environmental Biosecurity Response Agreement. She has overseen biosecurity research and investment in infrastructure across sectors, including disease detection, management and response – all of which have offered her the ability to implement consistent approaches to biosecurity nationally.
Sarah has held a number of roles on various national committees and currently serves on the Advisory Board for the Centre of Excellence for Biosecurity Risk Analysis and is an observer (and former member) of the National Biosecurity Committee.
Sarah's 20 plus years in biosecurity has included simultaneous experience as an Army Reserve Scientific Officer, actively supporting the health and wellbeing of the Australian Defence Force through research and operational activities.
In a rapidly changing world, Sarah enjoys the challenges and rewards from protecting plant health and keeping industries viable by working with government, industry and community to enhance the reputation of Australia as leaders of best practice in biosecurity.
DAVID MERRITT
Dr David Merritt is an Associate Professor at the University of Queensland. His lab is interested in the evolution and development of the insect body, especially the nervous system and gland system, studying process in embryos, larvae and pupae of Drosophila melanogaster, a model organism for genetic studies, using techniques such as light microscopy, immunostaining, and genetic approaches. His lab also investigates the regulation of bioluminescence by glow-worms, an unusual group of insects found in Australian caves and rainforests.
Through his role as President of the Australian Entomological Society and as project leader on the ALTC grant, A National Curriculum for Entomology: Capacity Building Through Collaborative, Web-based Delivery, David has helped make entomological studies available to Australian undergraduates students. David and the School of Biological Sciences have developed an education and training collaboration with the Department of Agriculture Fisheries and Forestry to provide education for Australia's biosecurity personnel. David maintains the Entomology Australia website, featuring educational opportunities.
Due to his expertise on the biology of bioluminescent insects, David is chair of the Waitomo Caves Environmental Advisory Group, at Waitomo Caves in New Zealand. David oversees the committee's actions and provides biological information used in environmental management, risk management, population and environmental monitoring and crisis response. David has supervised student projects that explore potential human impacts on the glow-worm ecotourism industry based at Natural Bridge in Queensland and has investigated the potential impact of cave lighting on glowworms at the tourist-visited Marakoopa Cave in Tasmania.