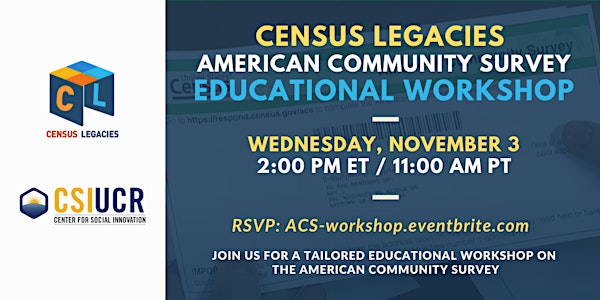 Census Legacies-American Community Survey Educational Workshop
Join us for a tailored educational workshop on the American Community Survey
About this event
Did you know special Census data about your community—from poverty, education, workforce, transportation, housing, and health—is underfunded and at risk of getting defunded?
This past October 20, 2021 at the info session, Census Legacies-State/Local Strategies for a Stronger, we learned about the American Community Survey (ACS) and how this one-of-a-kind Census survey is the only source of data on that information. ACS data is also vital to civic and voting rights, public investments, community development, philanthropy, and the business community to name a few. You can find the recording of the event on CSI's YouTube channel or visit https://www.youtube.com/watch?v=IbI2CZPRUT4.
You will discover that this precious data is underfunded, under-resourced, and at risk of being lost. Can you imagine a world without ACS data?! (see slide below, red is Census Decennial Data and black is ACS Data) This is the data that contains your story, but only you can find what is relevant in this universe of information, and only you can breathe life into it so it can tell your community's story.
During this meeting, you will learn how to easily access Census, ACS, and other data tools that can help guide and elevate your work. The data explored will help you and your staff better understand where to start looking for data to strengthen your grant writing, advocacy, and connection to other community stakeholders.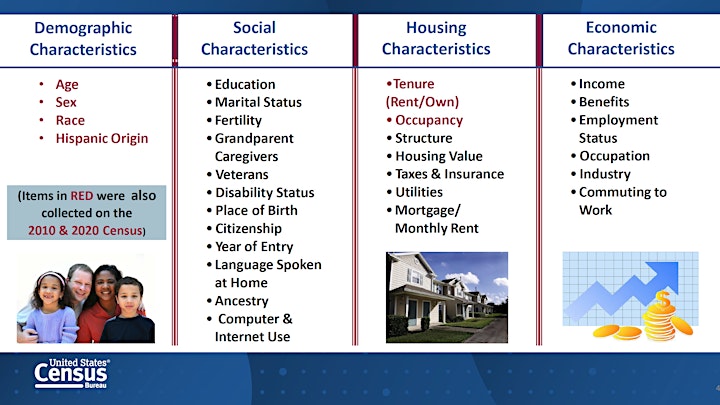 We look forward to learning alongside all of you, please RSVP here or at https://acs-workshop.eventbrite.com. We welcome leaders and stakeholders from business, philanthropy, community organizations, government agencies, and state legislatures to attend.