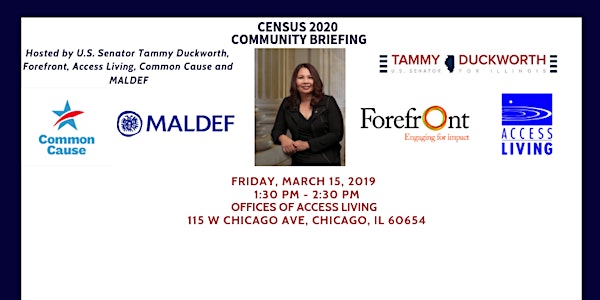 Census 2020 Community Briefing
When and where
Location
Access Living 115 West Chicago Avenue Chicago, IL 60602
Description
U.S. Senator Duckworth, along with Forefront, Access Living, MALDEF and Common Cause - Illinois, would like to invite you to attend a briefing for community leaders on the importance for the upcoming Census and best practices for reaching hard-to-count communities. We need to ensure a whole and accurate 2020 Census count, which will help the state of Illinois get its fair share of federal funding.
Census 2020 Community Briefing
Friday, March 15th
1:30 PM – 2:30 PM
Access Living Chicago
115 W Chicago Ave, Chicago, IL 60654
Every 10 years, the Constitution requires the Census to count every person living in the United States, not just citizens. The Census determines political representation at the local, state and national level. Our electoral district lines are drawn using census data and used by federal and local governments to distribute over $400 billion dollars every year in much-needed aid to local educational, employment, housing, health care and Veteran services. An accurate count in the 2020 Census is integral to providing all communities with the political representation and resources they deserve.
The Trump administration's addition of a citizenship status question to the 2020 Census threatens to undermine the count and your representation. The addition of a citizenship question could significantly reduce the response rate from residents who are fearful of providing information to the U.S. government. That could have severe consequences since the census is used to determine the distribution of federal funding and Congressional seats. With the 2020 Census fast approaching, we must take action to make sure all Americans are counted equally so that we have a fair and accurate representation of our nation's population.
Please RSVP HERE to join U.S. Senator Duckworth, Forefront, MALDEF, Access Living and Common Cause Illinois for this important and much needed Census 2020 Community Briefing.