Description
Cena con Amici: Tartufo Nero
An intimate pop-up dinner featuring Perigord black truffles
Chef Dawn Wilson of Vicini Pastaria and A NEW DAWN Personal Chef Service once again presents Cena con Amici ("Dinner with friends"), an evening of rustic hand-crafted Italian food and lively conversation with soon-to-be great friends. We are taking over Munno for one night only to bring you a special pop-up dinner featuring tartufo nero, better known as black truffle. Rare and enigmatic, the highly prized and sought after winter black truffle from the Perigord region of France is an ephemeral delicacy; their exact locations a highly guarded secret by the truffle hunters that unearth them and only in season for a very short time. Referred to as "Diamonds of Perigord", winter black truffles are truly unique and intoxicating; rich, earthy, highly aromatic, and incomparably delicious. You don't want to miss this opportunity to experience this fleeting, extraordinary culinary treasure, intricately woven through five delicious courses. Gather around our communal table and enjoy this made-from-scratch authentic Italian feast prepared with a combination of seasonal, local and imported Italian artisanal ingredients and topped with shaved fresh black truffles.
---
Menu
$140/person, 5-course family-style menu featuring fresh Perigord black truffles in every course
Wine pairing flight, and a la carte wine, beer, and select cocktails available for purchase the night of the event (guests may BYO with $25 corkage fee/bottle)
Antipasto della casa
Bountiful spread of assorted local and imported Italian cured meats and cheeses, crostini, and "fantasia della chef" (market-driven small bites from the chef's imagination)
Tortelloni di tartufo e nocciola
Handmade tortelloni stuffed with black and white truffle, hazelnuts, & goat cheese dressed with truffle butter, pecorino Romano, & shaved fresh black truffle
Risotto ai funghi e tartufo nero
Truffle-infused arborio rice, crimini, porcini, shitake, pecorino Romano, shaved fresh black truffle
Brasato al Barolo
Local Midwestern beef brisket and short ribs braised in Barolo wine with shaved fresh black truffle
Contorni:Two seasonal side dishes
Panna cotta di miele e tartufo
Truffle honey panna cotta, smoked salted caramel, shaved dark chocolate and fresh black truffle
---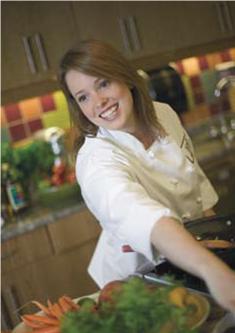 Chef Dawn Wilson
Executive Chef Dawn Wilson is the owner and driving force behind A NEW DAWN personal chef service and Vicini Pastaria. Formerly a Research Scientist with Biology and Molecular Genetics degrees from Loyola University and University of Chicago, Chef Dawn's passion for cooking and entertaining led her away from the lab and into the kitchen. She received her training "on the job" from many great chefs with stints at Bin 36, Cafe Las Bellas Artes, and several catering companies throughout Chicagoland.
In 2006, Chef Dawn opened A NEW DAWN personal chef service to bring home-cooking back into Chicagoland homes. A NEW DAWN has provided catering, personal chef services, and cooking instruction to many clients in Chicago and the surrounding suburbs to rave reviews. She has since spent time as the Culinary Director for Whole Foods Market-Northbrook teaching cooking classes and, most recently, lent her pasta-making expertise to one of Chicago's hottest restaurants, Balena.
In 2011, Dawn moved to the small Tuscan town of Colle Val d'Elsa where she worked at the rustic Slowfood restaurant, Officina della Cucina Popolare, learning the secrets of handmade pasta and Tuscan cuisine. Following her stage at Officina, she traveled and tasted her way around Italy with stops in many regions including Emilia-Romagna, Umbria, Veneto, Piedmont, Lazio, and the Amalfi Coast. In 2016, her love of all things Italian, especially handmade pasta, drove her to launch Vicini Pastaria, a line of artisanal handmade pasta, sauces, and other Italian specialties. Dawn is excited about her newest adventure as expands Vicini Pastaria and A New Dawn to her hometown of St. Louis.
Chef Dawn is committed to using only the finest, freshest, seasonal ingredients, preparing each dish with care and a true passion for food, and creating a delicious and memorable dining experience for each and every client.