Description
Come along to our Open Office Day on Wednesday, June 20, 2018!
Take the opportunity to interact and talk to Celtra's employees about the business and challenges they are facing with, look at the projects we are working on and find out what is really like to work at Celtra.
We'll include talks from our best engineers and designers with lots of opportunities for questions, knowledge sharing and networking. Come check out our vibrant office and spend your day with Celtra team who are a big part of building the future of our product, Creative Management Platform.
Whether you are a student unsure about your next steps, an experienced developer or designer or just curious about what we do, you are welcome to visit and share with us your views and thoughts.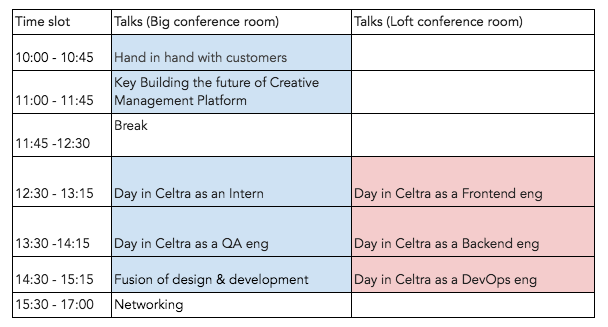 Come and see how great teamwork delivers exceptional results! "Eighty percent of success is showing up" -Woody Allen