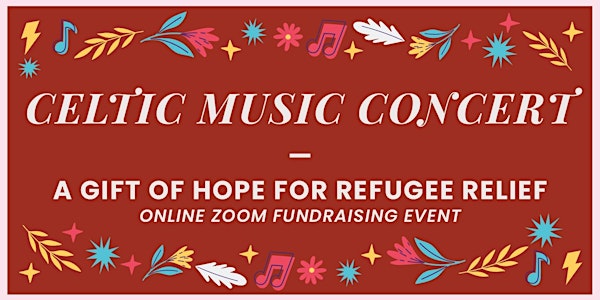 Celtic Music Concert for Refugee Relief
Join us for an international gathering of live Celtic music performances and mutual aid in support of our dear friends in Nigeria
Refund Policy
Contact the organizer to request a refund.
Eventbrite's fee is nonrefundable.
About this event
A Gift of Hope for Emergency Refugee Relief // Live Online Celtic Music Concert Fundraising Event
Join us for a very special international gathering of Celtic Music, featuring live performances from Musicians and Singers from Scotland and Canada. This is a Fundraiser for Mutual Aid to Support a Young Refugee Family Fleeing violence and impending social unrest in Nigeria.
DATE // Saturday, November 27th, 2021
TIME //
12:00pm PST - 1:30pm PST
2:00pm MST - 3:30pm MST
3:00pm EST - 4:30pm EST
8:00pm BST - 9:30pm BST
LOCATION //ONLINE via ZOOM
TICKETS //
TO PURCHASE *PAY WHAT YOU CAN* TICKETS, CLICK THE GREEN BOX ABOVE THAT SAYS "TICKETS" AND FOLLOW THE LINKS!
Why We Are Raising Funds For A Young Family in Nigeria
// a message from organizer Shawna Hett
I met Joseph through an agricultural program with Canada World Youth over 15 years ago, when we hosted an exchange with Africa/Canada. Joseph and I have stayed in touch, as family, ever since.
Joseph was raised in a small village in Nigeria, moving to the city of Benin to attend university, where he graduated with a degree in teaching. In the past ten years while working as a teacher, he saved all the money needed for the immigration process and completed his immigration paperwork for his dream to return to Canada.
Nigeria has been in a state of political and social unrest for many years. However, in the past two years the country has plunged into a desperate state with civil war threatening to break out at any time. Joseph, alongside his community , have lost their jobs, with no work available anywhere. Drought has created a shortage of water, and has added to the stress of the state of poverty and disease plaguing the country. Joseph and his family have been threatened with the trauma of starvation, disease and violence on a daily basis.
In October of 2020, government troops opened fire on a large crowd during a public demonstration. Hundreds of people were killed, many of whom were innocent bystanders. Joseph's friend was one of the innocents who lost his life that day, leaving behind his pregnant wife, Merit and a two-year-old son. Joseph endeavored to assist Merit and her son at that time, who were living in abject poverty in the slums on the edge of the city. Their dwelling was a one room shack with a dirt floor. Their food was prepared on a camp stove, and there was no refrigeration, no water and one outhouse for 8 families. Electricity was only available three days a week, for three hours at a time. During those three hours, people would fetch water which they store in a bucket in their homes.
Joseph used every last cent of the money he had saved for his immigration and move to Canada, in order to ensure the basic needs of Merit and her child were met. Being the incredibly generous human being he is, Joseph offered to become Merit and her son's legal guardian. He married Merit for her to save face in her village community and to offer safety among the threats in her situation.
After the marriage, Joseph moved into the slums with Mother and child. It was during this time that we stepped in to assist them. We continued to raise funds for medication, doctors, and hospital visits, as each of them have been plagued with malaria over a period of several months. Incredibly, one of our gracious donors contributed a considerable sum of money for them to move into safer housing before the baby was born. In Benin, people must pay their rent one year in advance. In addition, money was urgently needed for Merit's hospital expenses when she was to be hospitalized to give birth to a beautiful baby girl.
We are now raising money for the remainder of the immigration process so that Joseph, Merit and the two children will have the opportunity to be able to move to Canada, to offer them a life free from violence and the tyranny of living in unsafe and unstable conditions. Joseph's most ardent wish is to keep his young family safe from harm; something extremely difficult to do in Nigeria at this time. All funds raised at this concert will go directly to them for emergency expenses and the immigration process.
Myself, the organizing team, Joseph, Merit and their children are incredibly grateful for your support, as we do what we can to raise funds through the power of music and community, and the Gift of Hope.
In Gratitude,
Shawna Hett
If you are unable to attend this event, or you would like to share the fundraising efforts with your community, please go to our GoFundMe campaign for Joseph and his family here >>>
Featuring Scottish and Canadian musicians and singers, including >>>
Allan MacDonald grew up in a Gaelic speaking community in the western Highlands of Scotland. He is a world renowned piper, teacher, composer and recording artist and has directed several BBC media projects. Although his first love was the Highland bagpipe, he also plays the whistle, accordion, and jaw harp. Allan is an accomplished traditional Gaelic singer and has performed throughout the world. He is also regarded as being a leading light in the Gaelic musical scene in Scotland.
Eileen McGann hails from the province of British Columbia and lives on the unceded territory of the Coast Salish peoples, also known as Vancouver Island. She is considered one of Canada's finest Celtic singers and songwriters and has performed around the globe. As a Juno award nominee, Eileen is also an experienced and dynamic workshop host. She has played almost all the major folk festivals across Canada and is a highly esteemed recording artist.
Born and raised in Scotland, Hamish Moore, first began playing the pipes at the age of eight, under the tutelage of this Father. In 1986 his passion for the pipes led him to give up his day job to pursue a career making and playing pipes. Hamish has been instrumental in exploring the links between the music of Canada's Cape Breton Island and earlier Scottish traditions. He has performed and taught in a number of countries and has passed on his passion for the pipes to his son Fin.
Christine Primrose has made the Isle of Skye her home for many years but is originally from a Gaelic speaking community on the Island of Lewis in the western Isles of Scotland. As a highly esteemed traditional Gaelic singer, she has travelled the world sharing her musical heritage. Christine has received several prestigious awards and has released several recordings, which have met with great success. She is Head of Gaelic song at Scotland's preeminent Gaelic College, in Skye.
Ashley Macleod-McRae
Scottish fiddler, Ashley MacLeod-McRae was born and reared in Glengarry county, in eastern Ontario. For over 20 years her passion for the fiddle as well as her expertise, has led her and musical partner Neil Emberg across Canada and the U.S, where they have been delighting audiences with their music. They have collaborated on recordings with their band, Hadrian's Wall, which is highly regarded throughout the Celtic music community. Ashley has been teaching the fiddle for a number of years and is also a composer.
Although Sìne McKenna is a native of Montreal, she now makes her home in Glengarry county, Ontario. She was immersed in the traditional music of Gaelic Scotland and Ireland from the time she was a young child. As a singer, teacher and performing artist, her life's work is to pass on the beauty and wisdom of her ancestors, through story and song. For over thirty years, Sìne has been teaching Scots Gaelic song and traditions to audiences throughout Canada.
Although living in rural Vermont, in the United States, InterSpiritual minister Simon de Voil, is originally from Scotland. As a singer, songwriter and musician, he has gained a reputation as a talented performer and storyteller. His music explores themes of the inner landscape of the soul, the enchantment of the natural word, and a personal journey to follow an unexpected calling. Him time on the Island of Iona in Scotland, inspires much of his work and music.
Born and reared in British Columbia, Rene Cusson lives on the unceded territory of the Coast Salish peoples, also known as Vancouver Island, Canada. He is a highly respected piper, musician, teacher, and composer. Rene's music is performed all over the world and has been widely recorded at home and abroad. Added to his playing of various bagpipes, is whistle playing and singing. Rene and his wife Carolyn have been running Celtic Performing Arts Inc. for a number of years.