Cellogram (Dave Eggar + Chuck Palmer) with Valerie Ghent play Music for Din...
Description
ADVANCE TICKETS SALES ARE OVER,
BUT TICKETS ARE AVAILABLE AT THE DOOR SO COME ON DOWN!
THIS IS AN ALL-AGES EVENT!
After performing with rock royalty last year on two wildly successful US tours - including Jacksonville (first arranging and directing the string orchestra for Foreigner's 40th anniversary tour, followed by opening for and also playing with Evanescence), world renowned cellist, Dave Eggar returns to MOSH with his musical partner Chuck Palmer as Cellogram accompanied by acclaimed vocalist Valerie Ghent for a truly unique concert event...
What happens when you combine Paleo Beats and Spectral Strings with larger than life storytelling? You'll find out on this exciting multimedia musical journey through a fantastical time!
Internationally acclaimed singer/songwriter Valerie Ghent joins forces with Grammy® Nominated Cellogram (Dave Eggar-cello and Chuck Palmer-drummer/programmer) in a timeless romp through the Brontosaurus Blues, T-Rex Tangos, Jurassic Grooves and other musical themes! MUSIC FOR DINOSAURS AND OTHER FANTASTIC BEASTS will take you on a visual and musical adventure for all ages! This world debut event was created specially for the Bryan-Gooding Planetarium at MOSH in celebration of the museum's new travelling exhibit Expedition: Dinosaur!

NOTE: MOSH DOORS OPEN TONIGHT AT 6:30PM // SHOW STARTS AT 7:30PM
ARTIST BIOS
CELLOGRAM (DAVE EGGAR + CHUCK PALMER)
Cellogram is the polystylistic brainchild of Grammy nominated composing/producing team of cellist Dave Eggar and drummer/programmer Chuck Palmer. Their unique blend of classical music, electronica and world music has led to original music (EP was #2 on iTunes World Music Chart), as well as ingenious collaborative arrangements working with artists such as on Foreigner's 40th Anniversary Tour, recording and touring with Amy Lee & Evenescence, Frank Ocean's Grammy winning record "Channel Orange", Phillip Phillip's platinum records and hit songs "Gone" and "Raging Fire", Norah Jones' "Day Breaks" and records with David Bowie, A Great Big World, Five For Fighting and many many others.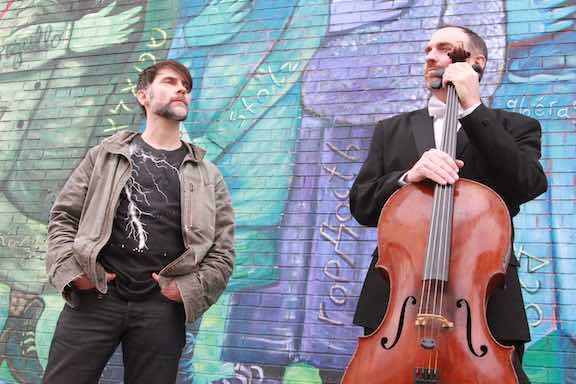 VALERIE GHENT
Powerhouse recording artist VALERIE GHENT wows audiences with her emotive, evocative voice, piano chops to match, and "soul-stirring, uplifting songs full of vitality and joy." A native New Yorker with a bluesy, funky piano style and a stunning 3 1/2 octave range, it's no surprise she has toured with music legendsAshford & Simpson and Debbie Harry (Blondie) and performed/worked with artists as diverse as Dr. Maya Angelou, Nina Simone, Sir Cliff Richard, Roberta Flack, Iggy Pop & Billy Preston. Working closely with R&B royalty Ashford & Simpson for over two decades, Valerie learned from the best of the best. An outstanding live performer, Valerie weaves together blues, soul, R+B, jazz and pop, treating listeners to soulful, romantic, highly melodic music rendered with passion, undeniable skill and a mighty heart. Valerie has released 5 solo albums and had a smash #1 hit song with Love Enough for a Lifetime! Soultracks awarded her album Velours one of the Top 50 Albums of 2016. Valerie also regularly tours and records in France where her 2018 single, Feelin Alright, hit #1 on Jazz Radio France.valerieghent.com