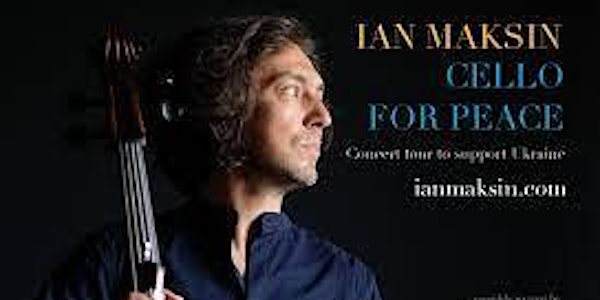 Cello for Peace in Ukraine. Ian Maksin in Philadelphia
World acclaimed cellist, one-man orchestra, composer and vocalist signing in thirty!!! languages suppots Ukrainian charity "For Well Being"
When and where
Location
6820 Jackson St 6820 Jackson Street Philadelphia, PA 19135
Refund Policy
Contact the organizer to request a refund.
Eventbrite's fee is nonrefundable.
About this event
An Ultimate Multicultural Arts Exchange Experience!
Ian will sing folk and popular songs in Ukrainian, Polish, Armenian, French, Italian, Spanish, Yiddish, and several other languages. He will also perform an original instrumental music from the two latest releases "Sempre" and "Alchemist" as well as brand new compositions.
BREAKING BOUNDARIES both musical and geographical Ian Maksin created his own unique style by blending elements of different genres and traditional music from around the globe using his cello as the unique unifying force.
ONE-MAN ORCHESTRA. In addition to cello, Ian is using an electronic loop pedal device which allows him to create layers by recording and replaying his own performance in real time, creating an effect of an entire orchestra.
SIGNING IN THIRTY LANGUAGES. What began as a hobby and a passion for linguistics and travel, has become the part of a unique concert experience. Currently Ian Maksin signs in thirty languages, including such "exotic" ones as Farsi, Mongolian, and Bambara (one of the tongues spoken in West Africa). He amassed the majority of this repertoire during his world travels, jam sessions, and collaborations with local musicians. He drew an inspiration for many of his original songs and compositions from the ethnic music from all around the world.
Biography of the GLOBAL MUSICIAN
Ian Maksin was born in Leningrad, former USSR, into a multinational family and grew up absorbing many cultures and traditions from an early age. He began playing guitar and piano at the age three, and cello at age six taking lessons at the local School for Gifted Children. He came to the USA at sixteen to continue studies at the Manhattan school of Music in New York.
After working for many years in the classical genre, including a three-year tenure with the New World Symphony in Miami, Ian has decided to look for his own musical path. His diverse musical experience , including playing rock and blues guitar as well as the passion for jazz and the world music has allowed him to take the cello to a new dimension and develop his own distinct style as a musician and composer. In Ian's own words: "At some point I realized that music is much more that mere entertainment. It is one of the most powerful and unifying forces in the world, capable of healing, inspiring, bringing people together, and bringing peace between them. I believe that cello will save the world"