Open Bar, Vintage Fruited Sour Kegs, Premiers of 2019 Strawberry Oblivion & 2019 Bourbon Barrel Vastness of Space. Epic food. Session 1
About this event
Join us on Wednesday, October 23rd for a special night celebrating the 6th Anniversary of Cellarmaker. As part of a week long celebration at both locations, the House of Pizza will be offering a variety of tasty food to accompany beer premiers (Bourbon Barrel Vastness of Space 2019 and Strawberry Oblivion 2019) and vintage fruited sours (final kegs) in a fun and relaxed environment. This is not a seated formal beer dinner.
Cellarmaker Brewing's 6th Anniversary Provisions:
"Cheese & Crudite"
Mix of Soft and Hard Cheeses,
Spiced Nuts, House Marinated Olives,
Fig Jam
"Oysters"
Kusshi from BC, Sarawak Black Pepper
Shallot Mignonette
"Fall Flavored 'SaffronCisco' Arancini"
Onion, Sage Garlic, Rice, Asiago, Squash
"Meatballs"
Beef, Pork, Chicken, Garlic, Tomato,
Cheese, Basil, Mushroom, Boccaccini
"Poke"
Tuna, Sweet Onion, Pickled Hijiki Seaweed,
Tobiko, Cucumber, Wonton
"Porchetta"
House Cured Pork Belly, Herb Salad,
Roasted Vegetables
Round Pies:
"Cheese"
Cheese, Tomato, Olive Oil, Oregano, Basil
"Truffle"
Toma, Pecorino Tartufo, Basil Ricotta, Garlic
"Copa"
Cheese, Tomato, Oregano, Olive
"Sausage & Mushroom"
Young Ginger Sausage, Pickled Shiitake,
Green Onion, Black Sesame
Detroit Pie:
"Broccoli Rabe"
Calabrian Chilies, Burrata,
Preserve Lemon, Vincotto
Dessert:
"Coconut Bread Pudding"
BBA Vastness of Space Chocolate,
Cinnamon, Toasted Coconut
Guests will be provided with a sweet Vastness of Space glass upon entry to use throughout the night and take home following the evening's conclusion. There will be unlimited pours (yep), original food creations from Chef Michael Malyniwsky and a damn good time will be had by all. Beer drinking attire is recommended and dancing is encouraged!
This is a 21+ Event. No exceptions.
Ticket price includes everything you need: Glassware, Dinner, Drinks, Tax & Gratuity.
1st Session 5pm -7:30pm ----> this onsale link is for 1st Session
2nd Session 8pm -10:30pm
FAQ:
How long is each session? There will be 2 sessions, each lasting 2.5 hours.
Is this a seated dinner? Nope, this is a casual party. Great food, great beer lineup, no transactions (open bar, open food). We will be passing around food throughout the night.
Will there be Vegetarian dishes? What if I have dietary restrictions? There will be a variety of vegetarian friendly options but not vegan. Dietary restrictions cannot be accommodated.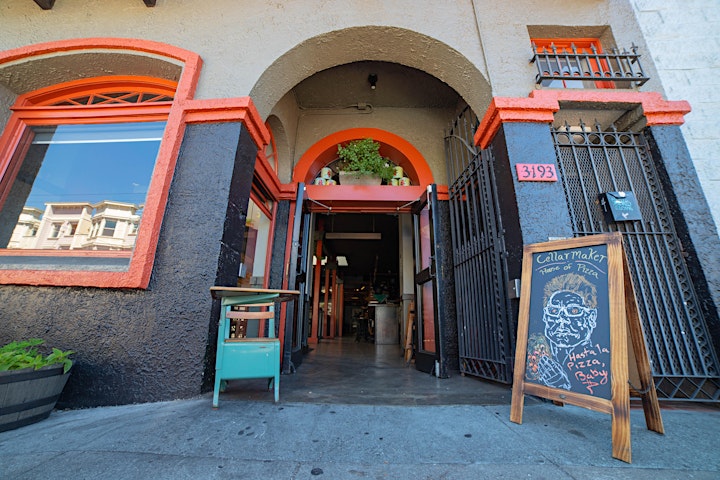 Organizer of Cellarmaker 6yr Anniversary Party Session 1