Event Information
Location
Fiese Remise
Köpenicker Straße 18
10997 Berlin
Germany
2 day festival on the 14th and 15th of May
About this event
UPDATE: There are no covid restrictions for our event due to German Datenschutzrechtlichen Gründen. Please stay safe and use your own discretion.
YEOJA Mag is hosting our first 2 day festival on the 14th and 15th of May! This event is FREE.
This 2-days festival features a market (with food and stalls), creative workshops, film screenings, panel discussions, music performances, and a party with live music and DJs.
The Celestial Festival pays respect to the Lunar-Solar Calendar utilised by many Asian Diasporic communities. The Lunar Calendar is a means of anchoring diasporic communities to their cultures through the moon and celestial bodies – preserving deep connections that withstand displacement and pressure to "assimilate" in Germany – a guiding tool for those disconnected.
During Asia-Pacific Heritage month's full-moon, we centre this festival around voices and talent from our communities by providing a platform for up-and-coming talents; celebrating us through music, sound, taste and visuals. We offer the Celestial Festival as a connecting and anchoring force in Berlin for our community, and an entry point for pan-Asian or pan-BIPOC solidarity, empowerment and commonness.
Ultimately, we are expanding the meaning of "Asian" from just the East to also include South, Central, West Asia and even Africa – creating a representative and accurate view of Asia and the Asian diasporic community.
DAY 1 LINE UP
14:00 - Doors open
14:00-18:00 - Market
14:00-20:00 Food Stall: Soy Division
14:30-15:30 - Performance by Soy Division & Pisitakun
15:30-17:00 - Panel on Asian* Creative Activism and Collectives in Europe
16:00-19:00 - DJ Kakao Katzê
17:00-19:00 - Xinan's screenprinting Workshop
19:00-21:00 - Film Screenings: "Sonic Statements" 4 Shorts
DAY 2 LINE UP
14:00 - Doors open
14:00-18:00 - Market
14:00-20:00 Food Stall: Mamakan
15:00-18:00 - DJ Speedy Boarding
15:00-16:30 - Panel on Asian Music Industry and Labels and Trends
17:00-18:30 - Vicky's Eternal Moon Clay Workshop
19:00-21:00 - Film Screenings: "Indochina: Traces of a Mother"
21:00-22:00 - Kei Watanabe live set
22:00-23:00 - Jessika Khazrik live set
23:00-5:00AM - PARTY feat. Pooja B, BB Deng, Coco Cobra & Toshiki Shimada (SET TIMES TBA)
_
This is a free event. First come first serve at the door. Please note that we will not tolerate any form of discrimination, racism, anti-semitism, islamophobia, classism, queer phobia, transphobia, fatphobia, etc. at our event.
Celestial Festival has been made possible with funding from Music Board Berlin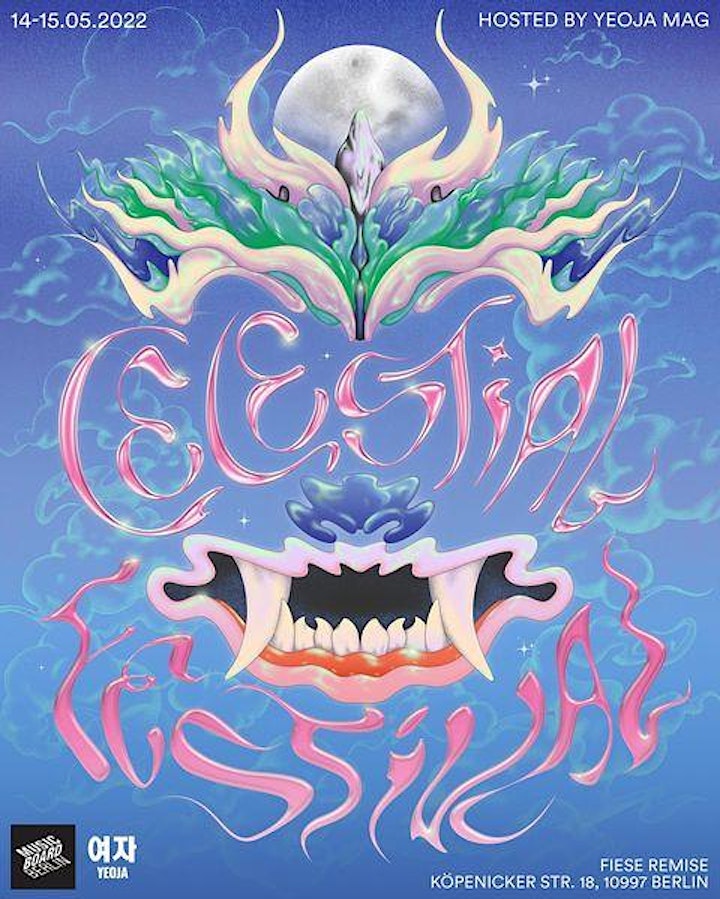 Date and time
Location
Fiese Remise
Köpenicker Straße 18
10997 Berlin
Germany