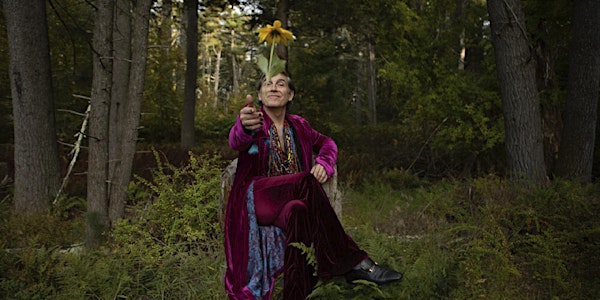 Celeste Lecesne in *POOF!* | 20S at Truro Vineyard
Join Celeste Lesecne for an evening of theater and magic beneath the stars!
When and where
Location
Truro Vineyards 11 Shore Road Truro, MA 02652
Refund Policy
Contact the organizer to request a refund.
Eventbrite's fee is nonrefundable.
About this event
Join us for Celeste Lecesne in *POOF!* at Truro Vineyards, an intimate and COVID-safe outdoor show, with a full bar and the delicious eats of Blackfish's Crush Pad food truck on offer.
7:00 pm doors, no early entry
Show starts at 8:00 pm
Bring your own camping or beach chair. There is limited seating and tables. No blankets please.
No outside drinks or food allowed.
Carpooling is encouraged as parking is limited.
Bar:
CASH ONLY
walk up only, no table service
ATM on site
7-9:15pm
Food Truck:
Guests will receive a menu with a QR code
Scan code to order food
Pick up food from wood table in front of truck, no table service
7- 8:15pm
---
Fairies have always enjoyed a close association with the natural world. But with so much of the natural world under threat from Climate Change, the fairies are not pleased, and they are beginning to show up in surprising ways. In addition to making everything more fabulous just by simply being, fairies have come to pass along a few spells that will be needed in the days to come. One such fairy is scheduled to make a rare appearance in Truro and they will have their say. Join them.
Development of POOF! has been supported, in part, through a residency and workshop performance at Ancram Opera House (Jeffrey Mousseau and Paul Ricciardi, Directors), Ancram, New York. Costume design by Michael Krass.
---
I've been telling stories for over 25 years.
Whether I'm writing, acting, producing or trying to create social change, it's usually the story that gets me involved. But in the process of getting things done and trying to make the world a better place, I've also been telling the story of my life. My hope is that you find something here that will inspire you to live your life more fully and continue to tell your story.
I'm using my middle name from now on - Celeste. As a child I was terrified people would discover Celeste. Throughout my life I've ghosted that part of myself and kept them out of sight. No more.
When I co-founded The Trevor Project 22 years ago along with Peggy Rajski and Randy Stone, our intention was to save the lives of LGBT and Questioning youth and provide them with a place to turn in crisis. But one of my personal hopes for the Trevor Lifeline was that it might become the means by which older LGBT people could appropriately express their love and support for queer and questioning youth, a channel through which the wisdom and experience of one generation could be passed along to the next. For too many generations, young people have had to figure out in secret what it means to be gay, lesbian, bisexual or transgender. As adolescents, many of us had to search for proof that we weren't crazy, we had to find our gay history by reading between the lines and we had to locate one another in a world that required us to be practically invisible. My own journey was not exceptional in this regard. I found my way to queerness by feeling my way forward alone and without the support of mentors or teachers. Friends and lovers certainly helped, but it was basically a DIY situation. Only in the last decade have gay youth been able to be more than just beginners at being queer. In fact in many respects, they are showing us how it's done in this brave new world.
For the past three years I've been working closely with LGBTQ+ youth, and I've been so impressed by their ability to express who they are. It's ironic that these young people are now encouraging me to be more myself and proving to me that it's never too late to become yourself.
–Celeste