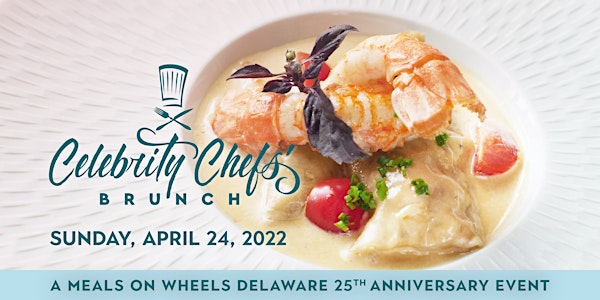 Celebrity Chefs' Brunch 2022
The Celebrity Chefs' Brunch is celebrating 25 years of bringing award winning chefs to Delaware in support of homebound seniors!
When and where
Location
DuPont Country Club 1001 Rockland Rd Wilmington, DE 19803
About this event
This event is now SOLD OUT. Thank you for your support of Meals On Wheels Delaware.
Join us for Brunch on Sunday, April 24, 2022, for our 25th year of the Celebrity Chefs' Brunch, held at the DuPont Country Club in Wilmington. As a guest, you will enjoy delicious brunch bites prepared by top chefs throughout the nation, fine wines and brunch cocktails, live entertainment and an attractive auction! Proceeds benefit Meals On Wheels Delaware. Don't miss out on this day marking 25 years of this delicious event!
Check Ticket for Admission Time. Guests with VIP tickets have early access at 11:00am. All other ticket level enter at 11:30am.
Visit Celebrity Chefs' Brunch Website for Updates
Confirmed Chefs (as of 3/12/22):
Tyler Akin | Le Cavalier at the Green Room | Wilmington, DE
Carrie Baird | Culinary Creative Group | Denver, CO
Patrick Bradley | Tonic Seafood & Steak | Wilmington, DE
Dan Butler | Toscana | Wilmington, DE
Christa Carlton | Taverna Rustic Italian | Newark, DE
Antimo Dimeo | Bardea Food & Drink | Wilmington, DE
Don Drake | Magnolias | Charleston, SC
Tom Hannum | Buckley's Tavern | Centreville, DE
Dana Herbert | Desserts by Dana | Newark, DE
Victoria Jeker | Sweet Somethings | Wilmington, DE
Robert Lhulier | Snuff Mill Restaurant | Wilmington, DE
Bruce Moffett | Barrington's Restaurant | Charlotte, NC
Lamar Moore | Eleven Eleven Chicago | Chicago, IL
Paul Reilly | Coperta and Apple Blossom | Denver, CO
Jose Salazar | Salazar Restaurant | Cincinnati, OH
Larry Schreiber | Good Food on Montford | Charlotte, NC
Alex Seidel | Fruition | Denver, CO
John Tesar | Knife | Dallas, TX
Cassy Vires | Bailey's Restaurants | St. Louis, MO
Meals On Wheels Delaware recognizes this can be a sensitive topic for some, and we want to respect your choice. We have updated our attendee policy to reflect the current guidelines for Covid safety.
Going forward we will no longer be requiring proof of vaccination, or a negative test for event attendance. The choice to wear a mask or not will be a personal decision. We will continue to implement social distancing measures wherever possible.
This policy is subject to change based upon the recommendations of the CDC and the State of Delaware. Attendees will be informed of all changes via email.