Location
Cornerstone Kitchen & Good Deals Appliance Designer Kitchen Center
14680 South Tamiami Trail
Fort Myers, FL 33912
Description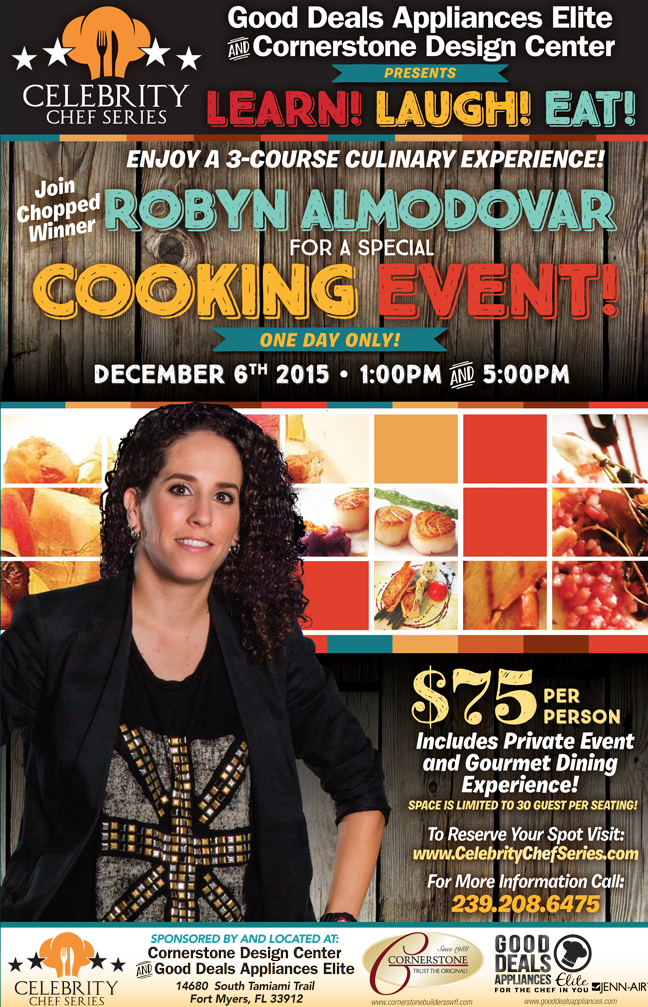 Join One of South Florida's own, Robyn Almodovar, who will design and prepare, with her trademark bravado and zest for living, a custom three-course meal for guests to experience. Chef Almodovar, went up against three seasoned chefs with long pedigrees for the title of Chopped champion and $10,000. Chopped, the Food Network show that has chefs making meals out of unlikely mystery baskets filled with things like fresh squid and Pop Rocks, was a nail biter. In the last round, Almodovar faced off head-to-head against Four Seasons Chicago's executive chef Stephen Wambach. Almodovar found her groove and Wambach found humility and respect for the diminutive powerhouse. In last episode of Chopped, Chef Almodovar was visibly nervous when presenting her plate to the judges. The chef, had just made beef tendon and purslane wontons from the ingredients found in her mystery basket. In the end, it was the food truck chef's fried bread pudding with a strawberry/caramelized onion reduction that won the day. As Almodovar danced for the judges in a surge of joy, Geoffrey Zakarian told the chef that she, "cooked her truck off". The chef replied, "I feel like I took the world and put it in my pocket."
Almodovar says that her Chopped experience was "one of the hardest things that I ever had to do." The chef, who has been a finalist on Hell's Kitchen and the winner of Cutthroat Kitchen, said that this Food Network show was even more nerve wracking than having Gordon Ramsay scream at you.
"Chopped was one of the hardest things that I ever had to do. I thought Hell's Kitchen was nerve racking. Chopped is not all about the drama and different personalities like Hell's Kitchen. It's more about being a culinarian and how quick you can think on your feet. It's that moment when Ted Allen says, 'Chef's open up your baskets,' the anxiety, the rush, all emotions in. There is no other way to describe it."
Experience Chef Almodovar's as she prepares her custom three course meal for you. In a casual atmosphere, limited to just 30 guests, you will have the opportunity to watch Chef Almodovar, around a 40-foot granite counter, surrounding the state-of-the-art Designer Kitchen with Elite Jenn-Air equipment as she and her culinary team prepare the courses.
How do I register for the December 6th, 2015 Celebrity Chef Robyn Almodovar event?
Browse the "Event Locations, Date and Time" menu to locate your preferred session. Click the title of the session you want to attend. The next screen will give you greater detail about the December 6th, 2015 Robyn Almodovar Celebrity Chef Event. Enter the number of seats you wish to reserve in the "Seats available" box. Click the "Register" button. Payment in full is required at the time of registration. Space for both times is limited to 30 guests.
How long are the events?
Events are 2 to 2½ hours in length.
Do I need to set up an account?
When you register online, you will be asked to create an account and choose a password. We ask that you do this so that we can provide you with a higher level of service and security for this and future transactions. You only need to enter this information once. After registering, you will receive a confirmation email of your registration. If you do not receive this email, please contact us at customerservice@celebritychefseries.com.
What is the format of your event?
Events are 2 to 2½ hours in length. After watching Chef Almodovar personally prepare her custom menu, you will enjoy a three course original meal, planned and executed by Chef Almodovar. Each event is limited to 30 attendees.
Demonstration: Designed as an observation class, participants watch while Chef Almodovar explains and shows recipe preparation and cooking techniques. Event is general admission seating limited to 30 people.
Although alcohol will not be served, attendees may bring their choice of wine to the event and glassware and refrigeration will be available.
Should I register for the event with a wait-list?
If a class is in wait list status, you can add your name to the waiting list. You do not need to submit any payment information until a spot becomes available. If an opening becomes available, you will be contacted by phone or email. Please include both day and evening phone numbers. Your credit card information will be required at the time you accept an event time and date. Depending on the celebrity chef's availability and interest, we may add additional events to satisfy demand.
What is your cancellation policy for the event?
You may cancel your registration for an event up to 72 hours in advance of the event starting time and receive a full refund or transfer to another event of equal value. To cancel a registration, contact our customer service department at 239-208-6475 from 8am-5pm Eastern Time M-F. No refund or exchanges will be given for events that are cancelled less than 72 hours prior to the class. The Celebrity Chef Series reserves the right to cancel any class due to insufficient enrollment, chef illness or inclement weather. We will contact you by email or telephone and issue a full refund or you may request to be transferred to another event of your choice (depending on availability). If you miss an event due to weather-related concerns, our standard cancellation policy applies.
By participating in the Celebrity Chef Series, attendees hereby consent to the event sponsors' usage of any one or more of the following for on-air broadcast and for any other social media use, advertising and promotional purposes in any medium whatsoever without payment of any additional consideration for use of attendees voice, likeness or photos. By attending the event, attendees understand and agree that the sponsors may take photographs and/or videotape and/or audiotape any attendees participation and that the sponsors will own any such photos, audio and/or video and shall be free to utilize such materials in any way it sees fit during or after the event with no compensation to the attendees including without limitation posting any such photographs, audio and/or videos on its website.
Have more questions?
Contact Florida Weekly at customerservice@celebritychefseries.com or call 239.208.6475.