Description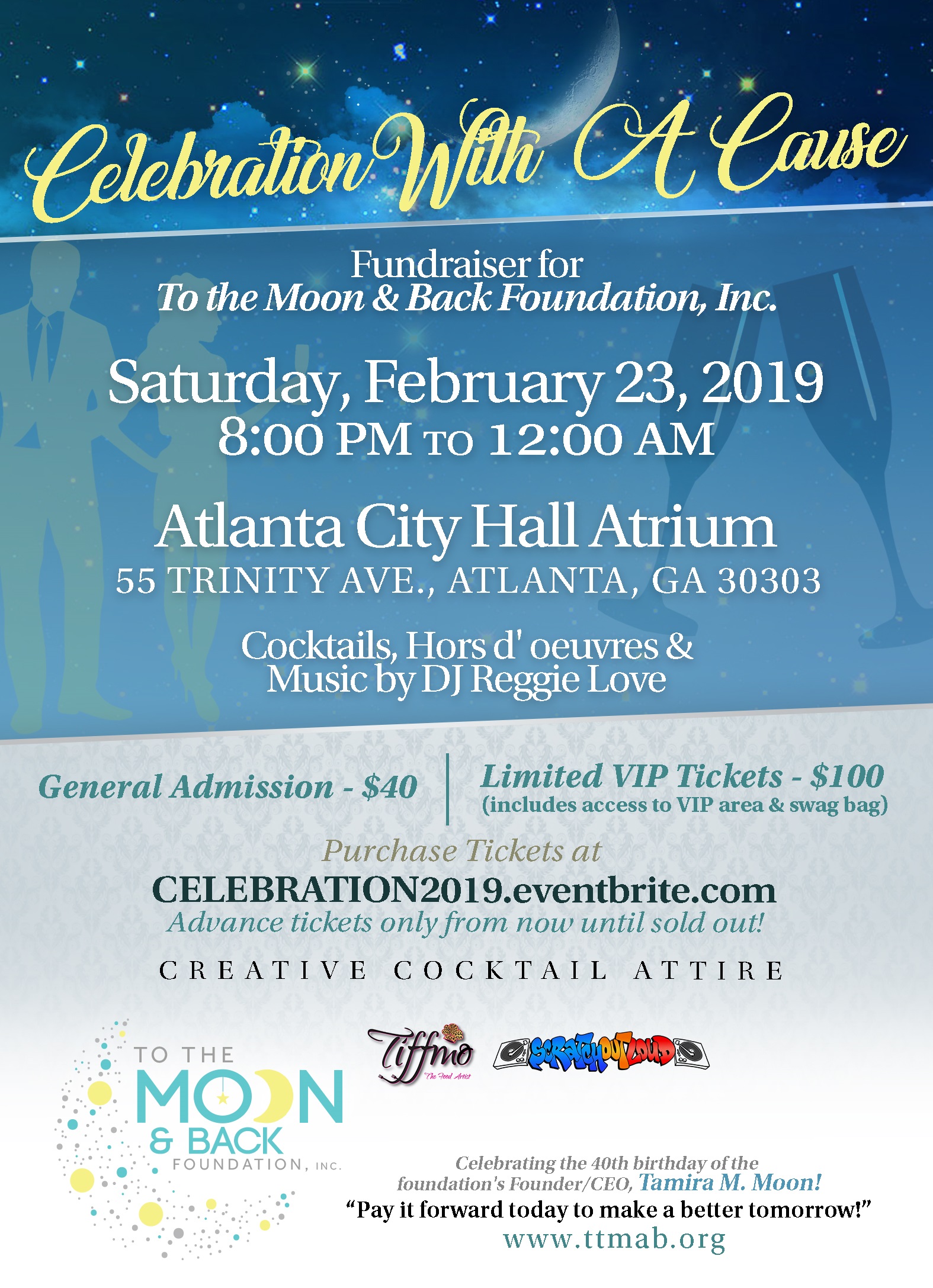 To the Moon & Back Foundation, Inc. cordially invites you to the Celebration with a Cause! fundraiser to support our mission to "pay it forward today to make a better tomorrow!" 100% of the tax deductible proceeds benefit programming aimed at education, health and community engagement.
Celebration with a Cause! will be held on Saturday, February 23, 2019 at Atlanta City Hall Atrium from 8:00 PM to 12:00 AM. The celebration will feature cocktails, heavy hors d'oeuvres by Chef Cheikh Ndiaye of Teranga Catering Without Borders, music by DJ Reggie Love, & celebrate the 40th birthday of the foundation's Founder/CEO, Tamira M. Moon!
Dress Code: Creative Cocktail Attire. In other words stylish, fly, dress to impress! Please no athletic gear.
Tickets: Advance tickets only. No ticket sales at the door. Tickets are available now until Friday, February 22nd at 11:59 PM or until sold out. Early bird $40 general admission and $100 VIP tickets sales extended and end Sunday, February 17, 2019 at 11:59 PM.
Parking: Free limited street parking at meters after 7 PM and $4 parking at Government Center Parking Deck (200 Central Ave SW). Must swipe parking ticket to enter the parking deck after the event, so bring your ticket inside with you and don't leave it in the car.
Please Note: No onsite cash/credit/debit sale transactions. The VIP ticket that includes 5 drink tickets is a great deal!
Media Release: By attending the Celebration with a Cause! held on Saturday, February 23, 2019, you hereby grant permission, release, and clearance for To the Moon & Back Foundation Inc. (TTMAB) and its designated third parties to use any images and/or sound captured through the use of video, photography, digital camera, and/or other media to be used solely for the purposes of TTMAB and/or its designated third parties for promotional material, and/or publications, and you hereby waive any rights of compensation or ownership, thereto.
Thank you to our sponsors!