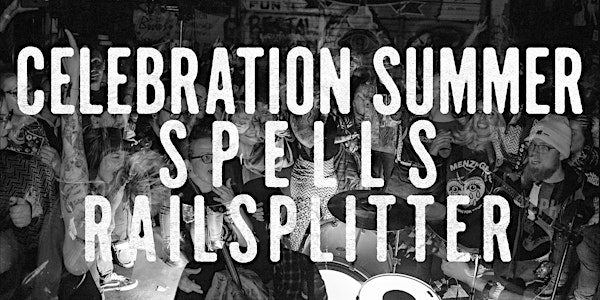 Celebration Summer
with SPELLS & Railsplitter
Date and time
Thursday, May 25 · 8 - 11pm EDT.
Location
DC9 Nightclub 1940 9th St NW Washington, DC 20001
Performers
Headliners
More Performers
About this event
3 hours

ALL AGES

Mobile eTicket
Celebration Summer
FACEBOOK | INSTAGRAM | SPOTIFY | BANDCAMP
Celebration Summer, from the Northern Virginia suburbs of Washington DC, began as a message board posting in late 2019 when bassist Greg Raelson sought out members to bring forth from the ashes a style reminiscent of the late 80's/early 90's melodic punk rock he grew up on. Joined by drummer Glenn Boysko and guitarist Dan Hauser, both formerly of the DC band Confidence Man and notable ska side project The Captivators, the trio recruited newcomer Nate Falger to assume the duties of singer/guitarist.
With a pounding rhythm section punctuated by Boysko's intricate drumming and Raelson's melodic bass while incorporating Hauser's driving guitars and Falger's poignant lyricism, visceral vocal stylings, and angular guitar structures, Celebration Summer hit the ground running with anthemic, progressive songs capturing the struggles of modern life in Trump/post-Trump-era America.
Celebration Summer, whose name is a mash-up of sorts, pays homage to the iconic Husker Du song Celebrated Summer and Washington DC hardcore's significant cultural and activist "Revolution Summer" of 1985.
Their debut EP, Against The Gun, was released digitally on Little Rocket Records and on vinyl on Shield Recordings
SPELLS
FACEBOOK | INSTAGRAM | TWITTER | SPOTIFY | BANDCAMP
Give it up for the band… SPELLS is a five-piece rock juggernaut from Denver, CO. They are vacation rock to be exact. They produce short blasts of intense melody and driving rhythms that are custom made to entertain the band members themselves and serve as an excuse to go play shows in cities that have beaches nearby.
Railsplitter
FACEBOOK | INSTAGRAM | SPOTIFY | BANDCAMP
Founding members Drew Butler, Christian Golden, Mark Gross and Billy Maurer made plans at a now-shuttered chili joint in Arlington, VA in 2009 to play music inspired by the bands they loved. Original drummer Mark moved to Pennsylvania after a few practices, and Billy moved behind the kit. The trio enlisted Hampton Maher to take over for Billy on bass, and Railsplitter was born.
In 2010, the band recorded four songs at the epicenter of DC punk rock, Inner Ear studios, and played local DIY staples including The Black Cat, The Pinch, and The Velvet Lounge, and the legendary Fort Reno concert series. Drew moved to New York in 2011, played with Travis Morrison of the Dismemberment Plan in his short-lived band The Burlies before moving back to DC in 2013. Railsplitter reformed, released two EPs, Somewhere on Earth in 2014 and Tiger Papers in 2017. After going dormant in 2018, the band emerged with their third EP, Little in November 2022.
Little harkens back to the melodic punk the band grew up on, drawing inspiration from Husker Du, Leatherface, Jawbreaker, and Snuff to make sense of life in 2022.