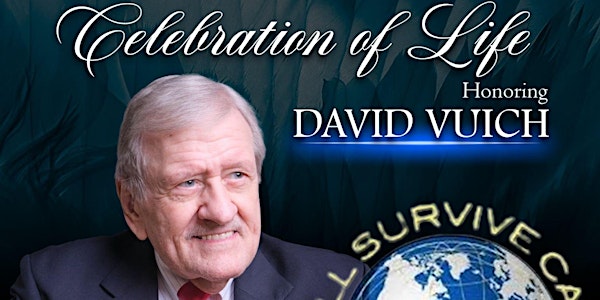 Celebration off Life Honoring David Vuich
Dinner/Fundraiser Honoring David Vuich, 2023 Celebration of Life Honoree
By We Will Survive Cancer
Date and time
Friday, June 2 · 6 - 11pm EDT
Location
National Press Club 529 14th Street Northwest Washington, DC 20045
About this event
David Vuich was diagnosed with pancreatic cancer in August of 2020 and defying all medical odds, continues to play an active role in business and industry as an Executive Member of the Board of Governors of "East West Bridge International, London and has served on numerous Boards such as the Tesla Science Foundation, U.S. Serbia Business Council, Summer Opera Theater, Opera Camerata, xCube International and is a founding member of "We Will Survive Cancer."
David Vuich, a former USAF Aviator and Aviation/Aerospace Executive has spent his career advising clients and top-level government officials in both Congress and the Executive Branch spanning the Carter through the Bush Administrations. Mr. Vuich has compiled over forty five years experience in the defense, aerospace, security, energy, and transportation-related industries and has held key executive positions with several leading U.S. and international firms, to include being a member of the Apollo Spacecraft Launch Team. These positions included providing extensive congressional/legislative liaison services and domestic and international trade development expertise by coordinating and facilitating the program objectives of various government agencies, foreign governments, multinational corporations and countless non-governmental organizations. As a professional staff member of the House Appropriations Subcommittee for Defense and Military Construction, Mr. Vuich acted as the principal advisor to the Committee Chairman, providing recommendations with respect to the obligation of funding for military equipment and services for the Department of Defense. In the private sector, he has been a lobbyist and consultant representing aerospace, environment, energy transportation and security issues to include research support to key congressional committees related to airline/aviation safety and critical infrastructure protection.
His many awards include the "Medal of Freedom" Republic of Serbia, ( only the 2nd American to receive such an honor, the 1st being General John Pershing), the "Mother Serbia" award for humanitarianism, Knighthood as Knight Commander, Court of Honour, Scottish Rite Consistory, Lifetime Achievement Awards from the Tesla Science Foundation and the University of Belgrade, which included the "Robotics Lab named in his honor, 4 NASA Achievement Awards, 2 Vivian Awards for Outstanding Support to the National Press Club.
Mr. Vuich is an accomplished professional musician having performed as a percussionist and drummer for a number of Symphony Orchestras such as the Los Angeles Philharmonic, Long Beach and Orange County Symphonies as well as jazz bands and ensembles that included among many others, the Stan Kenton Neophonic Orchestra, Les Brown, and "Doc Seversen. David has also performed with various known jazz vocalists such as "Lou Rawls
Please view the attached interview to hear and see in his own words, his lifetime of accomplishments, awards and goodwill.
We Will Survive Cancer will honor Scott Fletcher Posthumously
On Sunday, February 12, 2023, Scott Fletcher passed in the comfort of his home in Great Falls, Virginia following an inspirational battle with cancer.
Scott was known for his forthright demeanor, kind heart, sense of humor, compassion for others, perseverance and resilience. He brought out the best in others, with his charismatic energy, intense passion for life, generosity of spirit, and pursuit of excellence. Scott was a giver, a mentor, and brought joy to others, especially while boating on the waters of the Potomac River. He was determined to survive cancer: a true fighter for life.
Scott was born on June 19, 1965 in Alexandria, Virginia and graduated in 1983 from Mount Vernon High School in Alexandria. In 1987, Scott earned a B.S. in Business Management from Virginia Polytechnic and State University. Scott was Chief Operating Officer of REI Systems, Inc. for over 17 years, energetically leading all aspects of the company's operations, growth and corporate development for nearly 2 decades. A dedicated professional, Scott poured his heart and soul into his career, with over 38 years of experience in project management, systems integration, application development, database design/development, and business intelligence in the information technology industry.
Scott was a supporter of We Will Survive Cancer . He was very grateful for all the support of his family, friends and co-workers during the period of his illness. He was touched by the outpouring of prayers, cards, videos, and well wishes— and he felt loved.
We Will Survive Cancer will honor Flynn Fischer posthumously
Flynn Lorin Fischer, 73, of Reston, VA passed away on December 23rd, 2022.
The oldest of five children, he graduated from Moeller High School in 1967, earned his Associates in Arts from the University of Cincinnati in 1969 and a Bachelors of Science in Education from The Ohio State University in 1972. He played football at Moeller and Purcell High School.
He pursued a successful and global jet-setting career as a technology sales executive, eventually retiring in 2011. He met the love of his life and wife of 38 years, Jean M Fischer in a Washington, DC restaurant in 1977 and married in 1984. They explored the world together, regularly visiting their favorite destinations such as Hawaii, Key West, and Mexico, enjoying fine wine and great food along the way. Outside the office, he was an avid tennis player, golfer, fisherman, and hunter. He was happiest on the water with his wife at his side, cigar in hand, salt air whipping through his hair as he piloted his beloved boat full of friends and family around the Chesapeake Bay. In retirement, he became a phenomenal cook, devoted sports fan, and doting dog dad to his boxer, Dalton. He was a force of humor, generosity, and kindness in the lives of all those who knew him.
About the organizer
Gayela Bynum , Founder/Chair is joined by a very active and like-minded Board of Directors who care and support cancer patients and their families!