Meet the dazzling Romanian-American Pianist Matei Varga and Celebrate the National Day of Romania
About this event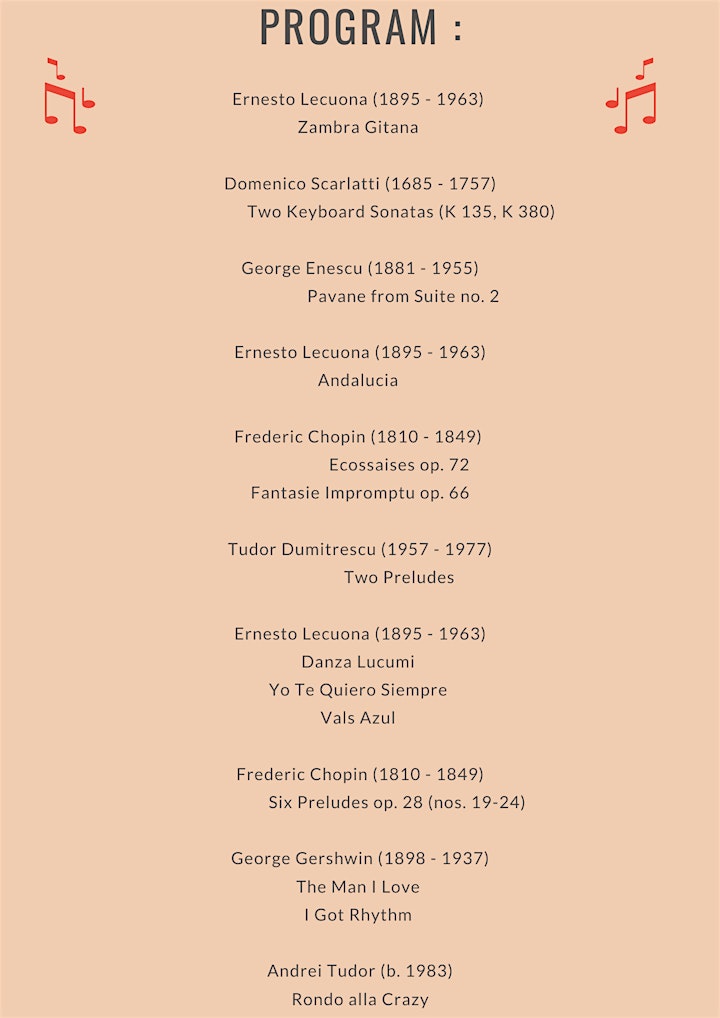 The event is organized and sponsored by:
Consulate General of Romania Los Angeles
Honorary Consulate General of Romania San Francisco
The event is organized with the support of the
Romanian Cultural Institute USA – New York
Gala Award: Arts and Science
1. Prof. Alin Lucian Girnita, MD, PhD - Excellence in Transplantation Award , Stanford University
2. Prof. Sergiu P. Pasca, MD, PhD - Innovation Award Stanford University
3. Prof. Jeffrey Pennington, PhD - International Academic Cooperation Award, Berkeley University
4. Matei Varga, PhD - Romanian-American Fine Arts Award - 2021
Concert:
Charismatic Matei Varga , beloved Romanian-American piano wizard, "the true heir of an incomparable pianistic tradition that includes Dinu Lipatti and Clara Haskil" (The Enescu Festival News), will have his debut in the Bay Area with a collection of irresistible scores that highlight his stunning ability and sensible touch.
The Concert is dedicated to the National Day of Romania that is celebrated on December 1st.
The Consul General of Romania Cosmin Dumitrescu will participate to the event.
Matei Varga's artistry has garnered superlative reviews from critics around the world, who have found his performances "magical" (Süddeutsche Zeitung), as well as "colorful, vivacious [and] engaging" (Le Diapason). A top prizewinner at the Maria Canals and George Enescu piano competitions, Matei has appeared as a soloist and recitalist in many of the world's leading concert halls, among them Carnegie Hall and Avery Fisher Hall in New York City, Berlin's Konzerthaus, Palau de la Musica in Barcelona, and the Auditorium du Louvre and Salle Gaveau in Paris. His latest recording, released in 2018 by Sono Luminus and titled Early Departures, was praised by BBC Music Magazine as "poignant [and] delightful" and by Gramophone's critic Jed Distler as "a beautifully executed and engineered achievement that does [Varga] proud." Matei Varga holds degrees from the Romanian National University of Music and the Mannes School of Music. He lives in New York City and is on the faculty of the International Keyboard Institute and Festival as well as Project Manager and Artistic Advisor of the Vendome Prize Piano Competition at the Verbier Festival. (from https://www.rciusa.info/ )
Directions to the venue: http://scupresents.org/about-us/directions-and-parking.html
Parking Tips from the Venue Manager:
Use the 1063 Alviso Street, Santa Clara, 95050 to ensure you find easier parking.
North Parking Structure is recommended.
The address used for GPS: 1063 Alviso Street, Santa Clara, 95050 CA.
Located on the corner of Benton and Alviso.
Parking is FREE on Sunday.
The following COVID -19 policy will be in effect for all SCU•
Presents facilities and applies to events and activities under the auspices of the Performing Arts Center. With information about COVID -19 constantly changing, current policies may be revised at any time, based on the changes directed by Santa Clara University, County, State and Federal governments.
- Social distancing will be implemented with a one seat separation to the left and right required between patron parties.
Facility Seating Available Maximum Seating Capacity
Music Recital Hall - 140 seats
Attendance Requirements
Attendance Requirements
- Vaccination card with Photo ID to be admitted
- Patrons and those under age 12 or those who need a reasonable accommodation for medical reasons or due to a sincerely held religious belief must provide proof of a negative PCR COVID -19 test result that was administered by an official testing center to be admitted to the event. Test results must be dated within a week of the event prior to entry. Home testing kit results will not be accepted for entry.
General Information
Our updated COVID -19 policy requires that to be fully vaccinated against COVID -19, "Fully vaccinated" means your performance is at least 14 days since your second dose of the Pfizer/BioNTech or Moderna vaccine, or 14 days since your sole dose of the Johnson & Johnson/Janssen vaccine. To enter any of the Santa Clara University Performing Art Center facilities, please bring a photo ID and proof of vaccination, either your physical vaccination card, a picture of your vaccination card, or a digital vaccination record. All California residents may request a digital vaccination record at MyVaccineRecord.cdph.ca.gov.
An inherent risk of exposure to COVID -19 and its variants exists in any public place where people are present. COVID -19 is an extremely contagious disease that can lead to severe illness and death. Senior citizens and guests with underlying medical conditions are especially vulnerable. By visiting our establishment, you voluntarily assume all risks related to exposure to COVID -19.
Masks
Masks are required for every person, regardless of vaccination status. Masks must be worn at all times, except when performing on stage or actively eating or drinking in designated areas.
All Face coverings, whether disposable or reusable, must:
● Be made with at least 2 layers of breathable material.
● Fully cover the nose and mouth, and secure under the chin.
● Fit snugly against the side of the face.
● Be secured with ties or ear loops and allow the wearer to remain hands-free.
At this time—based on guidance from health authorities—neck gaiters, plastic face shields, open-chin designs, triangle bandanas, and/or face coverings containing valves, mesh material, or holes of any kind are not acceptable face coverings.
Face coverings may have an integrated transparent plastic panel to aid in viewing the wearer's mouth. These face coverings should:
● Be a fabric face covering featuring a solid plastic panel containing no openings that is attached to the fabric on all sides using tight knit stitching.
● Meet all face covering requirements laid out in the previous list.
Anyone without a proper mask, not wearing one or is wearing one incorrectly will be offered a mask or asked to secure their mask properly. After the initial request for compliance, those who do not comply will be asked to leave the building.
Eating and drinking will not be permitted indoors at our venues at this time, including in the lobby. To remove your mask to eat or drink, we ask that you step outside into our lovely campus.
This COVID - 19 policy is in effect for all events until further notice and will be re-assessed on an ongoing basis. This policy is subject to change. Please find our latest policy updates here:
scupresents.org.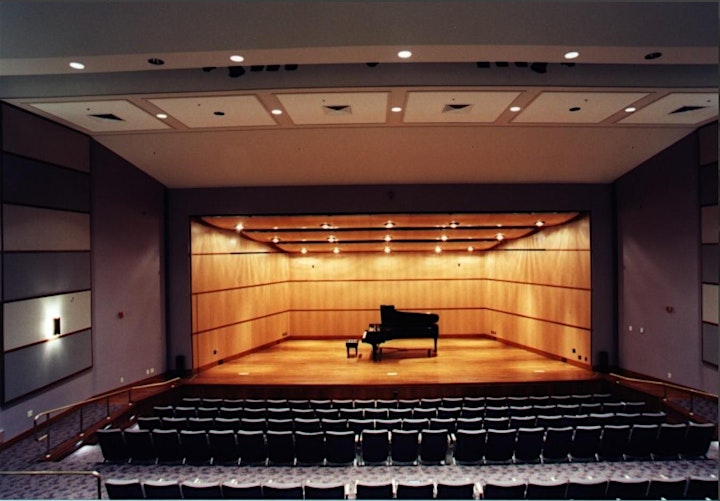 Organizer of Celebration of the National Day of Romania