Description
UPDATE (January 20, 2016): We are humbled to announce Mayor Eric Garcetti will be giving the opening remarks and will be reading in honor of Salwa Bughaighis.

Join us THIS SUNDAY, JANUARY, 24TH, 2016 for this celebratory event in Los Angeles, California. In a colorful program of personal tributes, poetry readings, and live music, we will laud the tireless efforts of activists and their families who have fought against human rights abuses in the world and sought to affirm the equal worth of all human beings. By celebrating and honoring these heroic defenders of truth and humanity, MPV affirms that we can inspire others to do the same. #FreedomOfConscience
*Appetizers and soft drinks will be served with General Admissions. Dress is business-casual.
For a private dinner with presenters and VIPs, different levels of sponsorship and donations are available.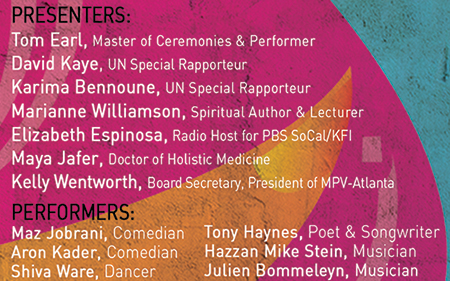 MPV's "Celebration of Life" will present a novel interactive approach to raising awareness about human rights heroes, with celebrity guests delivering a monologue as the activists they are honoring. The honorees will include:
Raif Badawi -

imprisoned for 10 years and sentenced to 1000 lashes for critically analyzing the oppressive theocracy and archaic status quo in

Saudi Arabia

.
Waleed Abu Al-Khair - Raif's lawyer, sentenced to 15 years for defending Badawi's right to free speech.
Farkhunda Malikzada - a 27 year old theology teacher who publicly opposed a prominent mullah who sold charms & took advantage of the poor, was lynched by a mob of over 50 men in Afghanistan.
Samira al-Nuaimy -

tortured and murdered at the hands of the so-called Islamic State in

Iraq

after criticizing its barbarism and destruction of Islamic heritage sites.
Salwa Bugaighis -

lawyer, political & human rights activist, murdered in

Libya

for fostering egalitarian governance.
Sabeen Mahmud - human rights activist & NGO worker, assassinated for shedding light on the atrocities faced by minorities in Pakistan.
Saado Ali Warsame -

a

Somalian

parliamentarian and

singer of socially relevant songs who was gunned down by Al Shabaab in 2014.
Nisha Ayub -

arrested, fined and charged simply for being transgendered in

Malaysia.
Islam Behery

- a progressive Islamic scholar jailed for challenging Sunni Islam's al-Azhar University religious ideology in

Egypt.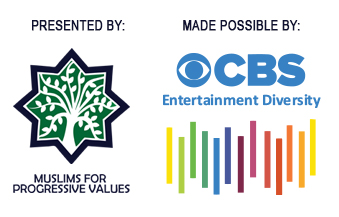 We would like to thank one of our sponsors, CBS, who was kind enough to donate the space to us so that we may have an event worthy of the sacrifices made by these activists.